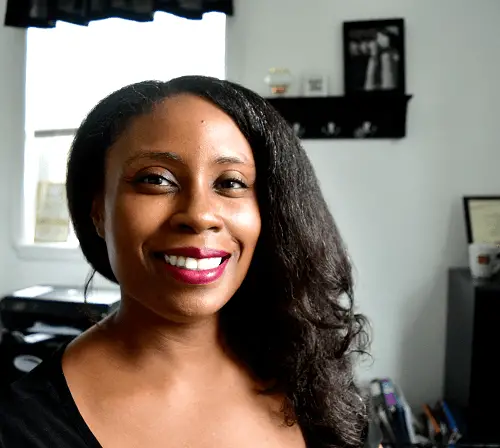 Need some inspiration? We all need a little from time to time. That's why I've started a new interview series on different Christian bloggers so we can all learn and be encouraged by one another.
Today's post is the next in my Bloggers On A Mission interview series. These interviews were taken from a series of posts done in a Facebook group that I'm an owner of.
These interviews ask Christian Bloggers questions that will help inspire, teach, and encourage us all on our blogging journeys.
The next blogger in the series is…Me!
I thought it would be cool to share more about myself so you know who you're getting all of this advice from 🙂
Interview With Nicky of Christian Blogging Academy and Healthy As You Can

What is your name and some background information about you? 
Hey guys, my name is Angela Nicole Johnson but sometimes I go by Nicky. I'm from Clarksville, Tn. I get to work every day surrounded books and as a writer and avid reader, it's so tempting to not work and just go sit down with a book and read.
Yet, because I think the principal of the high school where I work would frown on that, I (usually) don't lol. I've worked in this high school library for 11 years and now I'm working to be able to blog full time.
What is the name of your blog? 
I'm a glutton for punishment so I have two blogs. One is Healthy As You Can and the other one is Christian Blogging Academy (the blog you're on now :)).
How long have you been blogging or working on this blog in particular? 
I've been working on Healthy As You Can off and on since January 2018 and I've had Christian Blogging Academy since July 2018.
What was the original purpose of your blog when you started it? 
The original purpose of HAYC was to be a blog that discussed health from many different aspects like financial health, mental health, spiritual health, physical health, etc. Christian Blogging Academy's purpose was to help Christian blogger's build a business with their blog.
Has that vision changed over time and if so how? 
Yes, it's changed so many times, it's crazy. HAYC went from being about health of all kinds to being a lifestyle blog and then back to being about health but I couldn't quite put a name to what I was trying to convey with my message.
But I was reading something related to personal development and it dawned on me that that was what Healthy As You Can really was about. It's about trying to become the best version of yourself.
However, it isn't about being perfect but about giving yourself grace and making the healthiest choices you can in a given situation and not being too caught up in too many rules. We want to give ourselves grace as we strive to become more of the women God wants us to be.
However, it isn't about being perfect but about giving yourself grace and making the healthiest choices you can in a given situation and not being too caught up in too many rules. Click To Tweet
Christian Blogging Academy's vision has only changed in that I am learning just as much about blogging as I am teaching.
How is God using your blog to help others?
I think He is using it to help Christian bloggers learn about blogging and business from a Christian perspective where the focus is not just about making money or getting more subscribers but it's also about learning how to use your blog to impact others spiritually.
With HAYC, I hope that my story of weight loss, overcoming other health issues, getting out of debt, beating depression and dealing with anxiety will help others to see that their lives can get better through the power of… Click To Tweet
If you could go back in time to the beginning of your blogging journey, what would you change or do differently, knowing all that you know now?
I would create and promote more relevant content for my audiences. I would also stop second-guessing everything I did, stop and pray and ask God who my audience is and how I could serve them and then make the content they need to meet their goals. But seriously content is queen and content that solve people's problems is king.
What courses or blogs have been the most helpful in your blogging journey? 
Jon Morrow's Serious Blogger's Only, Blog Launch Formula, etc, Create and Go's Pinterest Avalanche and Make Money Blogging.
What are the blogging tools or resources you can't live without? 
I use Trello and Evernote errday to organize my life and my mind and make sure I don't forget any ideas I have. WordPress is amazing and I'm starting to fall in love with Thrive Architect.
Any words of advice for new bloggers just starting out?
Join a mastermind group. It's a gamechanger. Facebook groups are not small and intimate enough for you to get the feedback you need to succeed. Find one really good blogging course and stick with it because you can get too much advice and then get stuck on what to do.
Thank you for reading more about my blogging journey. I hope it was an encouragement to you!
If you are a Christian blogger who sees their blog as a business with God at the center then you are right at home here at Christian Blogging Academy.
I've also created a road map for Christian Bloggers who want to grow their blogging businesses. 
If you're interested in learning more about blogging for business and impact then please download my free Christian business blogging roadmap. Just enter your email below.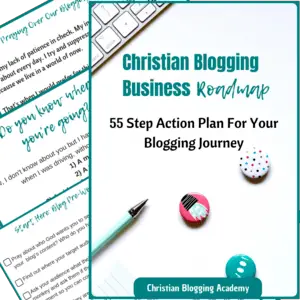 And if you would like to be considered for the Bloggers On A Mission series you can answer the questions here. 
*Please note: answering the questions does not guarantee that you will be featured in the series.*
Thanks for reading and God bless 🙂