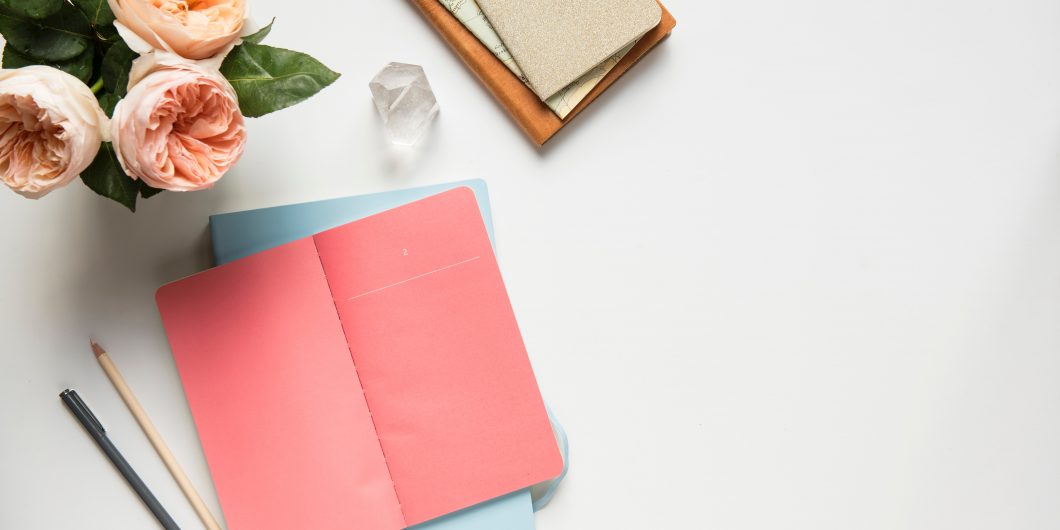 Last Updated on July 8, 2021 by Nicky Johnson
Tailwind Tribes are one of the most exciting features that Tailwind offers. What's even more exciting is that there are some amazing Tailwind Tribes to join for Christian bloggers to grow their traffic.
I'm in quite a few myself and I know that they have really helped me connect with my audience in a broader way and increase my blog traffic.
How though?
Because when you use Tailwind Tribes you have a higher likelihood of having your pins repinned.
And not just that but because of the way Tailwind Tribes are organized by category, you have a higher chance of your pins being repinned by someone who has a similar audience.
But wait there's more. You also have a higher chance of your pins being repinned by influencers with larger audiences. That's because you get to be in Tribes with content creators of all different calibers.
You definitely want to check out Tailwind Tribes and see if it's right for you.
And guess what?
You can use Tailwind Tribes for free!
Plus you can also get 100 scheduled pins with a free trial of Tailwind. And those free scheduled pins never retire so you can schedule tomorrow and a year from now if you need to as long as you are still using your free 100 pins.
This post may contain affiliate links which means I get a commission if you purchase something after clicking on one of those links. But don't worry. I'm not going to recommend something I don't really believe it because that would just be wrong. 
How Do I Know Which Tailwind Tribes To Join?
So you're looking for Tailwind Tribes to join and you have several options. How can you know which one you should choose? You can only choose 5 on the free plan or the paid plan. If you want to join more than 5 Tribes you have to buy Powerups….but more on that later.
So how should you choose a good Tribe?
1. Relevant content- You definitely want to see if that tribe has relevant content that will fit on your Pinterest boards. If you blog about time management and you see that board doesn't have any time management boards then that won't be a good fit.
2. Tribe Activity- Another factor is how much activity a tribe has. Or in other words, how often are the members of the tribe repinning other's content.  Here is an example of a tribe with high activity.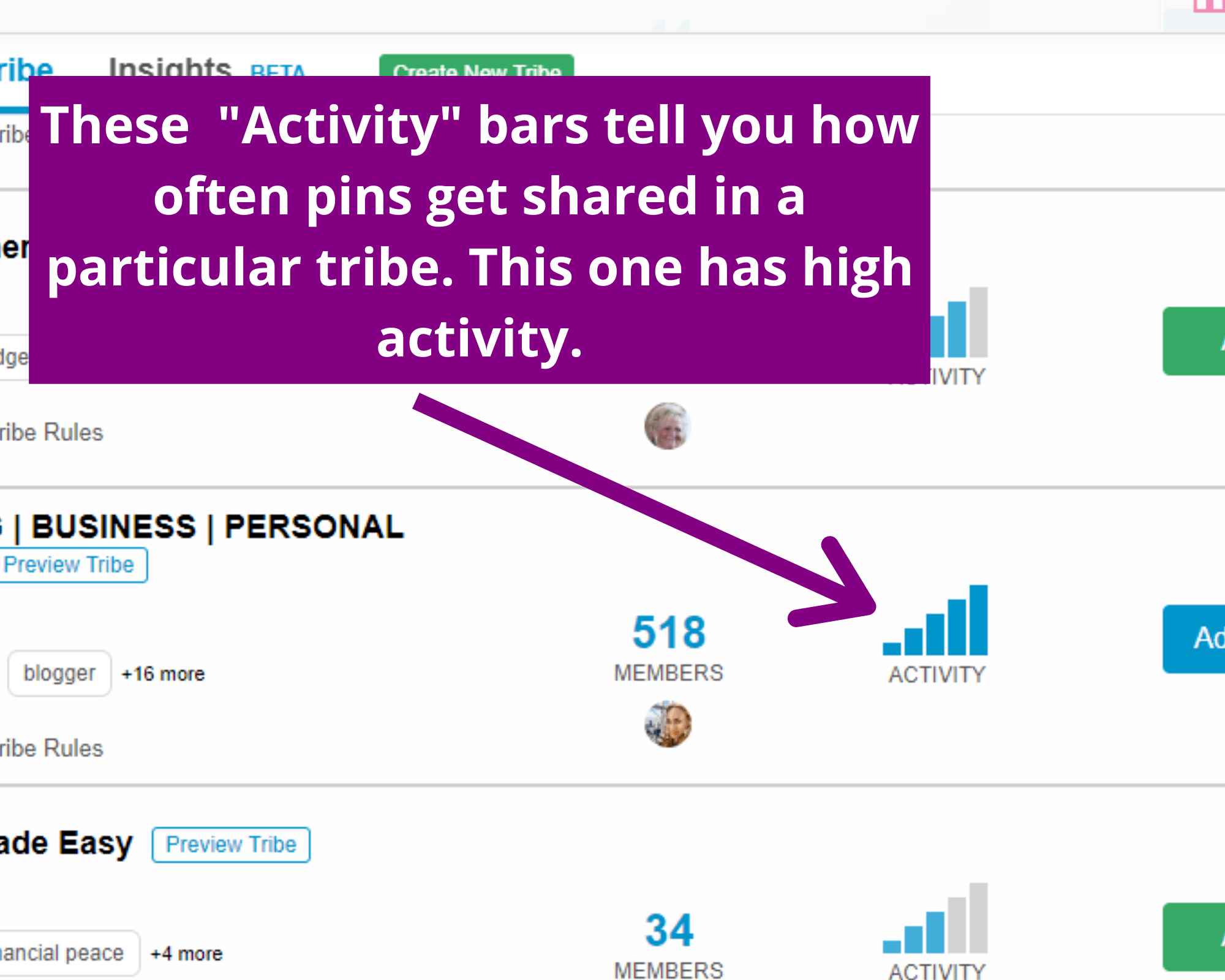 And here is an example of a Tribe with low activity. I wouldn't recommend these.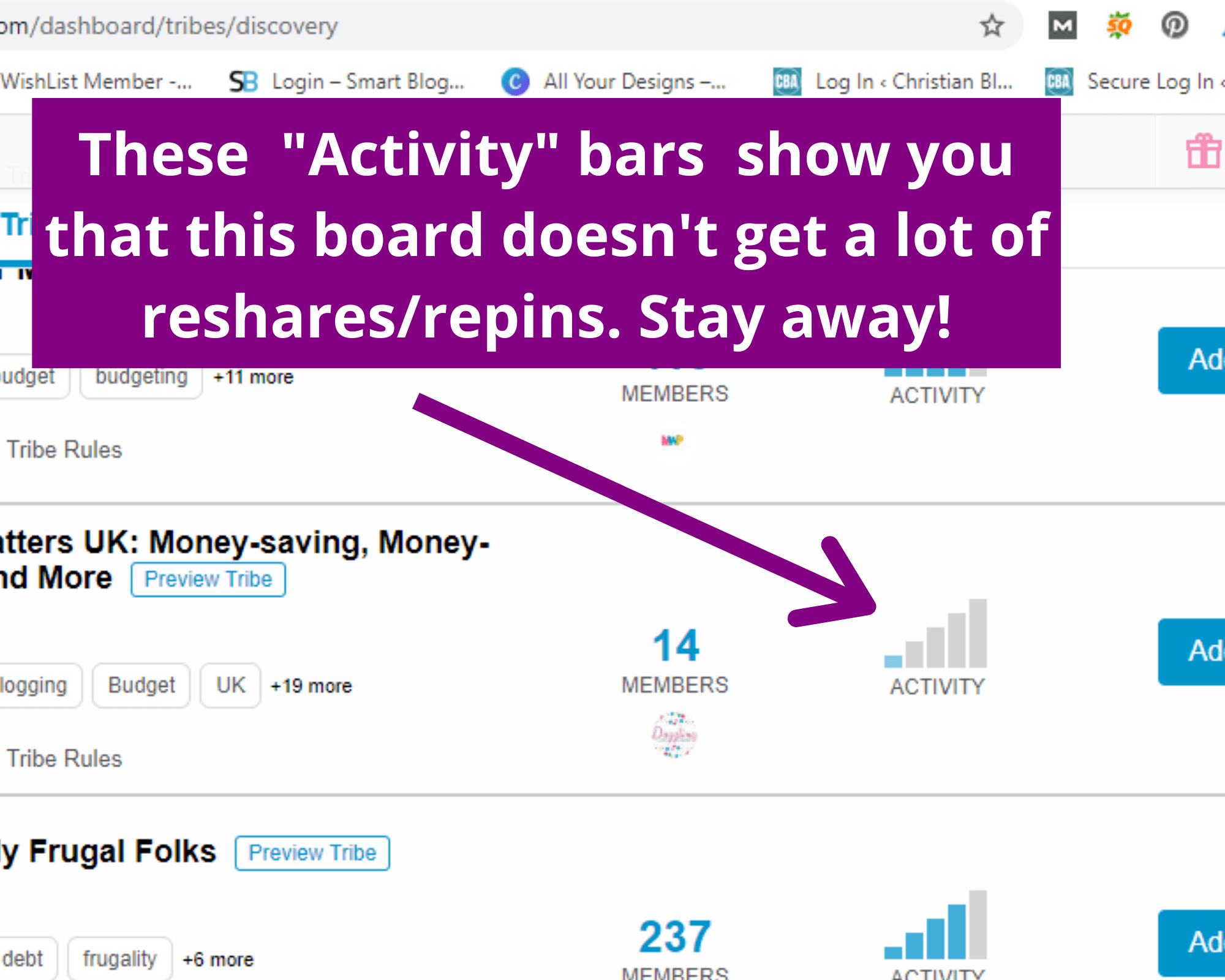 3. Virality Score of the Tribe:
The virality score of a Tribe is important to look at. The virality score is calculated by dividing the number of repins by the number of pins shared.
For instance, look at the picture below.
When you divided the number of repins (161,000) by the number of pins shared in the Tribe (11,501) you get a virality score of 14 which is great. A virality score of 1 or more is acceptable but the higher the better.
That means that these Tribes members are not playing…they share and reshare tons of pins which is exactly what you want.
This means you have a great chance of your content spreading like wildfire.
And the more Tribes you join the further your content is shared. Which of course can lead to higher page views, more readers, more email subscribers, more impact, and more income. 
With the free version of Tailwind Tribes you can join 5 Tribes for free which is great. But if you can join 10 then your growth can be double and in half the time.
But the only way to do this is by becoming a paid member and buying powerups. More on that later.
Let's take a look now at a Tribe with a low virality score.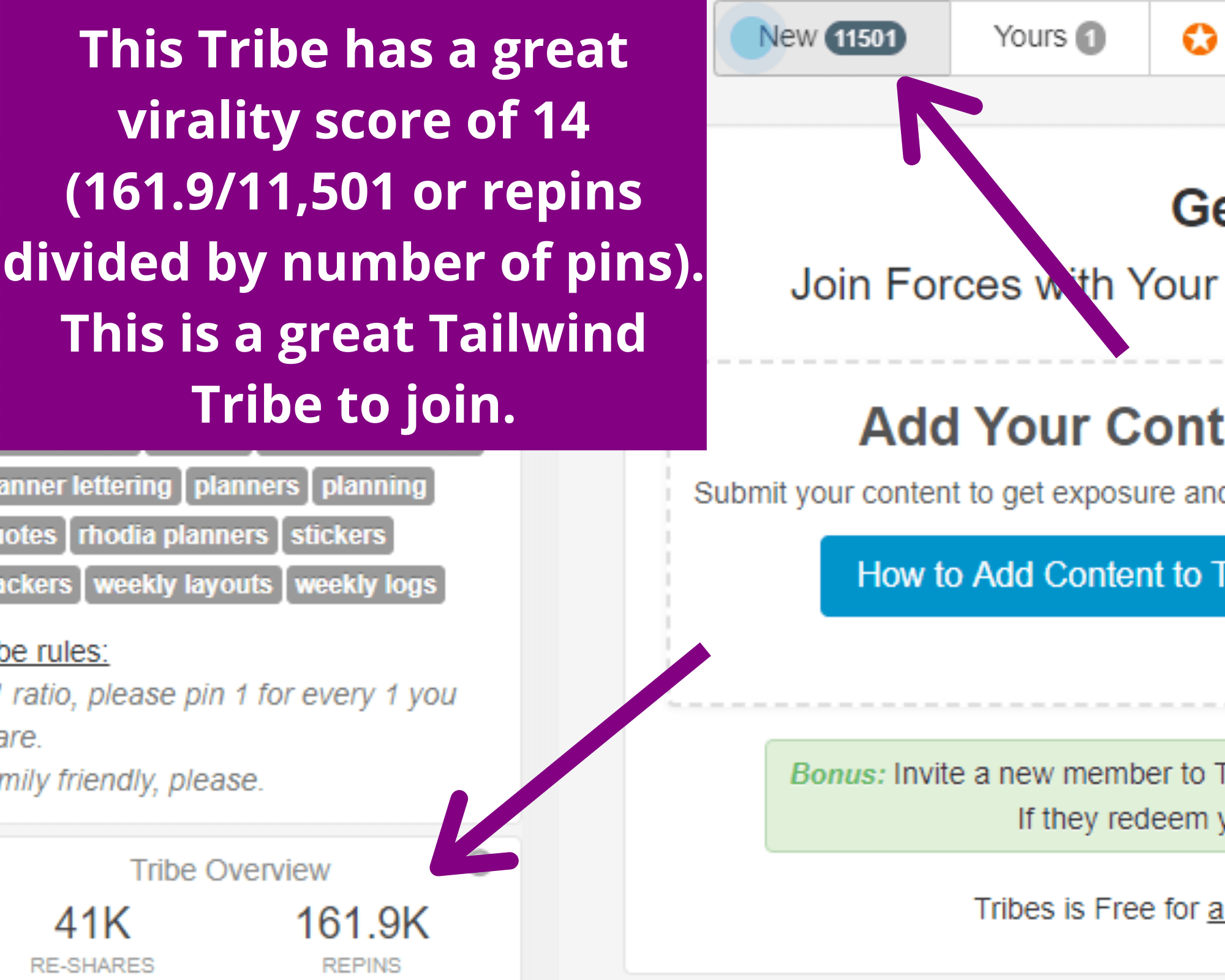 This Tribe only has a virality score of .3 which means it isn't very viral. There's only 265 pins available for you to share and only 93 of them have been repinned. Not a good look.
These kind of Tribes likely won't help you grow unless it is a newer Tribe that is still heating up. And in those cases, if the content is really relevant for your boards then it might be worth it to see if you can get good results from it.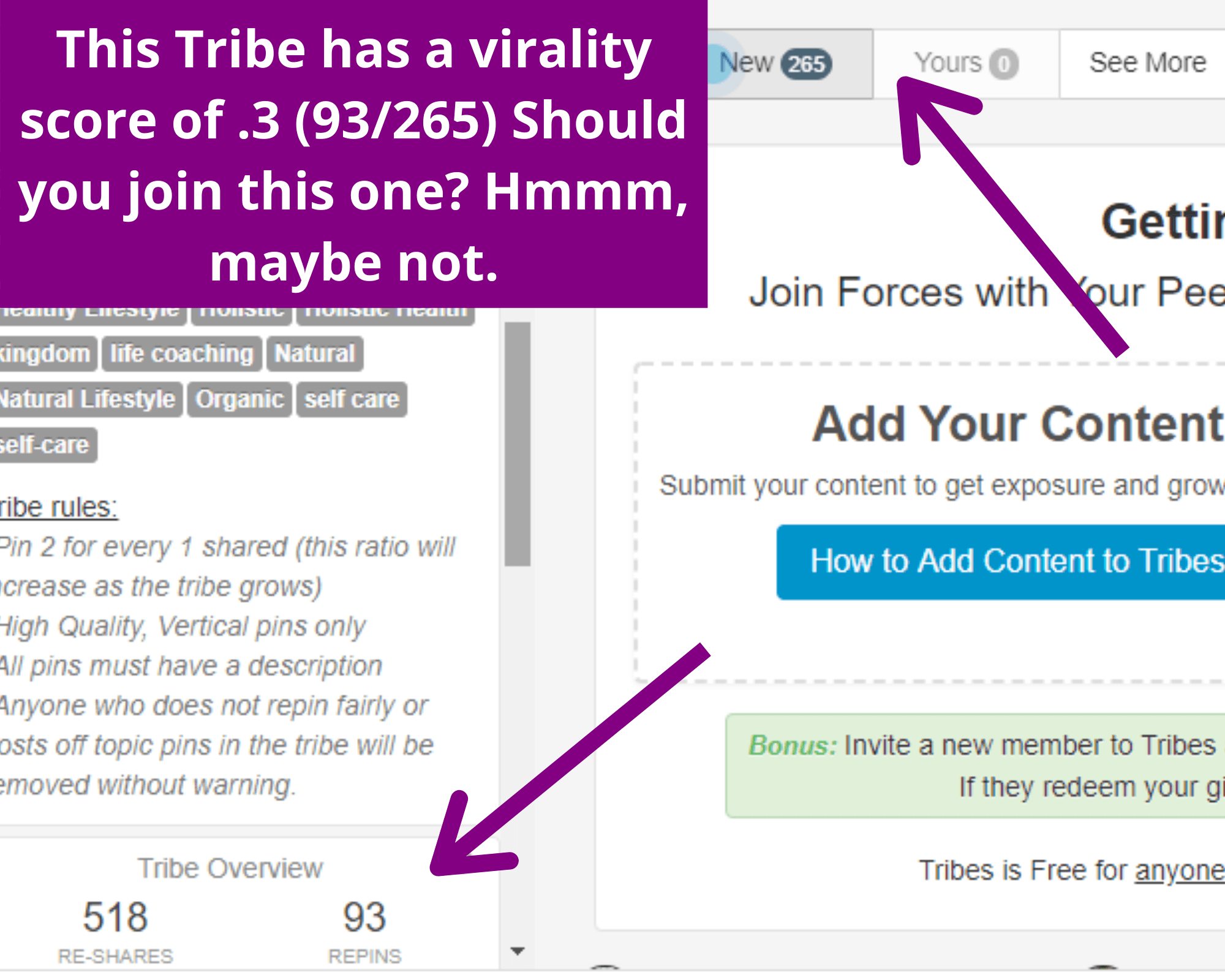 4. The rules of the Tribe- Sometimes the rules of the board won't work with the kind of content you want to share.
For instance,  you might want to share weight loss pins and you see a Healthy Living board and you think it might work, only to read the rules and see that they don't want weight loss or dieting pins.
These are the most important factors to consider when looking for a Tailwind Tribe to join.
So now let's look into some of the best Tailwind Tribes to join for Christian bloggers.
The 29 Best Tailwind Tribes To Join For Christian Bloggers
Use the following list to find the best Tailwind Tribes to join to grow your Christian blog!
Just type the name of the specific Tribe into the Tribe search field and explore or preview the Tribe to see if it is relevant for your Pinterest marketing strategy. Here I give a full detailed tutorial on how to join a Tailwind Tribe.
How did I choose these Tribes? 
I chose them based on their activity levels. All of these Christian Tailwind Tribes have 4 or more activity bars which mean that many of the members of the Tribe are actively adding, resharing, and repinning content.
Christian Lifestyle Tribes
-Faith Lifestyle
-Blogger Voices Network Tribe
-Spiritual Growth Tribe For Bloggers
-Peculiar Treasures- Christian Lifestyle Tribe
-Living Intentionally & Joyfully
-Christian Lifestyle Bloggers
General Blogging Tribes
-Christian Bloggers Pins
-Christian Bloggers Tribe
-Christian Faith Bloggers
-His Grace Girls Tribe
-Christian Bloggers Community
-Christian Bloggers
-Christian Viral Pins 1000+
-Faith Blogger Pins
Christian Marriage/Parenting/Homeschool Tribes
-Biblical Marriage, Parenting, Homeschool Encouragement and Christian Faith Pinning Tribe
-Blessed Mom Bloggers Tribe
-Christian Marriage–Dealing with the Messy
-Large Board Marriage, Parenting, and More!
Christian Ministry/Bible Study/Faith Tribes
-Christian Women's Ministry
-Bible Study Topics and Devotions
-Inspiring Words to Grow in Faith
-Women of Faith
-Faith in the Hard
-Proverbs 31 Life
-Family Faith
-We Seek After These Things
-Christian Business/Blogging
-Faithful CEOs
-Christian Network Marketers
-Christian Business Women
Why Tailwind Is Important For Christian Bloggers
So if you've gotten this far you are probably all in with Tailwind and you are just looking for ways to increase your reach even further.
However, what if you're still trying to decide whether or not Tailwind is right for you? If that is where you are then I do understand. There are so many tools that we have are encouraged to buy as bloggers.
So many programs and software and it gets to be really expensive.
It gets to be like "Okay do I really need one more thing to buy"? If this is where your head is in regards to Tailwind what you have to consider is this: your goals and purpose for your blog.
Is your purpose for your blog to share your content with as many people as possible because you feel like God is calling you to blog?
Is your goal to increase your page views because you know that behind those page views is a person searching for answers to a problem? These are questions that only you can answer.
I do know that if these are your goals, Tailwind can help you achieve them. I personally get the majority of my traffic from Pinterest.
And it is through the scheduling power of Tailwind that I'm able to pin as much as I do for both of my blogs.
And I know because of some of the comments that I've gotten that some of my content has impacted and inspired my readers and I do not think they would have seen my content without it being on Pinterest.
And my content would not be as widespread on Pinterest without Tailwind because it would just be too overwhelming to do it all manually.
So if your goal is to help as many people as possible while saving as much time as you can then Tailwind might be right for you.
Some Christian bloggers believe that God will send them whoever it is that He wants to see your content. If that is your view and I totally respect that.
But if you don't believe that and you believe that God places tools before us that we can use to spread His message then Tailwind might be right for you. You can try it by scheduling 100 pins free to see if you like it.
You don't even have to use a credit card until you know that its right for you so that's a win. In other words, if you try it and hate it you don't even have to call them and cancel.
Personally, I love that! That way you don't have to play email or phone tag or have them try to pressure you into staying.
Okay everyone, thank you so much for reading. If you want info about Tailwind I've linked below some more of my blog posts about it that I hope you will find helpful.
I also have a freebie for you if you want to sign up for my email list.
If you're interested in learning more about blogging for business and impact then please download my free Christian business blogging roadmap. Just enter your email below.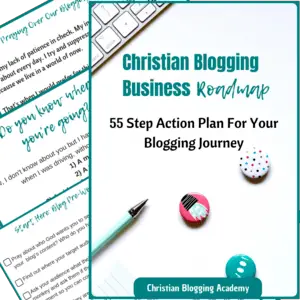 Ready To Answer Your Calling &  Start A Blog But Confused On Where To Start?
 Learn How To Start A Blog For Under $150! Just Click Here
You Can Do This!
Related Posts:
3 Helpful How-Tos On Getting More Blog Traffic From Pinterest Using Tailwind
How To Use Tailwind For Pinterest Marketing & Save Loads Of Time With This Trick
5 Reasons To Let Tailwind Market On Pinterest For Your Blog (So You Can Do Other Tasks)
How To Join Tailwind Tribes In 6 Clear Easy To Follow Steps (Tutorial With Pictures)