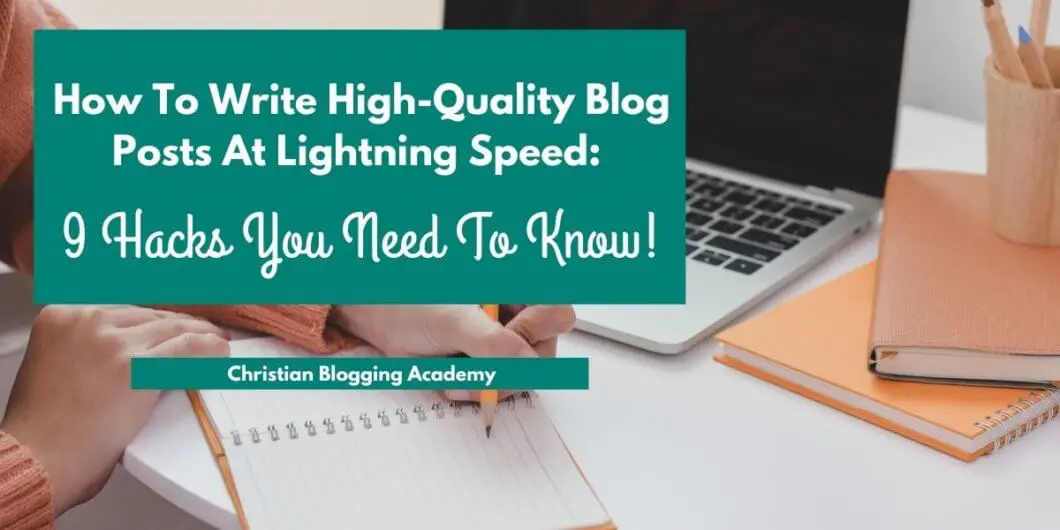 Last Updated on August 2, 2022 by Nicky Johnson
How To Write High-Quality Blog Posts Faster Than Ever Before!
Want to write blog posts fast without sacrificing quality? I hear you!
Blogs are an essential marketing tool for businesses of all sizes. Blogs help your business build a following in a very short period of time, while also demonstrating your expertise and professionalism.
However, writing new blog posts can be time-consuming and difficult. With so many other responsibilities, it can be hard to find the time and motivation to produce new content.
Fortunately, there are a number of ways to start writing blogs faster and easier while still maintaining quality. You don't have to spend a ton of time writing because I know you have a lot of other things to do. Fortunately, with a few quick hacks, you'll be able to produce high-quality blog posts consistently.
You don't have to reinvent the wheel to produce quality blog posts. Instead, consider these top 9 quick writing tips for creating blog posts faster and easier.
Oh yeah, and this post contains affiliate links to great products that will help you in your health journey. I will get a commission if you decide to buy from these links but I'm only recommending products that I feel confident about.
Want to read this post later? Save it to one of your Pinterest boards! 

How To Write A Blog Post Faster Than Ever Before
1) Create a Content Calendar
Content is the driving force behind any successful blog. And one way to save time when it comes to content creation is by using a content calendar.
A content calendar will help you plan your blog posts in advance and keep yourself organized. You can map out your entire year by listing the topics you want to cover, how long they'll be, and when they should be published.
This way, you never run out of ideas or have difficulty coming up with topics to write about. I created a content calendar in my digital blog content planner which you can check out here.
And if you want to get a mini version of my blog planner then stay tuned so I can explain how you can get it!
2) Use A Blog Planner
One of the best ways to make blogging easier is to use a blog planner. A blog planner is an easy way to plan and organize the content for your blog posts.
Not only will it help you plan your content faster but using a blogging planner will help ensure that the content that you write is consistent with your overall blogging strategy.
It can be so easy to forget that your content is just one part of your overall business strategy. using a blog planner will help you focus and see your blog posts as a vehicle to build trust with your potential customers and promote your products or services.
I have a digital blog post planner that I created that makes planning, organizing, and writing my content so much faster. You can learn more about the CBA blog planner below.
Click here to see the CBA Blog Planner!

3) Use Fiverr To Hire A Writer
One of the best things you can do to make your blog faster is to hire a writer. This is especially true if you don't have any time to write articles. Writers on sites like Fiverr are very affordable, and they offer many different styles of writing.
You can find freelance writers who specialize in anything from SEO content to Christian content. I've been helped tremendously by writers I've hired from Fiverr. The freelance writers I use are very affordable and they

Another way to hire writers is through Upwork or similar sites. These sites allow you to post tasks that need to be completed, and then people will bid on them and complete them for you.
If you need an article written, posting it on these sites would allow you to find someone who could do it for a reasonable price (depending on how much work there is).

4) Use AI Writing Software
You can use AI software to help you with your blog. Many AI tools are designed to write content for your blog.
It can take a lot of time and energy to come up with ideas and topics each day, which is why AI tools are a helpful resource.
You can train the AI software to write content according to your specifications, like best practices for blogging or what your blog's niche is.
AI can do much of the heavy lifting when it comes to writing content for your blog so you don't have to spend all your time coming up with new ideas.
I will admit that usually, the content an AI software produces is just what I'd consider to be the first draft. But this first draft helps you write the final copy a lot quicker.
The AI writer that I use and recommend is WriteSonic. It is very EASY to use and creates quality rough drafts for many blog niches.
The reason why I emphasize easy is because I have used other AI writers that were so hard to use that I just gave up and moved on.
What is the point of an AI writer that makes you spend more time writing and not less. Here is a video below on how to use WriteSonic:
5) Use A Blog Outline
Another way to write a blog posts quickly is by creating an outline for your content…this will come in handy, especially for point #9.
A blog outline is a great way to organize your thoughts and to make sure you don't ramble off into a tangent. Because once you get off on a tangent, getting back on track becomes ridiculously difficult.

6) Use PLR Content
Okay, what if you're suffering from writer's block? Don't worry! Try using PLR. One of the most important things for new bloggers is finding high-quality content to post. There are some great places to find content, like using private label rights articles (PLR).
PLR content is prewritten content that you can buy and then rewrite and edit it to fit your own brand. Let's say you had a blog about selling I know you might feel uneasy about using PLR content on your blog but just view it as a jumping-off point.
The final blog post will still come from your heart and have your voice once you have rewritten and edited it. This will save you a lot of time and give you something to work with so that you can publish quickly.
When it comes to starting a blog, the better your content, the more likely your readers will want to come back. You can get some faith-based PLR content at Daily Faith PLR!
Click here to learn more about Daily Faith PLR!
7) Use A Blog Template
If you're new to blogging, the chances are high that you'll find yourself struggling with what to write. An easy way to get started is by using a blog outline template.
A blog outline template is a document that has an outline of what to include in your blog post, including headers and subheaders. This can be a lifesaver for busy bloggers who don't have time to go through their old posts and come up with new topics each week.
Another way to shave a lot of time off of your blog writing session is to have a template for your posts. There are certain elements that I include in every post such as related links, table of contents, etc.
So instead of recreating the blogging wheel every time, I just created a Google doc that has all of the pieces of my post that I use on repeat. Having this template makes writing my content so much faster.

8) Use A Blog Post SEO Checklist
Another amazing way to create high-quality posts in a short amount of time is to use an SEO checklist. Of course, you could use a simple checklist with only a few basic things on it but I had to be extra and take it up a notch and make one in my blog planner that I was telling you about earlier.
And because I love this SEO blog post checklist list so much, I've decided to share it with you for free!
Remember, we don't want to just publish a lot of blog posts. We want to publish high-quality blog posts.
And the best way to do that is by creating a checklist that you can look over before you hit schedule on your next post.
And you could create your own SEO checklist from scratch but you probably don't have time to do all that!
So if you are interested you can enter your email below and get the SEO checklist and the Christian business blogging roadmap FREE that I created so you can create amazing blog posts every time!
And the best part is, that the checklist is customizable. If there is a part of the list you want to change, reword, rearrange, or add to, you can totally do that with this list.
*Important: Just keep in mind that you have to download the free app Trello in order to use them…but it's really easy!*
9) Speak Your Blog Post
If you're pressed for time, or just want to make the process of blogging easier and faster, speak your blog post using a voice recorder.
This is a great option when you are busy and can't find the time to sit down and type up all of your thoughts.
Speak slowly and clearly so that there isn't any confusion when you listen back to it later on. I've used this technique with Google docs so you don't have to have any expensive apps or software to do it.
And if you have an outline, you would just place the cursor under a heading, press the voice record button, and then speak whatever you want your post to say and then once that section is done, you place the cursor under the next heading and repeat the process.
And in case you are a little confused, let me explain a little more. On iPhones, when you open a Google doc, there is a microphone icon that you can tap.
Once it starts, recording, you can just start speaking into the mic on your phone, and Google docs will lettering and type out what you are saying.
It's not always accurate but it's pretty darn close. Give it a try and you will have thousands of words written in a snap!
Conclusion
Ok guys so hopefully these tips will help you write blog posts way faster than you have been. I know how easy it is to labor over a blog post and spend way too much time on it. But now you have all of these tips to make content creation so much quicker and easier. That way you can attend to the other tasks in your business like social media marketing and product creation!

If How To Write High-Quality Blog Posts Fast has helped you, please share it!
Financial Disclaimer: Christian Blogging Academy (blog posts & products) is not offering any kind of financial advice or making any promises of any financial guarantees. Any financial results discussed on this blog are not typical or guaranteed.Christian Blogging Academy is not a registered financial, investment, legal, tax advisor, or broker. This blog is for information and entertainment use only. A financial fund's past performance does not predict or forecast its future results.