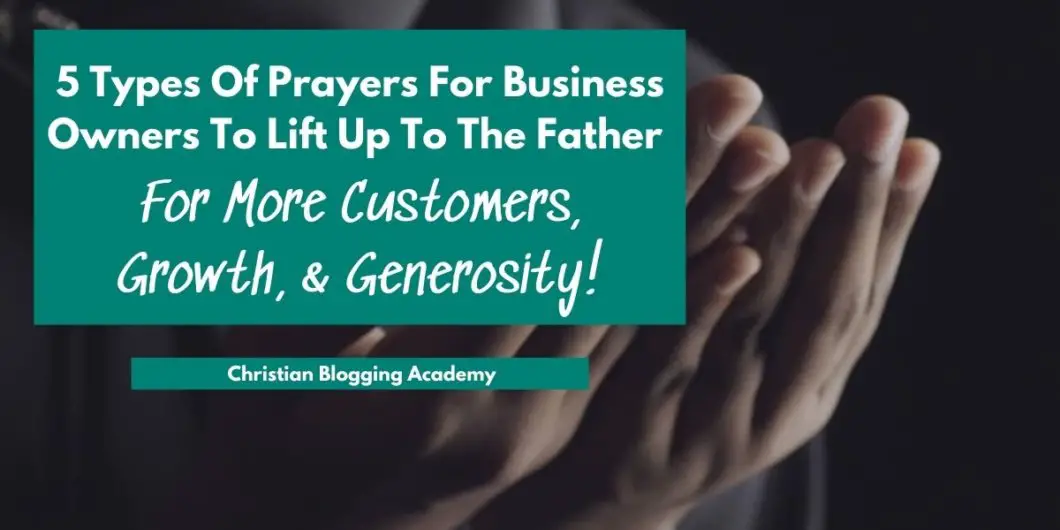 Last Updated on November 23, 2022 by Nicky Johnson
5 Types Of Prayers For Small Business Owners To Lift Up To The Father
Are you a business owner or a new start-up? Maybe you own a small business already but you need to see appreciable positive changes in your business.
It is completely normal to face overwhelming challenges in life and business but God has provided a way out!
That's why we need to pray about all things, including our business! Prayer is powerful!  It is the most effective spiritual activity you can engage in.
With a focus on business, this article will provide strong prayer ideas that will bring the change you desire to see in your business. Relax, Read and Enjoy 
What God Says About Business
Christian business owners often wonder if God is concerned about their business but the amazing truth is, God is! He is interested in every area of our life, we will explore the mind of God about owning a business 
1) Do Not Be Scared To Start Your Business Or Blog
Many intend to start a small business but fear holds them back.
But God has assured us that he has given us a sound mind to do every legitimate thing we want to do and we will see great results because he has not given unto us a spirit of fear.
God is with you so go ahead and start executing that business plan today because that's what you've been called to do. Look at the Bible verse below to be reminded of the kind of Spirit the Lord gives us. 
"For the Spirit God gave us does not make us timid, but gives us power, love and self-discipline.". (2 timothy 1 vs 7 NIV)
2) If God has called you to start a business, He will bless you in it.
The ultimate goal of a business is to make a profit and it is God's sweet intention to bless you abundantly in all that he has called you to do.
This doesn't always mean material blessings but I do believe if He's called you to start a business, He will bless it financially.
Why?
Because I don't believe that He would ask us to waste resources because starting a business is of course, costly. 
"But remember the Lord your God, for it is he who gives you the ability to produce wealth, and so confirms his covenant, which he swore to your ancestors, as it is today." 
(Deuteronomy 8 vs 18 NIV)

5 Types Of Powerful Prayers For Business Owners To Lift Up To The Father
1)Pray For Starting A Business
Every entrepreneur desires to have a fruitful and growing business which means it is best to pray strong prayers over the business before starting out.
This gives us a solid foundation on which to build our business.
Be sure to commit your business into God's hand and ask him for direction, ideas, and strategies. 
Here is a sample prayer:
" Dear Father,
I declare you the foundation on which I build this business, thank you Lord for showing me in your word that you desire to bless me according to your will. I commit my new business into your hands because I know you are able to lead, guide, and direct my business affairs. Help me to receive ideas and strategies that will bring a tremendous increase in my business. I pray for success and prosperity that I can generously share with others. I pray for the ability to let my light shine before my customers and business partners that your name may be glorified. In Jesus' name, I pray, Amen"
Related: Business Proverbs For Entrepreneurs 
2) Pray For Business Growth & Success  
It follows that if you have a small business or a large business, you want to see your business grow.
But you might not know what to do in order to make this happen so you definitely want to pray over it.
I know I have seen many changes in my business over the years when I've prayed for direction. 
Here is a powerful example: 
" Dear Lord,
Thank you Lord for all you have been doing in my life and business. I humbly ask today that you open my eyes to strategies I need to employ to make my business grow. I pray for divine resources and the gift of resources. I ask Lord that doors of opportunities be opened up over my business venture. I ask for a return on the investments of money and time I put into my work. Please show me how to make my business prosper. I receive divine wisdom and your guidance to make proper plans for the growth of my business In Jesus name, Amen"
3) Pray For Your Customers 
The lifeblood of every business are the customers and clients which is the reason customer relations is a very important aspect of any business.
Since customers determine the growth and smooth operation of a business, it is expedient to mention them in your prayers.
Also, praying will also improve your customer service because you will care about the people who buy from you and want to serve them to the best of your ability. 
This is an example of prayers you can say for your customers 
" Dear Father,
I am grateful for the customers that have patronized my business so far. I pray today that you replenish their pockets and my business continues to be favored before them. I ask that you keep them in perfect peace and prosperity. I declare that new and high-paying clients will be attracted to my business and that my customer's finances are divinely secured. In Jesus' name, Amen"
4) Pray For Financial Success  
Of course, if you are building a business, you of course want it to be profitable. 
But as you probably know by now, it is not very easy to make money blogging or with any business.
If you find you are struggling to see financial gain, then for sure take it to the Lord in prayer like the one below. 
" Dear Father,
I am very convinced that you alone can provide good success. I pray for financial success over my business and I ask that you give me the wisdom and direction that I need for effective planning. I pray against circumstances that can stand against my financial success, I declare you the overseer of my finances in Jesus' name. Amen"
5) Pray That You Will Be Generous As A Business Owner   
It's important for an entrepreneur to give back to their community, their customers, and to the needy.  But I totally understand if you feel a little scared to give more than usual, especially if you're business hasn't been profitable for very long. Below is a prayer you can say to help make giving back easier. 
Say this prayer: 
"Dear Father,
"I know you love a cheerful giver and I ask that you help me to be generous to my fellow business owners, to the needy, and to the community that my business serves. I ask for the mind of Jesus that freely gives without ulterior motive. Please help me to be truly generous in a way that pleases you. In Jesus' name. Amen"
Conclusion
When we pray, God hears us at all times. And he desires for us to come to him for everything that concerns or worries us including our business. 
When you pray to God, ensure you ask in faith because faith pleases him. 
"You may ask me for anything in my name, and I will do it" (John 14 vs 14 NIV).  This implies that God is interested in every area of your life. Don't hesitate to go to him in prayer about your business plans and watch how he works!