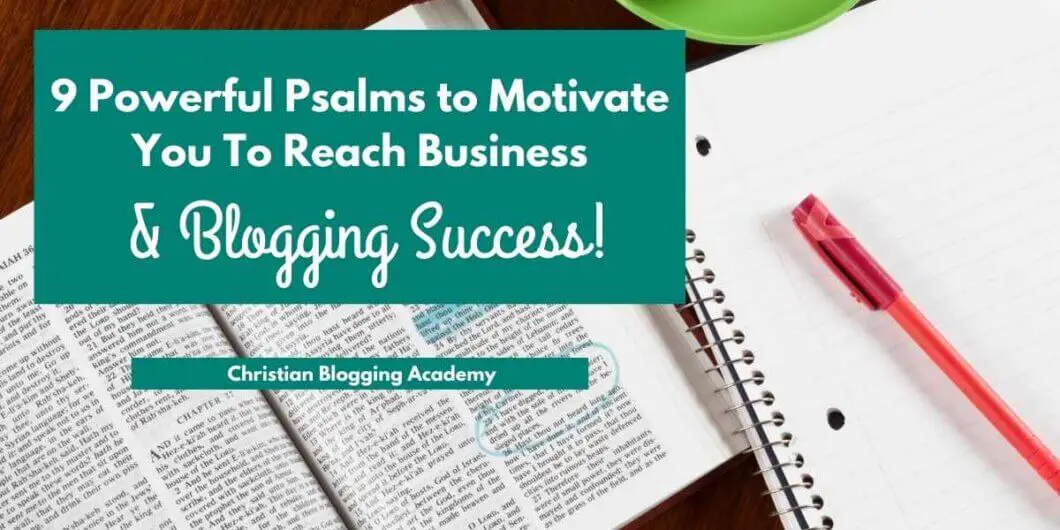 9 Powerful Psalms to Motivate You To Reach Business & Blogging Success
As Christian entrepreneurs, the Bible is one of the best business books we can read. Of course, God doesn't give us direct business advice in the Bible.
But there is so much wisdom in the scriptures that can be applied to us as we start and grow our businesses and ministries.
There's no way we can ignore that. So today I'm going to share with you some Psalms that you can use in your business journey especially when you feel lost and confused as to what to do next!
Oh yeah, and this post contains affiliate links to great products that will help you in your health journey. I will get a commission if you decide to buy from these links. Please let me know if you have any questions.
–Important Reminder From God About Your Business
According to Psalm 126:2 "the Lord has done great things for me, and holy is his name." God would like to do great things for you and your business, too…as long as we are dedicating our businesses to him, of course!
Whether you're just starting, finding your feet, or are already successful and ambitious in business, the 9 psalms that we will cover today offer encouragement, wisdom, and guidance on how to grow and direct our businesses!
It's not always clear when God will bless your efforts. Sometimes it feels like the answer is never! But Psalm 127:1 offers an important reminder: "Unless the Lord builds the house,
the builders labor in vain.
Unless the Lord watches over the city, the guards stand watch in vain. "
I often think of my business like a house I'm building. But I have to remember that if I don't put God first in my business (meaning I don't seek to glorify him) then all of my work is in vain!
This powerful reminder can help you stay motivated and make it easier to show up daily even when you want to quit (and I've been there many times)
– Why turn to Psalms for business help?
The book of Psalms is full of messages that are direct, straight to the point, and applicable to any area of your business.
These psalms will guide you in structuring an effective strategy for your venture and provide you with the insight necessary to succeed. The book of psalms has helped us to realize that:
God can help you overcome challenges, even in the toughest times of business.

God will give you the resources that you need to succeed in business.

God will give you the wisdom to make a good decision.

God is always with us, no matter what we are doing.
The book of Psalms is a book of praise, and studies have also shown that when people praise God, they are more likely to be happy and have higher self-esteem. In essence, praising God matches positive emotions with positive actions, which leads to more joy overall.
Praise helps you keep your focus, even when the going gets tough (Psalm 27) or if you think something is not possible. Praise helps you strengthen your faith in God. Equally, praise is an outward sign of God's faithfulness in your life.
–

Why We Should Praise God
Praise strengthens your faith.

Praising God shows him that you love him no matter what your circumstances

Praising keeps you focused on what is essential; praising helps keep us from getting too caught up in the daily grind or other distractions that prevent us from seeing the bigger.

Praising and glorifying God with our businesses helps point others to Christ.
– 9 Psalms to Help You Find Success In Your Small Business
So now let'd dive into these Bible verses found in the book of Psalms. Use Psalms as a guide for setting up a business plan that is structured around God.
You can also use these Psalms to pray and ask for help from God in specific areas of your business.
1) Psalm 23:1-2: "The Lord is my shepherd, I lack nothing. He makes me lie down in green pastures; he leads me beside quiet waters; he refreshes my soul."
This Psalm is telling us that the Lord is our Shepherd, who guides us and offers us rest. I don't know about you but I have pulled all-nighters working on my business. But sometimes we have to take a break from everything we are doing. We can find that rest in Jesus as he restores us from the stress we are under.
2) Psalm 37:4: "Delight yourself in the Lord, and he will give you the desires of your heart."
This Psalm is telling us that when we find joy in our relationship with God, he will give us the things that we desire.
Now does that mean we will have business prosperity and financial breakthrough? Hmmm, I wish I could tell you that. But what I think this really means is that as we find joy and delight in Him, what he wants is what we will want.
I can't tell you for sure that God will give you business success and I strongly urge you to pray over that. But I can tell you that the deeper your relationship with God gets the less focused you will be on your own wants and needs.
3) Psalm 34:10: "The young lions do lack, and suffer hunger: but they that seek the Lord shall not want any good thing."
This psalm says that we should rely on God to help us do things that we cannot do on our own and when we exercise this power, we will find that it leads to great things in our lives.
4) Psalm 1:1-3: "Blessed is the one who does not walk in step with the wicked or stand in the way that sinners take or sit in the company of mockers, 2 but whose delight is in the law of the Lord, and who meditates on his law day and night.That person is like a tree planted by streams of water, which yields its fruit in season and whose leaf does not wither— whatever they do prospers."
How can we apply these verses to our business? We should shun evil business practices like being dishonest to our customers, using shady tactics to get people to buy from us, etc, but instead, meditate on God's word so we know how we should treat others.
The deeper we get into God's word, the more steady and stable we become in both mind, spirit, and action much like a tree.
The more steady we become, the more we prosper because if you haven't thought about it, consistency and perseverance are some of the best traits we can have when it comes to business!
5) Psalm 112:1-3: "Blessed are those who fear the Lord, who find great delight in his commands.2 Their children will be mighty in the land; the generation of the upright will be blessed. 3 Wealth and riches are in their houses, and their righteousness endures forever. Wealth and riches are in their house, and her righteousness endures forever."
This Psalm is a reminder that God is not against us having success, as it is sometimes suggested in the Christian world.
Nor is He against us having wealth, but it's better for us to gain wealth first through fearing the Lord and through delighting in his laws.
6) Psalm 115:14-15: "May the Lord cause you to flourish, both you and your children. 15 May you be blessed by the Lord, the Maker of heaven and earth."
In this Psalm, the author is asking God to bless the Israelites and their descendants. This is a good reminder to not only pray for our own businesses but to also pray for the success of other kingdom business builders!
7) Psalm 38:9: "Lord, all my desire is before you; and my sighing is not hidden from you."
This Psalm reminds you that God knows everything we long for and He knows all of our worries.
He sees us as we put in long hours, feels the disappointment when we haven't met our traffic or financial goals.
He understands and sees our heartaches and tears of frustration as we pursue our dreams! As long as we are putting him first, I truly believe that this work we are doing will not be in vain!
8) Psalm 71:20- 21: Though you have made me see troubles, many and bitter, you will restore my life again; from the depths of the earth you will again bring me up. Thou shall increase my greatness, and comfort me on every side."
In this Psalm, the author is reflecting on the many troubles that God has seen him through.
Even though he was in the depths of despair, God lifted and carried him through it. God increased the author's greatness and honor while also bringing him comfort.
To others, it might sound silly but to us small business owners, this is our passion. And when we have troubles in our business, it does cause us despair. But rest assured, that God is there right beside us and He can restore us too, increase our greatness, and comfort us on every side!
– Which Business Psalm Will You Meditate Over?
The 9 inspiring Psalms for business success above provide you with ideas on where to turn when you need strength and encouragement while you pursue your dreams.
You can also use these verses to ask for help with specific areas of your business, such as if you need more followers or if you need to promote your new product.
I hope these Psalms will provide the comfort and guidance you need to continue to move forward in your business venture!
God Bless,

If Psalms For Business Success has helped you, please share it on Pinterest or Facebook! Thanks, love!
More CBA Posts
Financial Disclaimer: Christian Blogging Academy (blog posts & products) is not offering any kind of financial advice or making any promises of any financial guarantees. Any financial results discussed on this blog are not typical or guaranteed.Christian Blogging Academy is not a registered financial, investment, legal, tax advisor, or broker. This blog is for information and entertainment use only. A financial fund's past performance does not predict or forecast its future results.