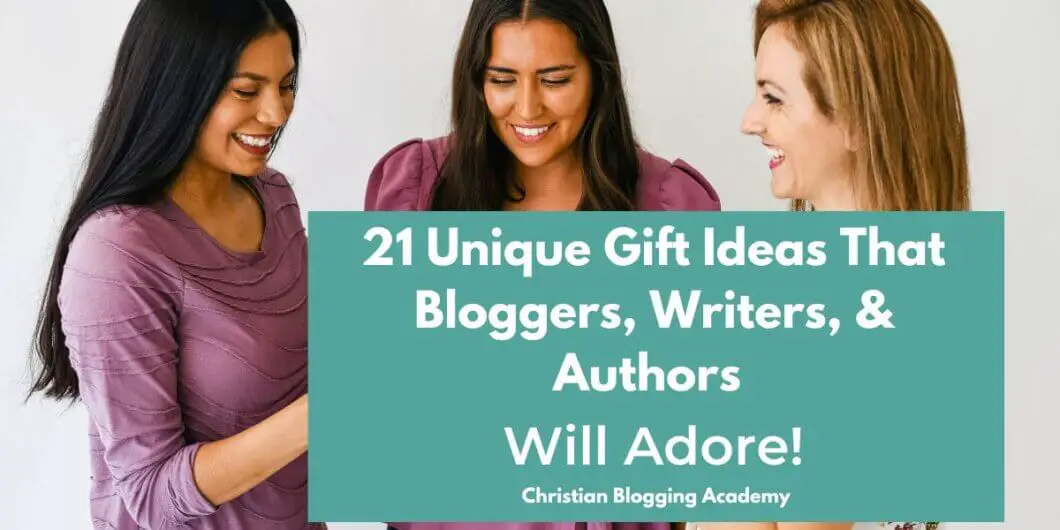 Last Updated on November 3, 2022 by Nicky Johnson
21 Practical Gift Ideas That Bloggers, Writers, & Authors Will Adore!
Oh, no! Your best friend's birthday is coming soon and you don't have a clue what to get them!
So then you think, "hmmm, my friend is a blogger and maybe there are gifts for bloggers that she would like… but what, though?"
Well, that's why I'm here friend!
Is there a blogger, writer, or author in your life that you want to bless with an amazing gift (or two) no matter what the occasion (hey, Christmas is coming soon)?
Or maybe someone you love wants to buy you a blogging gift but you aren't sure what you should ask for.
Well, as a fellow blogger and author, I know what it is that I would love to get as a gift.
So because of that, I've made a list of amazing blogger gift ideas that I or any other blogger would be overjoyed to receive!
These gift ideas are items, tools, and resources that I use as a blogger or wish someone would get for me so I have no doubt that you or your loved one will want them too!
Oh yeah, and this post contains affiliate links to great products that will help you in your health journey. I will get a commission if you decide to buy from these links. Please let me know if you have any questions.
Want to read this post later? Save it to one of your Pinterest boards!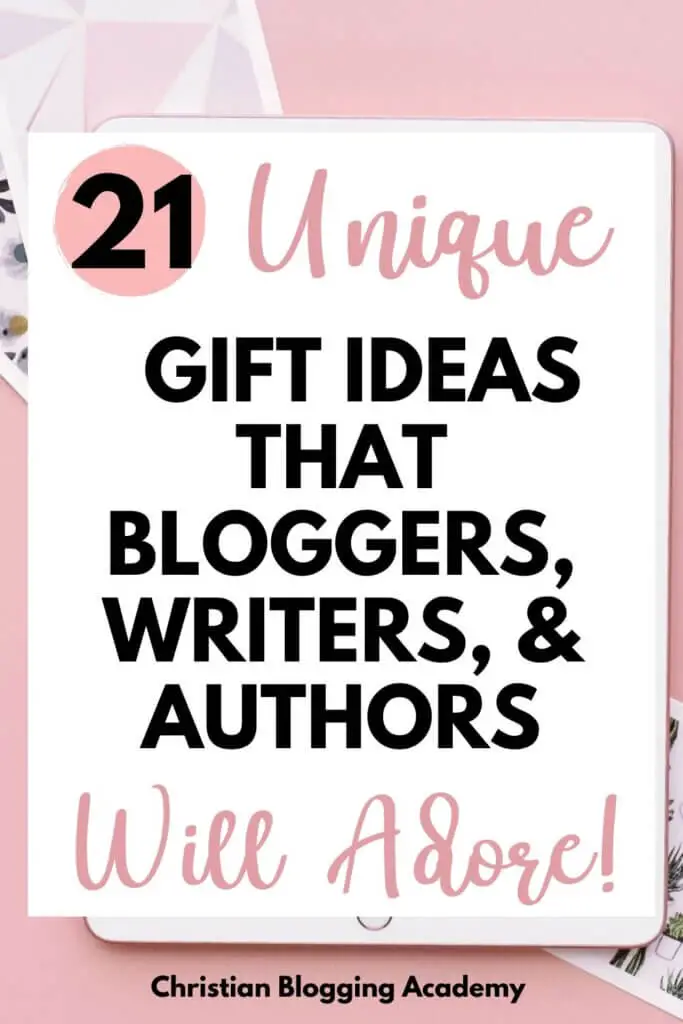 Gift Ideas That Bloggers, Writers, & Authors Will Love!
1) Blogging planner
I truly don't know what I would do without my blog planner. Actually, that's not true.
I do know what I would do. I would be a hot mess blogger, that's what I would be :)!
Before I had a blogging planner, I was so disorganized with my content and really every aspect of blogging. So I made a digital blog planner in Trello (you can check out the blog planner here) and it completely changed how I blog! 
You can get a printable blog planner or a digital one. It will just depend on what your friend would use most.
2) Ergonomic mouse
I'm such an office supply nerd and so I love gifts that you could get at Officemax or Amazon.
An ergonomic mouse that cradles the hand is super comfortable to use and is perfect for the business owner who spends long hours on their computer!
I know I get cramps in my hand from using the computer so much. So get your friend something that will relieve the pain they are in so they can keep working!
3) Pens
If your friend is a blogger or writer, there's a good chance they'll appreciate this gift! Pens are another product that they use all the time.
You could even get them some personalized pens with their name or initials on them.
4) Notebooks and journals
If your friend is an avid writer, they will need notebooks and journals.
These will not only be valuable gifts, but they'll also be helpful, and they will be used often. A good idea would be to get them a matching journal and pen set.
5) One-year subscriptions to blogging tools and resources like Hostgator, Convertkit, Canva, Tailwindapp, etc
If your friend or family member is a blogger or online entrepreneur, getting them a subscription to some of the services that they will use to get their business off the ground will make them love you forever!
Get them a tool to help them market their blog or products (like Convertkit or Tailwind) or create graphics and digital products like Canva. 
Or pay for their website by purchasing a subscription to a web host plan like Hostgator.
If you only knew the dance of joy I would do if someone bought me this! I'd have the biggest smile on my face for sure!
6) Storage subscriptions or tools (like Google One storage, One Drive, thumb drive, or an external hard drive)
If your friend or family member is a writer, you can easily imagine the amount of storage they'll be using, so a storage tool is a great gift idea.
7) Blog theme like from Restored 316
If your friend just started their blogging journey or just wants a new look for their blog, give them a gift card to a company that sells web themes. Or just ask them which one they need and buy it for them! Restored 316 has beautiful web themes that you can check out here!
That way they can pick out the best web theme that fits their brand and business.
8) Office décor 
I have included it because I'm sure those into writing, blogging, or anything creative would appreciate some office décor that will inspire them as they create and grow their business.
It might sound silly but having wall decor that motivates and inspires you can well…motivate and inspire you to keep going when you're ready to give up.
I don't just mean give up for the night but give up blogging completely.
Blogging and building a business is hard work so encourage your friend with some wall decor that will spark creativity and keep them from throwing in the towel.
9) Inspirational mugs 
I don't know what it is about mugs but ones with inspirational sayings are super popular!
Believe it or not, a mug telling you to shut up and write might just be all you need to motivate you to pick up that pen again.
You can look on Amazon or Etsy for blogging, business, and writing mugs. Plus all bloggers need coffee so they can pull those all-nighters.
Plus, throw in a Starbucks gift card which we will talk about more later!
10) Blogging or Business Books
Books are an obvious choice as gifts for writers and bloggers.
If you have a friend who is a writer then trust me…get them a book teaching them to refine and improve their craft. Books that teach about blogging or writing are gifts I would eagerly accept!
Some suggestions of blogging books that have been super helpful to me are:
Debbie Gartner's SEO books Easy On-Page SEO and Easy Backlinks are some of the best books about search engine optimization (SEO) that I've ever read.
Also Get Your Keywords Together is another great book about SEO that I highly recommend.
11) Blogging or business courses
Now, you don't have to buy a blogging or business course to succeed.
However, your road will be made much harder!
Blogging courses act as a shortcut to success and I'm sure if you asked one of your blogging friends if they had their eye on a certain course, they would be thrilled if you bought it for them!
Again, I'm speaking to you here as a blogger myself and this would be one of the most valuable gifts you could give me.
Some suggestions are: Launch Your Blog Biz by Create and Go. Pinterest Traffic Avalanche also by Create and Go. What I love about these two courses is that even though they were created years ago, Alex and Lauren, the course creators, still update the course so that the lessons stay current and relevant!
Productive Blogging has a great course on SEO called SEO Jumpstart!
I've learned so much from this course and it has helped me increase my traffic.
12) Chair cushion
This is a brilliant gift to give. If you've got a blogger friend or family member, they will spend many hours at their desk.
You can't expect them to sit in an uncomfortable chair all that time now can you ;)?  A seat cushion will help them sit more comfortably and be more productive.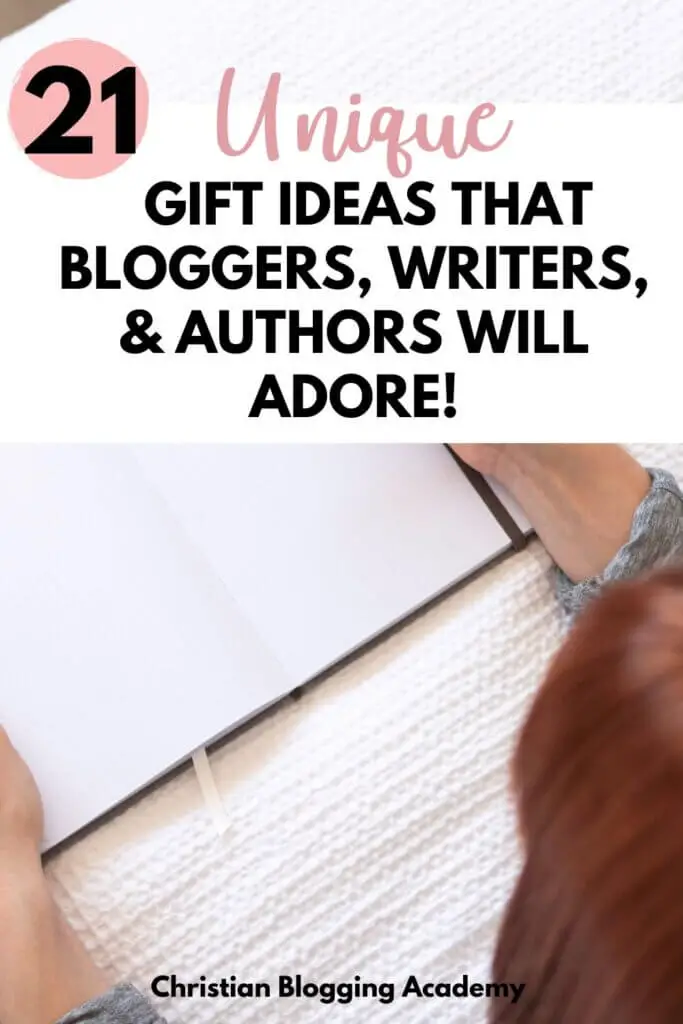 13) SEO software
You should consider SEO software if you're thinking of buying a friend or family member something related to search engine optimization.
There are many options, but one of the best is Keysearch!
That's the one that I use and it is the most robust SEO research tool I've ever used for a reasonable price.
If you got your writer friend or loved one a subscription to Keysearch I bet they would give you the biggest hug… I definitely would!
14) Essential oil diffuser
Blogging is stressful. You never know when Google is going to change its algorithm or if Etsy is going to shut down your store for no obvious reason.
That's why an essential oil diffuser filled with lavender essential oils is just what a blogger needs to destress. This is a great way to make a writer or blogger feel relaxed.
Not only does it help them relax, but it can also be an excellent gift for someone looking to better their health.
15) Coffee shop gift card
If your friend is a writer, consider getting them a gift card to their local coffee shop. This will allow them time to work without the distraction of their home office.
16) A listening ear
This is the perfect gift idea if you're low on cash. Why? Because this gift is free!
Blogging and building a business can be so lonely. So why not offer your friend a unique blogging gift and give them your listening ear.
Listen to their frustrations while they rant about their Google rankings going down or their income goals not being met.
You will be their MVP guaranteed!
17) Gym membership
This is a perfect gift for your friend trying to write or blog more. While writing or blogging, they don't have time to think about going to the gym.
The gym membership can be a one-year, two-year, or lifetime membership this will encourage them to take time off to go to the gym to relieve their stress sometimes.
18) A cute dry-erase board to map out their ideas
If you're buying a gift for a writer, it's important to remember that they might want to write their ideas on something bigger than a notebook.
A large dry-erase board is perfect because it allows them to dream, write their ideas down, then erase them and start all over again. 
19) Grammarly subscription
Grammarly is an incredible gift for anyone that's a writer. It helps correct spelling, punctuation, and sentence structure in your writing.
It can seriously help improve their masterpieces blog posts and books!
20) Massage
If you're looking for a more relaxing gift, consider getting a gift card to a massage place.
This will allow your friend or family member to go in for a relaxing massage after a lot of work. 
21) A blogging or writers' conference
There are lots of writers and bloggers conferences in the States and all over the world. Why not buy your friend a ticket to one of them so they can meet with like-minded people.
Like I said before, blogging and writing can be very lonely so I'm sure your friend would love to be able to talk to people who understand what their business is!
Buy Your Friend The Perfect Blogging Gifts With This Gift Guide
Above, you can find a list of things you can get for your friends or family members who are writers and bloggers.
If you read this article, I hope you learn a thing or two about gift ideas and find a gift for your blogger friend and family member.
The most important thing to remember is that your gift should be personal and memorable.

If Ultimate Blogger Gifts For Content Creators has helped you, please share it on Pinterest or Facebook! Thanks, love!
More CBA Posts
Financial Disclaimer: Christian Blogging Academy (blog posts & products) is not offering any kind of financial advice or making any promises of any financial guarantees. Any financial results discussed on this blog are not typical or guaranteed. Christian Blogging Academy is not a registered financial, investment, legal, tax advisor, or broker. This blog is for information and entertainment use only. A financial fund's past performance does not predict or forecast its future results.