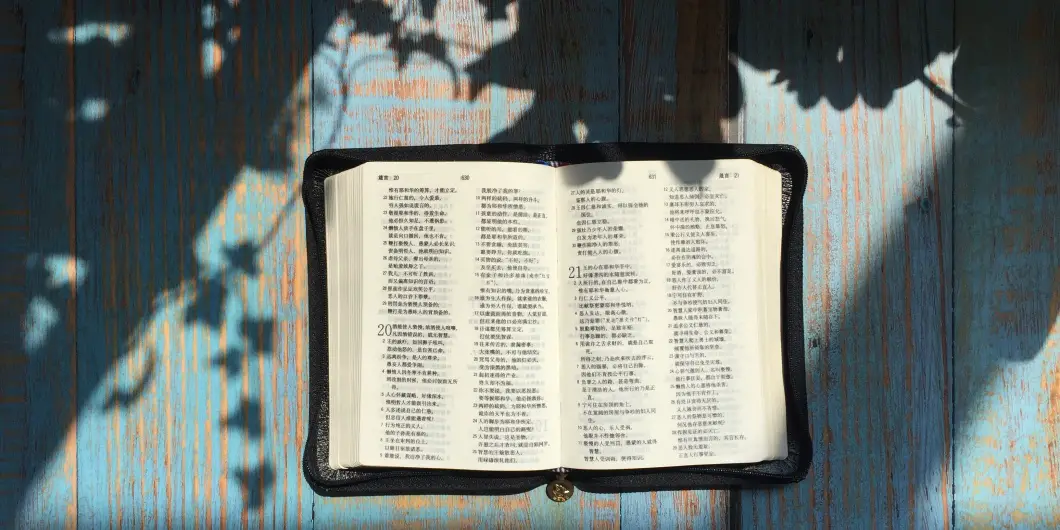 Last Updated on July 9, 2021 by Nicky Johnson
7 Powerful Ways To Fight Discouragement In Your Calling
I have to admit.
I've been down lately.
Blogging is…well…hard.
Getting a business off the ground is hard.
Living out your God-given calling is hard.

Trying to connect with others online and in real life is be hard.
That's how this week has felt. You stay up late (like 5 am in the morning late) and get up early.
You're trying so hard to gain a following, get a subscriber, get a sale and then…crickets.
This is not a blog post to tell you what to do to get a follower, subscriber, or sale. I'll do that in other posts.
This is a post to help you know what to do when you feel like you've really worked hard and you don't see the results you hoped you'd see. This is a post for when you're like:
"Am I really supposed to do this?"
This is a post for when you're questioning whether or not you should still do this. This is a post for when you don't think you can do this anymore.

This is the post for when you're plagued with self-doubt and uncertainties on whether or not to keep going.
This is a post to help you fight discouragement when you pursue your calling whether that be blogging, writing, starting a business or whatever He wants you to do.

This is a post to come to when you need encouragement in that calling. I hope it gives you that.

What To Do To Handle Discouragement In Your God Given Passion

1) Start An Anxiety Prayer Journal & Write Down Why You Feel Discouraged

I know there are prayer journals but an anxiety prayer journal is specifically for the things in your life that are stressing you out or giving you anxiety.
You can make it about anything that stresses you out or about just things related to your passion.
I have two anxiety journals…one for any random anxieties I have and one specifically for my blog/ business anxieties, fears, and disappointments.
In it, I pour my heart out to the Lord and tell Him all of my frustrations and self-doubts that I've had with my business.
Eventually the goal is to write it in the journal and then leave the anxiety there for the Lord to deal with and not take it back but unfortunately, I haven't gotten to that point yet.
However, it is a comfort when you are discouraged, to have the journal and know that the Lord has seen it.
I know that He cares about the work that we do even though sometimes it can feel insignificant compared to the problems other people in the world have.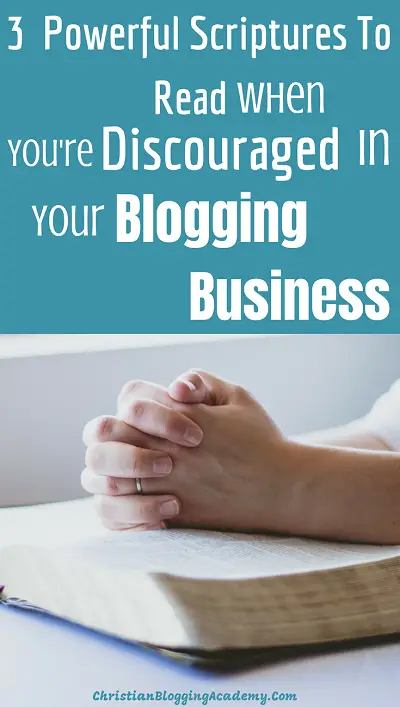 2) Search For Scriptures About Facing Discouraging Times

When I'm feeling discouraged about my progress I search the scriptures for hope and healing.
You can search for words like fear, hope, anxiety, discouraged, patience, worry, promises. Philippians 4:6-7 and I Peter 5:7 are powerful verses when you are feeling anxious.
However, right now this encouraging verse is really speaking to me when Jesus said: Can any of you by worrying add a single hour to your life?' (Matthew 6:27).
In the same way, can any of us add a single sale, repin on Pinterest or subscriber to our email list by worrying and constantly checking to see if anything has changed?
Furthermore in the big scheme of things, what do those things mean in the light of eternity?
I don't discount how valuable those things are to our businesses but I know I should be more concerned with changed lives, encouraging the downtrodden or influencing souls for Christ.
It's just so easy to get caught up in social media that you forget why you started blogging in the first place.
3) Look At Your Progress and Count Your Wins
We can focus so much on our losses or lack of gains that we forget that we have had wins and successes.
It doesn't matter how big or small the win was. Count it and be grateful for it.
Did you get more followers on your Facebook page?
Did you connect with someone in a Facebook group or at a conference?
Did you get into that Pinterest group board?
Did you get a comment from someone who uplifted you?
Those are wins and motivations to keep going! Don't give up!
4) Pray To God About Your Discouragement

This seems so obvious but sometimes the obvious goes right over my head!
When I've checked my social media accounts for the 20th time in the last hour (slight exaggeration), I have to sometimes just say stop girl just stop.
You're getting obsessive. Take a step back, breathe, meditate on God's word and be patient.
5) Keep going
Even though blogging and growing an online business can be difficult,  you have to remember you were called to do this. Don't quit.
6) Remember Your Dealing With People Not Stats
At the end of the day, you need to remember that you are dealing with people. You're not dealing with email subscriber stats, re-pins or shares. We are dealing with live people.
I forget that a lot. Something I have to keep asking myself is this "Who am I trying to serve and why? I shouldn't be asking "How can I get more Pinterest repins".
If I am putting the work in and really serving and helping and meeting the needs of the people on the other side of the screen then the re-pins, subscribers and whatever else we've been told is important will come.
Instead of banging your head against the wall, pray for those you want to reach.
Pray that you can find out what their needs are and meet them. Then count your wins by the number of people you were able to help or encourage.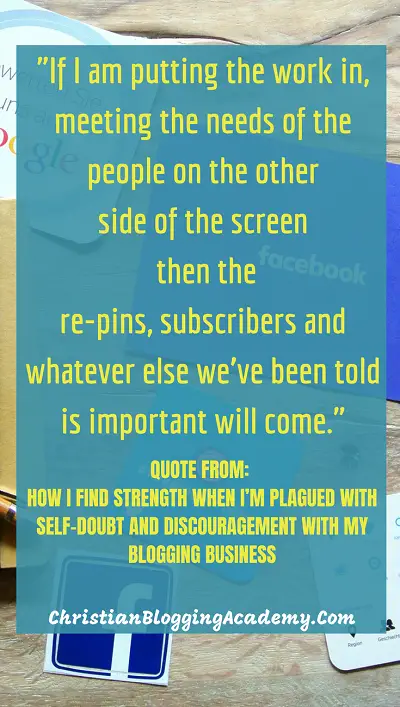 7) Have Fun
Remember when blogging was fun? No, you don't? Well maybe you do or you don't but I know I used to have fun with it. I used to be so creative with my post ideas.
Now I've gotten caught up in the like-follow-subscribe mentality and read articles that will tell me how to get "5,000 email subscribers overnight" or "10,000 Pinterest subscribers in 3 hours" or "17,000 likes to your Facebook page in 5 minutes".
Lol. Like totally ridiculous.
Let me tell you, trying to get results like this in lightning speed sucks all the fun and joy out of blogging.
I loved blogging back in the day before I got so much "how to blog" learnin' in me…when I was free-spirited and didn't know (or care) what a re-pin was.
I mean are we not just trading one set of chains (9 to 5 jobs) for another set (all the unofficial blogging and business rules) when we get so bogged down like this?
I mean, I'm just saying (how's that for profound?).
So What Do My Fellow Bloggers/Business Women Do When They Feel Discouraged?
There were other things I could have talked about in addition to these 7 ways like talking to someone else about, have someone else pray about it or even write a blog post about it like I'm doing.
Just writing this and hoping that it will encourage someone else helps encourage me. That's a whole lot of encouragement going on!
I pray that you truly were blessed by this post. Let me know in the comments what you do when you are struggling in your business.
Need help staying on track with your Christian blogging strategy? Download my free Christian Blogging Success Road Map so you never get lost in your journey.
If How To Handle And Fight Discouragement has helped you, please share it on your favorite social site!