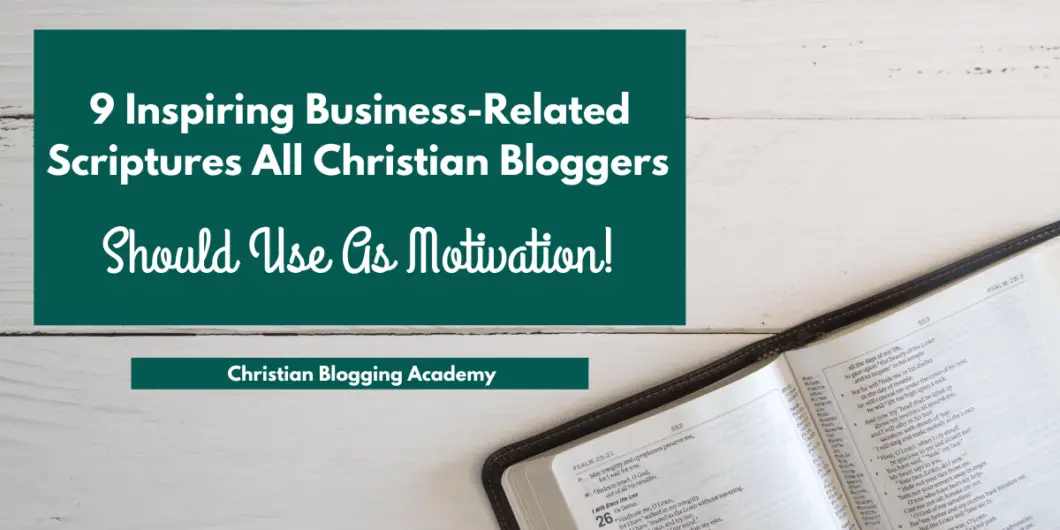 Last Updated on July 12, 2021 by Nicky Johnson
9 Scriptures Related To Business That Will Motivate Your To Keep Going!
Sometimes as Christian bloggers and online business owners we can get discouraged and unmotivated to fulfill our calling.
The long and sometimes seemingly fruitless hours can get totally frustrating!
But regardless of any circumstance, God's word has the encouragement we need to continue pursuing our purpose. 
Whether it be about marriage, friendships, finances, or business, God always has the right answer!
When starting a Christian blogging business or any sort of business it is essential that your relationship with God be at the center of it all.
And that way, when you want to throw in the blogging towel, you can rely on your faith and God's word to keep going. 
In today's post, I'm going to share with you 9 scriptures that you can read over and over when you start to question whether this blogging thing is really for you or anytime you need the motivation to stay the course.

What Does Scripture Say About Business & Entrepreneurship?
So what does the Bible say about people becoming business owners and
entrepreneurs?
I believe it has a lot to say about it which is no surprise.
From the prayer of Jabez to all of the scriptures in Proverbs about money and how to treat others, God certainly cares about how we run our blogs and businesses.
Please read the following verses to see what He has to say and then my humble interpretation of the meaning of these verses from a business perspective. 
1. Proverbs 10:4 "Lazy hands make for poverty, but diligent hands bring wealth."
(I call this the "(Hard (& smart) work brings wealth" scripture)
When running or starting your own small business, there is literally no time to be lazy.
You have to put in the hard work, post a million times on social media, stay up past your bedtime, and sometimes even pull all-nighters.
When it comes to blogging, there are so many daily and monthly tasks on your checklist that they can boggle the mind.
You may at times think that you can't do it all and even wonder if blogging is even worth it.
This verse, though, is a good reminder of the importance of hard work and the consequences we might face when we don't follow God's calling for our work. 
2. Ecclesiastes 9:10 "Whatever your hand finds to do, do it with all your might, for in the realm of the dead, where you are going, there is neither working nor planning nor knowledge nor wisdom."
Another way to look at this verse? Keep your hand from mindlessly scrolling and start typing!
Ya'll I love this verse…probably because I need to be reminded of this on the daily.
Maybe it's because I love planning and working and knowledge and wisdom and I want to access all of these things while I'm on this side of eternity.
Regardless of the reason, this is a great verse to recall when you're spending too much time on Instagram reading about celebrity gossip.
Instead, think about what our true purpose as bloggers are and pursue that work with all of our might so that we can glorify God and point others to Jesus! 
3. Luke 16:10 Whoever can be trusted with very little can also be trusted with much, and whoever is dishonest with very little will also be dishonest with much.
In other words: Work as hard for 100 readers as you would 100,000
When I think about this verse in relation to blogging, it reminds me that even if you only have a small number of monthly readers, you should still work as hard as if you had 1,000,000 monthly readers.
Being faithful in our work at the beginning when we don't have much income or following, can show God that we can be trusted with a little and a lot. 
4. Proverbs 16:3 Commit to the Lord whatever you do, and he will establish your plans.
 AKA: Keep God at the center of your business plan
When taking on any work, or making any move for your business, you need to commit it to God.
Do it for His Glory and submit your own desires to Him.
Without Him involved, there will be no true success. 
5. Jeremiah 29:11 For I know the plans I have for you," declares the Lord, "plans to prosper you and not to harm you, plans to give you hope and a future.
This is, of course, a very well-known verse.
It's one that is taken out of context perhaps.
But even if this verse is not directed at you and me, I still want to work and pursue my purpose as if it were true (when it comes to the part about prospering).
And even if you don't prosper financially with blogging, you will prosper by storing up treasures in heaven by being willing to use your talents for God. 
6. Proverbs 18:9 One who is slack in his work is brother to one who destroys.
Stated another way: Sloth & destruction are bosom buddies
Yikes…so if I'm reading this right, laziness and destruction are close relatives. Hmmm, I don't want to be in this camp, do you?
7. Psalm 128:2 You will eat the fruit of your labor; blessings and prosperity will be yours.
If you fear the LORD blessings follow.
Sometimes those blessings are not tangible or material things but they are spiritual blessings. We need to ready ourselves for times like that.
Sometimes what we think we need, is not what God provides.
God sees a bigger and clearer picture and He always knows what is best for His children and for your business. 
8. Proverbs 14:23 All hard work brings a profit, but mere talk leads only to poverty...
…so work hard or suffer, basically.
Am I the only blogger that gets caught in a research phase but has a hard time transitioning to an action phase?
Oh, so you don't know what I mean?
Well, what I mean is this…you can get so focused on researching how to do this blogging technique or strategy, taking course after course, reading article after article but never taking action on any of it.
In other words, you're engaging in the blogging version of "mere talk" as this scripture talks about. I'm so incredibly guilty of this, it's not even funny. How else could I explain the phenomenon in such detail lol!
9. Proverbs 6:6-11 Go to the ant, you sluggard; consider its ways and be wise!
Oh, the little Formicidae that could.
This passage is for sure my favorite.
I both admire the ant's work ethic and have a strong desire to beat his or at least match his productivity.
I'm sure I fall short but at least this little eusocial insect inspires and motivates me to work harder, even when I don't want to. 
Which Scripture Inspires You The Most To Work Harder In Your Business?
So I urge you, when you feel like giving up on your blogging business, study these scriptures, memorize them and keep them in your heart.
Pray and speak to the Lord more than you have ever done before because this business journey is usually rough and steep.
May His presence fill your heart and may every business venture be for His Glory. 
And if you would like access to some free blogging resources, just enter your email below and the information will be sent to your inbox!
If 9 Inspiring Business-Related Scriptures All Christian Bloggers Should Use As Motivation has helped you, please share it!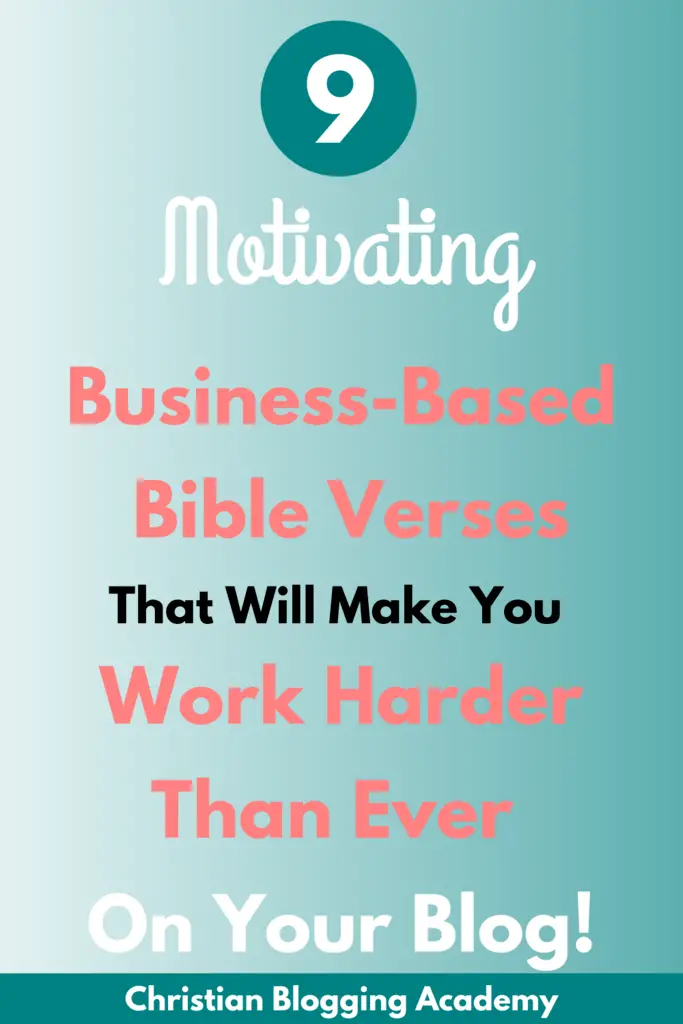 Want to read this post later? Click here to save it to one of your Pinterest boards! 
Business Related CBA Posts