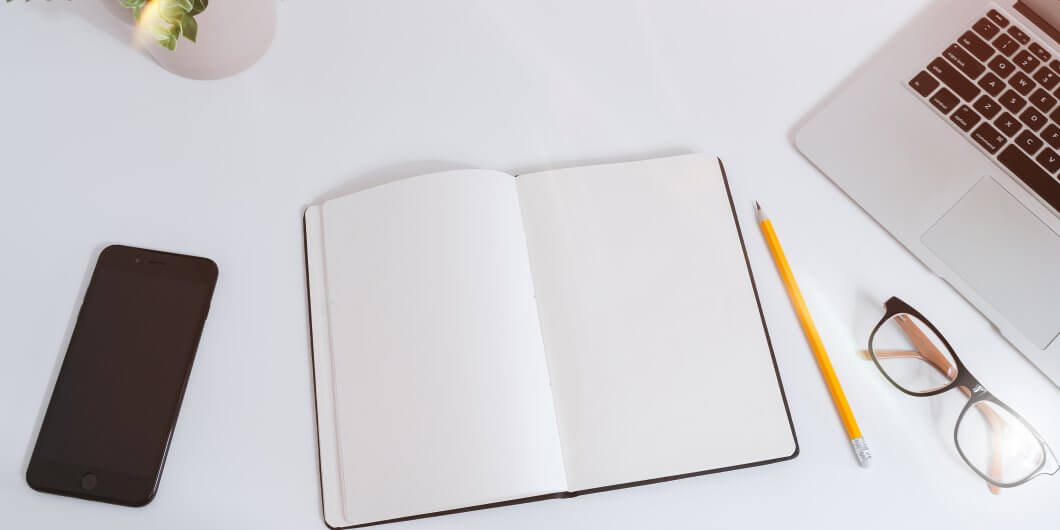 Last Updated on July 8, 2021 by Nicky Johnson
Affiliate Programs For Beginner Bloggers
Okay I've heard ya'll loud and clear. You want to know about affiliate marketing lol.
I keep getting a lot of questions about it and I totally understand.
Affiliate marketing is one of the best ways to start monetizing your blogs so I'm excited to share what I know about it.
I plan on doing quite a few affiliate marketing related posts this year so stay tuned.
Let's not waste any time getting started!
But okay before we get started I will tell you that I have a Christian blogging resource library with lots of different free blogging resources that I believe will help you in your blogging journey.
The main printable that will help you with affiliate marketing is my Affiliate Product Perfection printable.
It's going to guide you step by step on choosing the perfect affiliate products for your audience and help you start monetizing your blog.
When you enter your email address below you'll get access to this printable and so many more free of charge!
Just enter your email below and the password to the library will be sent to your inbox.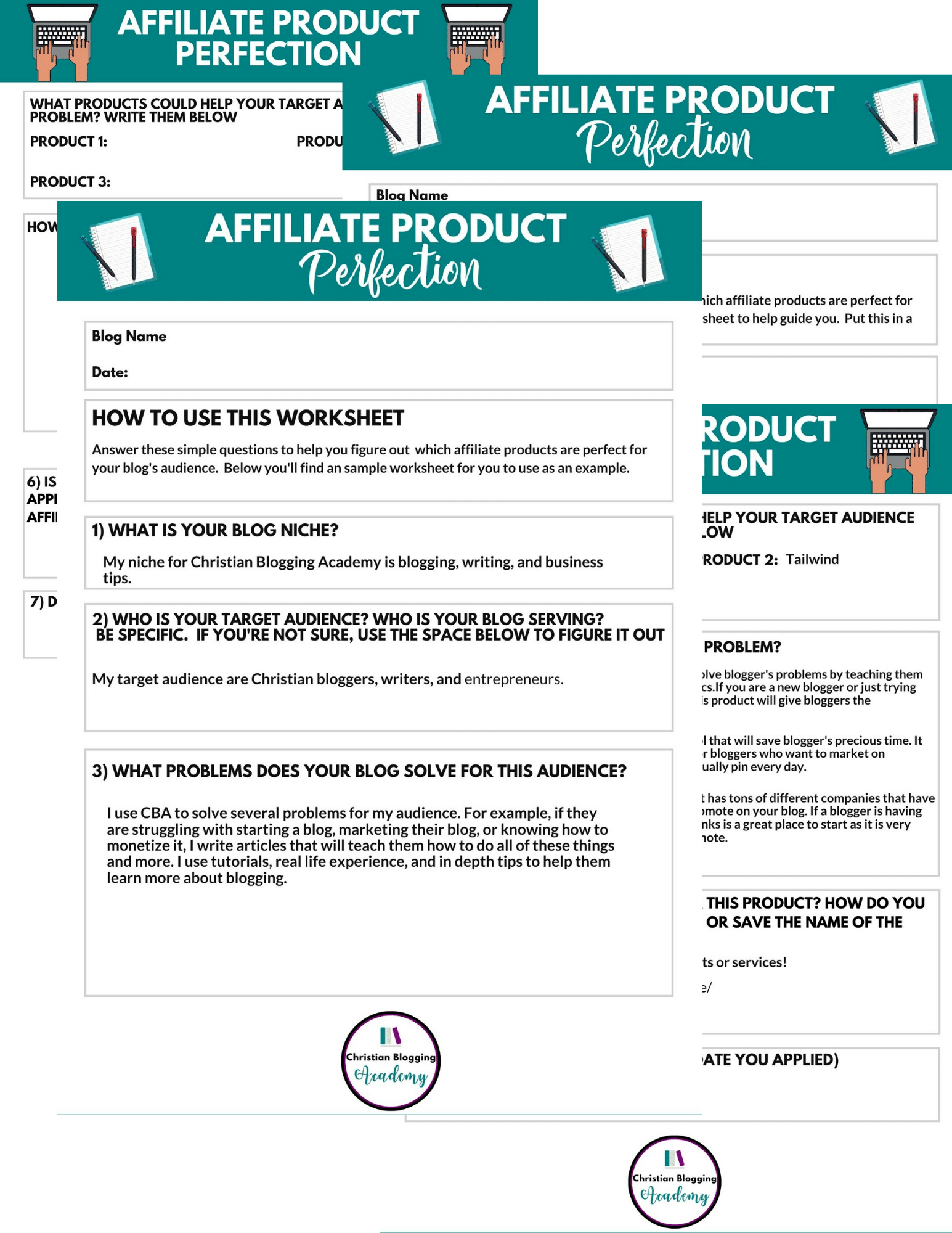 Ok now let's get started. 
3 Best Affiliate Marketing Programs For Complete Beginner Bloggers (Hint: Besides Amazon)
Oh yeah, and this post contains affiliate links to great products that will help you in your blogging journey. I will get a commission if you decide to buy from these links but I'm only recommending products that I feel confident about and from companies that I trust like Amazon and others. Please let me know if you have any questions.
What is affiliate marketing?
So glad you asked because it's an amazing way to monetize your blog.
Affiliate marketing is when you get a commission for promoting a product or service that was created by another company.
It's a partnership between you, the blogger, and a company that creates products that you believe will help your readers or email subscribers.
That company wants some help promoting their products and you agree to do it.
So let's explain it further in an example a little bit later
I'll use a company we are all probably familiar with.
Let's say the company Dayspring decides that they want some help promoting their bibles, journals, cards, and their other products.
So they decide hey let's create an affiliate program for our products.
Here's The Thought Process Behind Why Dayspring Would Pay You To Promote Their Products
Continuing to use Dayspring as an example, they are thinking like this (probably):
– If a blogger or someone with an online presence has an audience interested in bibles and journaling, they can promote our products using a special link unique to them
-If one of their readers clicks that special link (called a referral link) and buys something from us (us being Dayspring) after clicking that link, we will give them (the blogger) a percentage of the sale of whatever that customer buys (commission).
Hopefully that makes sense.
Do you understand why Dayspring (or any company) would have an affiliate program for their products?
Doing it this way is more cost effective than creating a commercial or buying advertising space.
Why?
Because they only pay once they are guaranteed a sale.
Whereas with creating a commercial, a company is paying money with no guarantee that they will get any return on their investment (ROI).
I hope this illuminates what affiliate marketing is and why a company would want to pay us bloggers to promote their products for them.
It's a win win situation for us both basically.
What is an affiliate marketing network?
Something else that's important to know about is affiliate networks.
An affiliate network is a company that hosts a lot of different affiliate programs under one umbrella so to speak.
So that means you can register for one affiliate marketing network website and manage all of the companies you promote in one dashboard.
I'll talk about that more later.
How do I get started with affiliate marketing?
When I'm looking for new affiliate products to promote this is what I normally do:
I go to the website of the company that makes the product I want to promote.
We can keep using Dayspring as an example.
If I wanted to see if I could promote their products I would go to their homepage.
Then scroll down to the bottom of the page and look in their bottom menu for links that might say affiliates or partner with us or something.
So I just did that and found a nada.
No links that say affiliates, no links that say work with us nothing.
I guess they don't have an affiliate program so I should move on right?
Well not so fast…
So instead of giving up I would then I would go to Google and type in "Dayspring affiliate program".
And this is where you find the goods.
Now you see that Dayspring does indeed have an affiliate program.
They have an affiliate program through several different affiliate networks including ShareaSale which we will talk about in a little bit.
Those are the two best ways to find out if a certain company has an affiliate program.
You can also email the company directly to see if they have an unadvertised affiliate program.
I have never done this but it's worth a shot.

How Much Does It Cost To Apply For An Affiliate Network?
It is absolutely free to sign up to be in an affiliate network or an individual affiliate program...for the most part.
The ones that I'm going to talk about today are free and won't cost you a dime to be a part of.
There are some affiliate networks and programs I believe do cost money but we aren't talking about those today.
What are the 3 best networks to get started with affiliate marketing as a beginner?
My picks for the 3 best affiliate programs/network for beginner bloggers are as follows:
1) Skimlinks
Skimlinks is an amazing affiliate network ya'll.
I remember the night when I got approved (you have to apply for an affiliate program and get approved manually).
I found one company after another after another that sells products that I not only believe in and use but I believe would benefit my audience as well.
It was so exciting!
Take a look at the pic of the Skimlinks homepage below.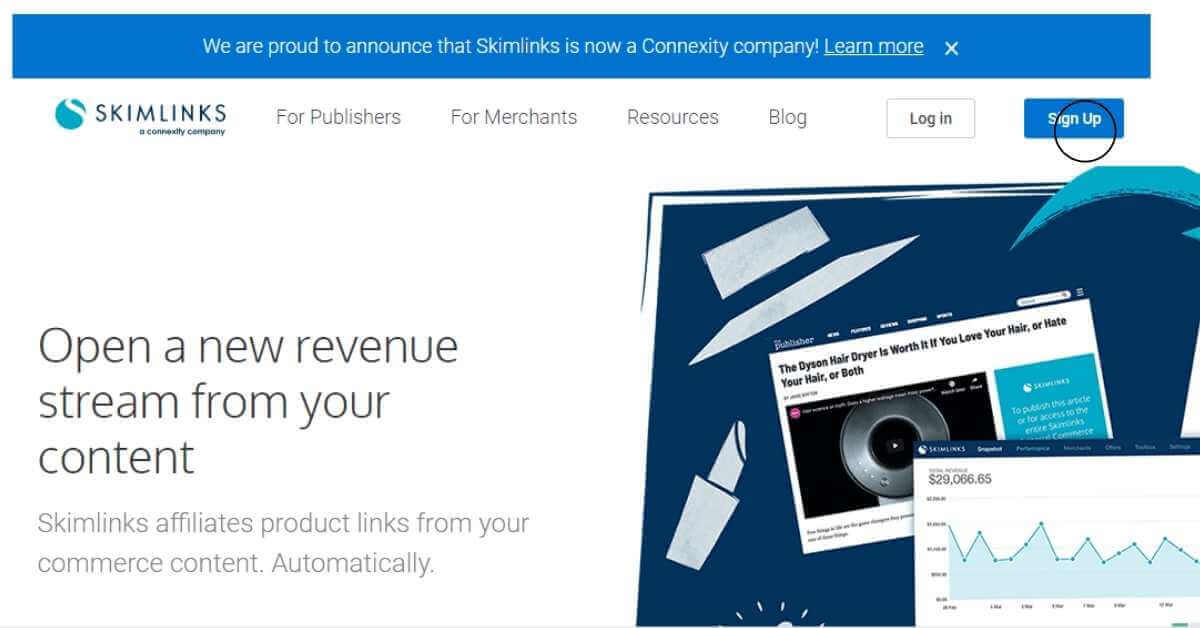 Okay so it doesn't take much to excite me but anyway.
But wait there's more.
Skimlinks is amazing in another way too.
Once you have been approved for the Skimlinks network, you now have access to every single affiliate program in their network.
That means you can promote any product in any of the companies in their network.
This is awesome because with many affiliate networks, not only do you have to get approved for the affiliate network but you also have to be approved manually for each individual company inside the network.
But with Skimlinks you apply once and you're done. You're in like Flynn.
How Do You Apply For Skimlinks Affiliate Network?
Applying for Skimlinks couldn't be easier.
Just follow the tutorial below.
Step 1: Go To Skimlinks.com and click on the blue Sign-up button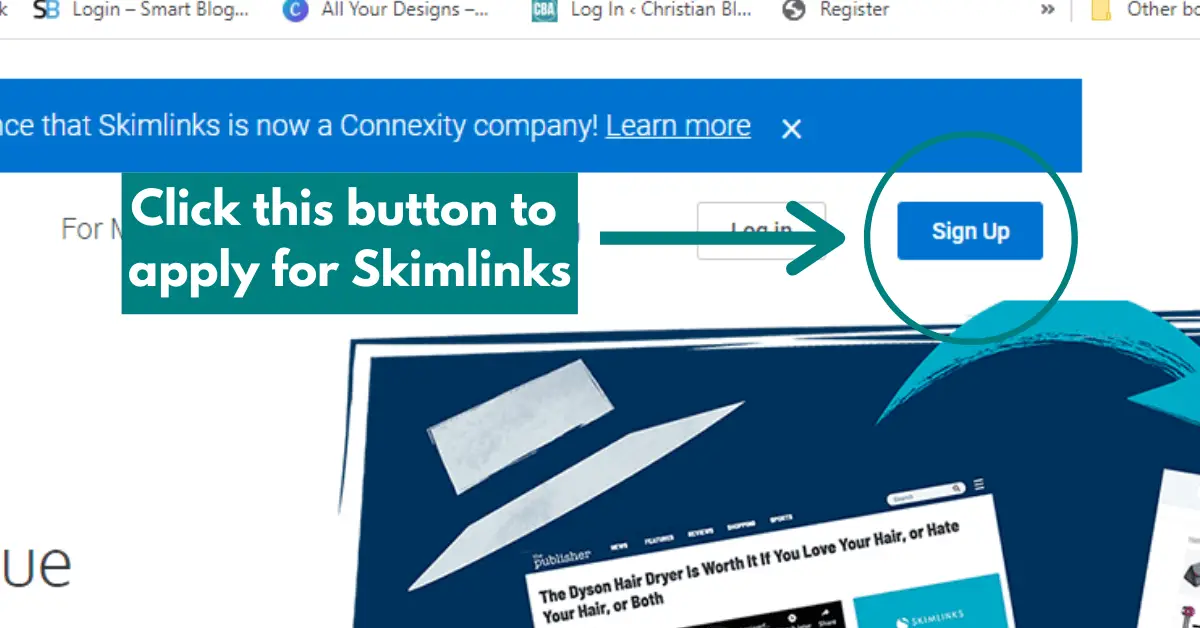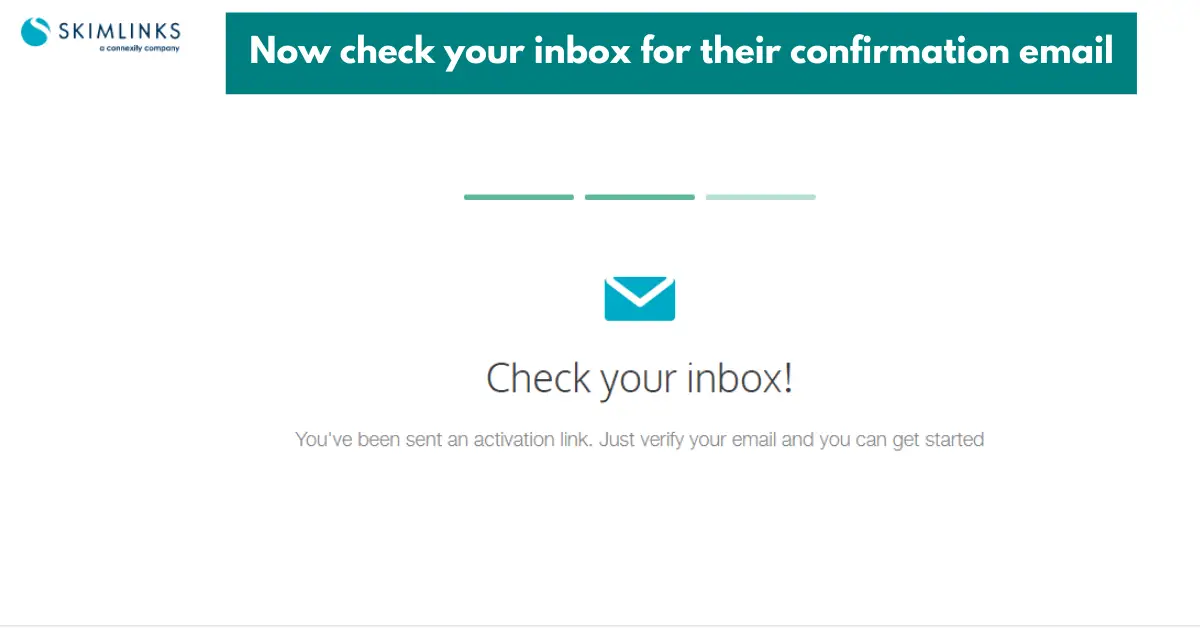 Step 2: Fill in the form.
There are only a few short pages to fill out.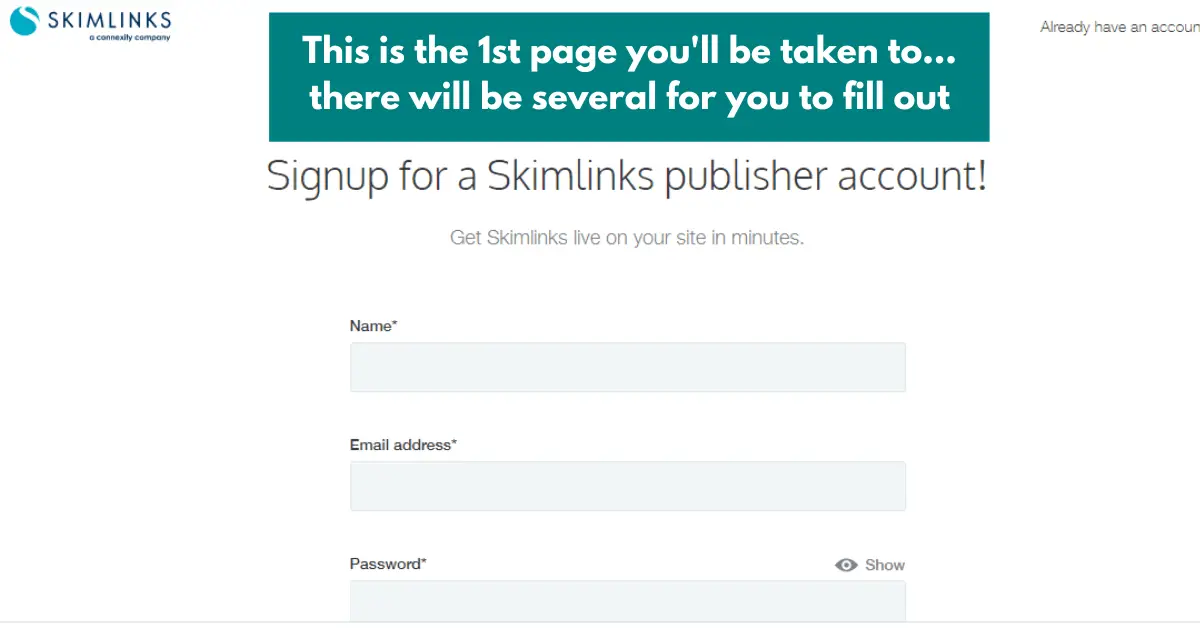 This is the second page of the application to fill out.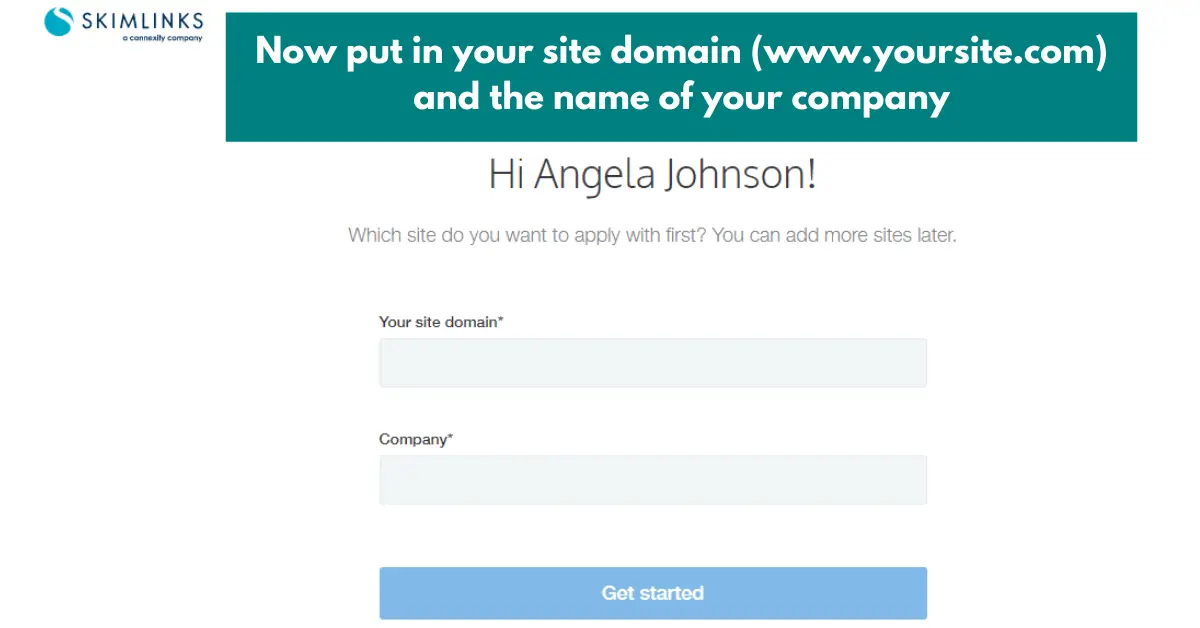 Step 3: Fill out this simple form as well and click the blue get started button.
Step 4: Now check your inbox for a confirmation email from Skimlinks.
Step 5: Be sure to click the Verify Your Email button in your confirmation email.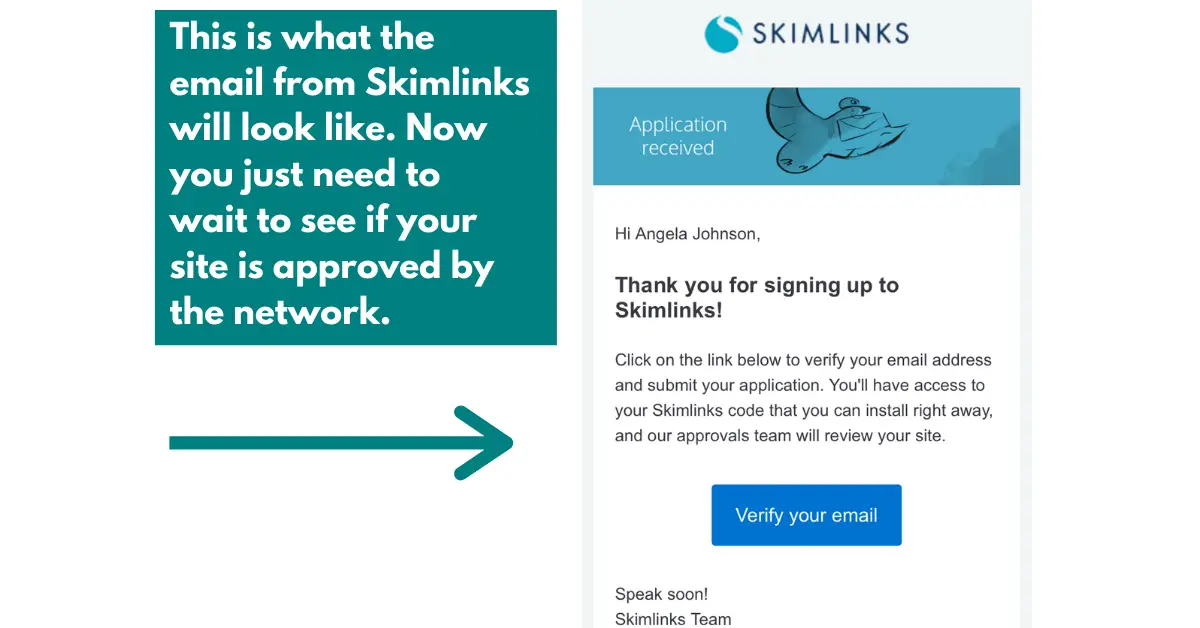 Now you have to wait a few days and see if they approve your site.
It didn't take my first blog very long to get approved but this blog took a week or longer to be approved so it could take longer than a few days.
It just depends but hopefully it will be a fast process.
What Are Some Of The Companies And Brands Available In The Skimlinks Affiliate Network?
Here are some of the brands that you can promote on the Skimlinks affiliate network.
Business/Blogging
Staples
Freshbooks
Quickbooks
Constant Contact
Deals
Dollar General
Groupon
Rakuten
Sam's
Coupons.com
Beauty
Sephora
Dermstore
Ulta
Walgreens
Mac
GNC
Vitamin Shoppe
Books
Books-a-million
Barnes & Noble
Ebooks.com
Ingram spark
Home
World Market
Hobby Lobby
Home Depot
Travel
TripAdvisor
Hotels.com
Expedia
VRBO
Enterprise
Christian Companies
Christian Aid
Christian Cafe
Christian Desktop
Christian Mingle
Christian Strong
Bible Store
American Bible Society
ShareaSale is another affiliate network that I believe is great for beginner bloggers.
Here's why.
In addition to the fact that it has some great companies that you can be an affiliate for (which we will discuss later) ShareaSale's dashboard is user friendly.
Don't underestimate the importance of that.
I'm a part of another affiliate network and it is so complicated to use and I would never recommend it for beginners.
And like I mentioned before, ShareaSale is free so that of course is a major benefit.
Applying for ShareaSale will take a little bit longer than applying for Skimlinks but I promise it's not hard.
Just follow the tutorial below.
Go To Shareasale.com and click on the Affiliate Sign Up link at the top of the page.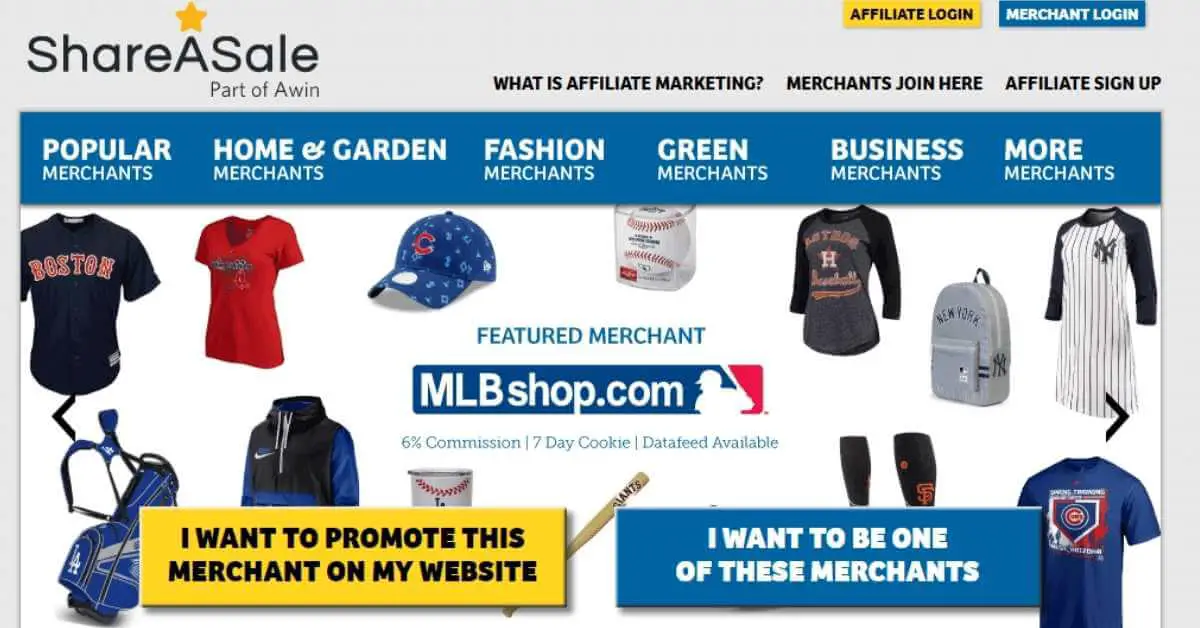 Now you have to go through a simple 5 step process of filling out the application.
Step 1: The first thing you need to do is create a username and password.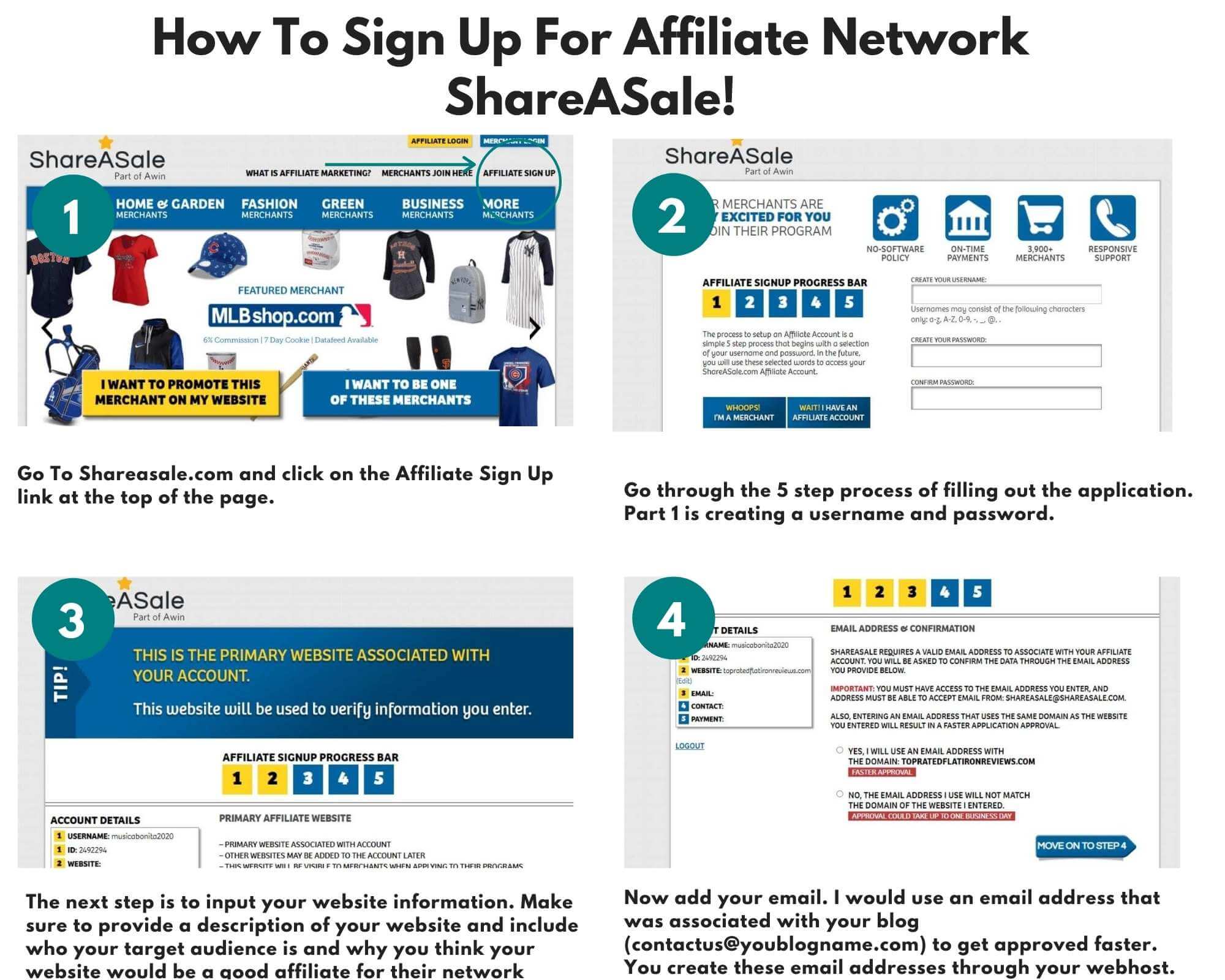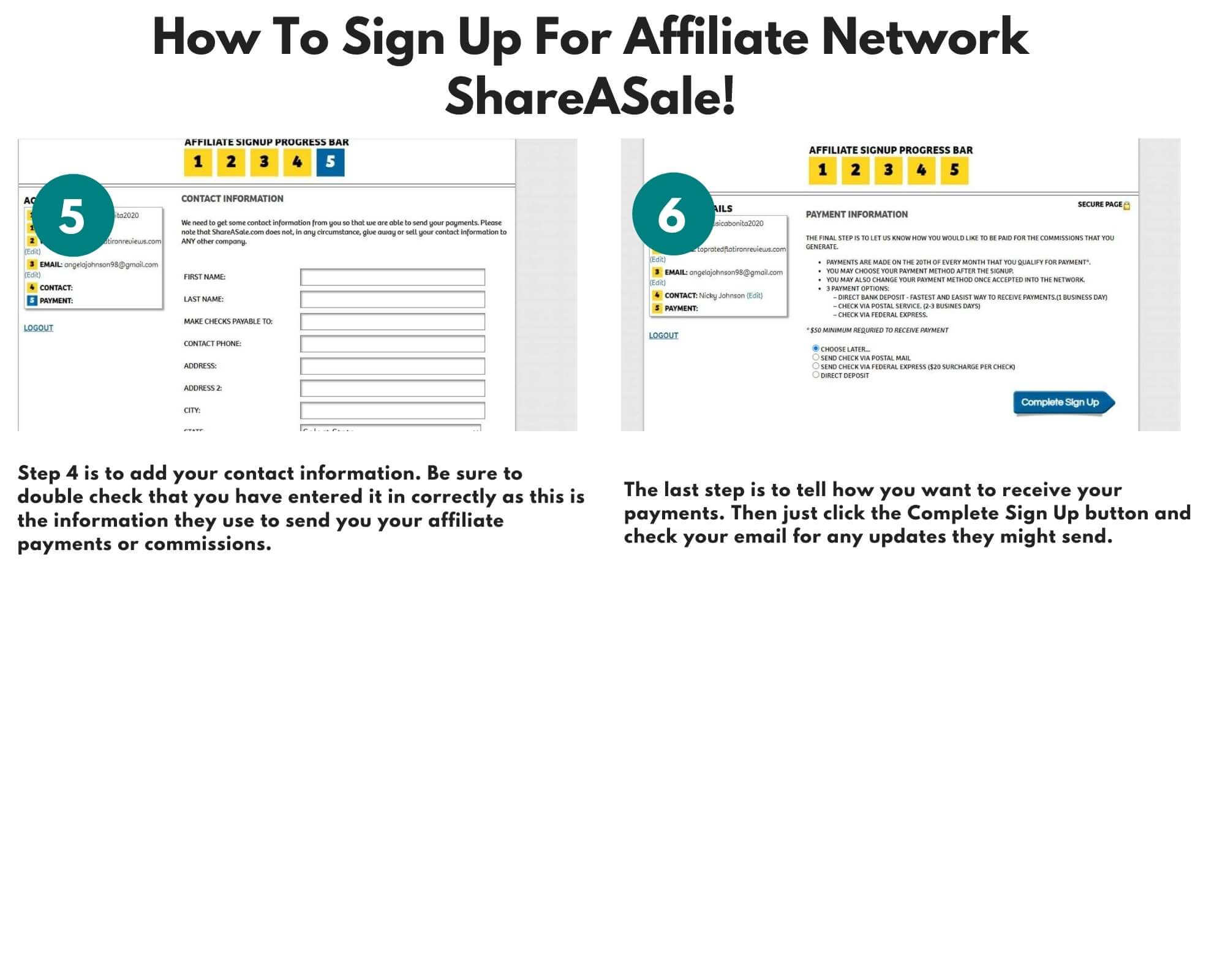 Choose something easy for you to remember but hard to hack.
Step 2: The next step is to put in your website information.
Make sure to provide a description of your website and include who your target audience is and why you think your website would be a good affiliate for their network.
Step 3: Now add your email. I would use an email address that was associated with your blog such as contactus@youblogname.com to get approved faster.
You create these kinds of email addresses through your web host.
Step 4: Now you need to add your contact information.
Be sure to double-check that you have entered it in correctly as this is the information they use to send you your affiliate payments or commissions.
The last step is to tell them how you want to receive your payments.
Then just click the Complete Sign Up button and check your email every now and then to see if you've been approved.
ShareaSale also has some great companies that you can apply to be an affiliate for once you're approved for the ShareaSale network.
Companies You Can Promote From Shareasale:
3) Ultimate Bundles
Now this affiliate program is a little bit different than the other two.
Ultimate Bundles is a company that creates packages of (mostly) digital products from different online creators centered around a certain theme.
So let me put it another way and use an example.
Ultimate Bundles has a package (or bundle) of digital products like ebooks, printables, planners, courses, and even some services that caters to bloggers.
It's called the Ultimate Bundle Genius Bloggers Toolkit.
It's awesome because you get to try digital products that you may have had your eyes on for years in a discounted package.
I've bought it for the last 2 years and I refer to certain products in the bundle even years later.
But don't worry.
They don't just have bundles on blogging.
They have them on faith, homeschooling, productivity, photography, healthy living, and more.
You could find bundles to promote that are relevant to a variety of niches.
One drawback of some bundles is that some of them are only available for a short period of time.
So here's the deal.
Some bundles are evergreen which means they are available for around a year after going on sale.
However some bundles are only on sale for a few days to a week.
Once you become an affiliate for them, you will know exactly when each bundle will be on sale and when to start promoting them.
Read more about Ultimate Bundles here.
How do you sign up for Ultimate Bundles As An Affiliate?
To sign up to be an affiliate of Ultimate Bundles is quite simple.
Step 1: Go to their website at ultimatebundles.com.
Step 2: Hover over where it says partner with us.
Step 3: Scroll down to where it says become an affiliate.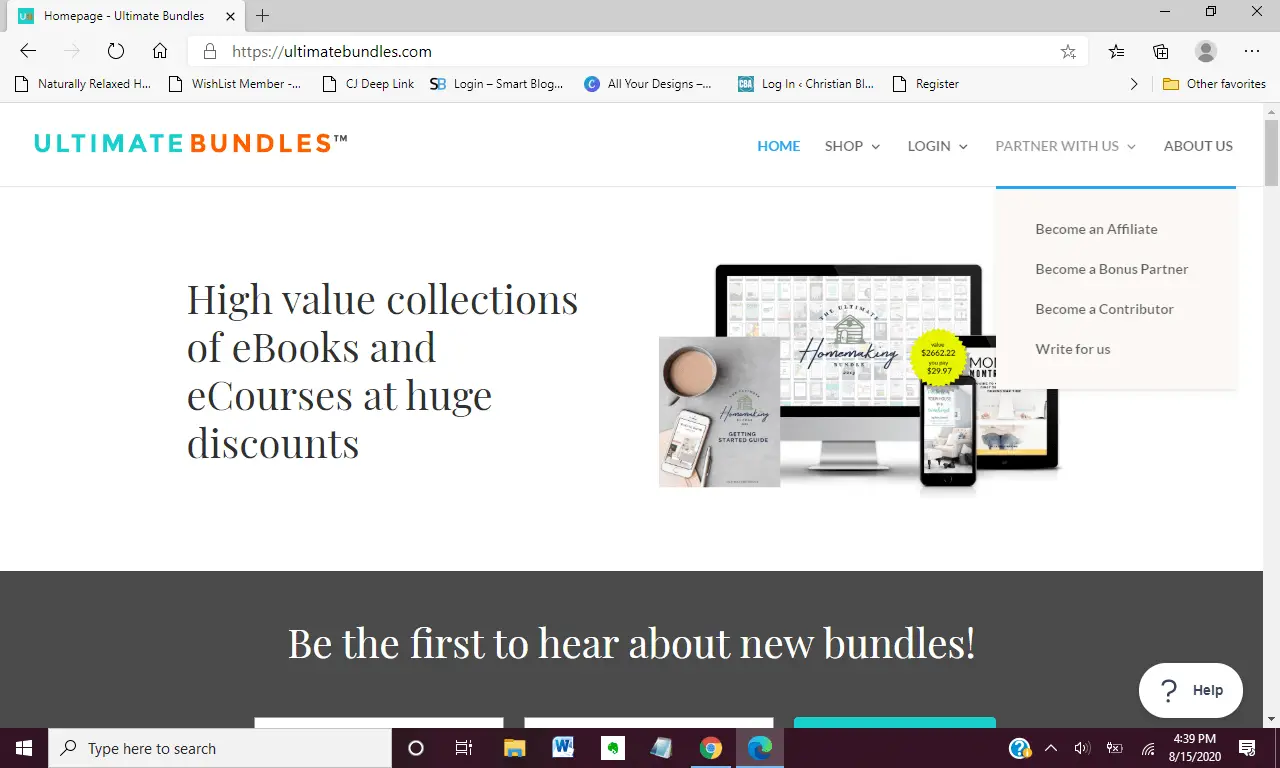 Step 4: Now on this page they give you a lot of information about their company and I would be sure to read this… it's for real important.
It talks about the benefits of joining their affiliate network so that should be something you're interested in.
Step 5: Once you read this important info you will happen upon a section and a button on that same page that says affiliate 40% apply now.
Be sure to click the apply now button which is orange as of this writing.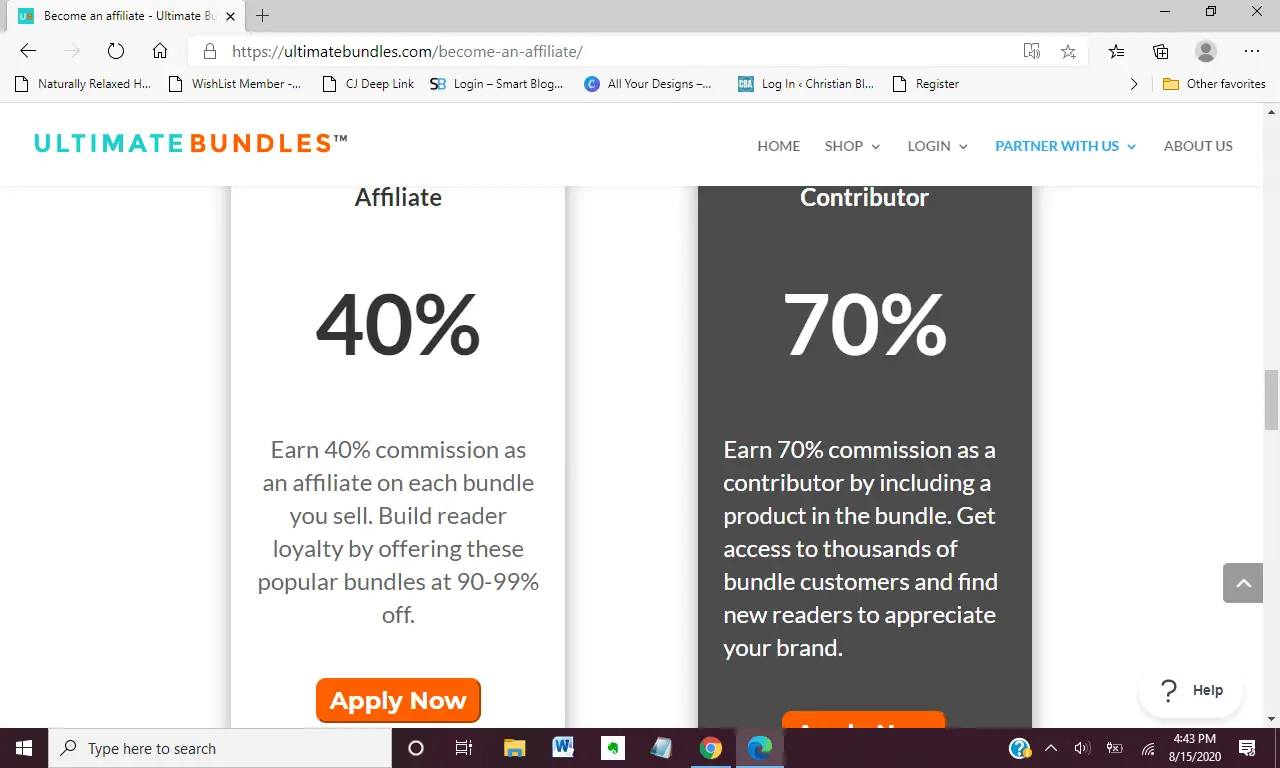 Step 6: Now you fill out the form.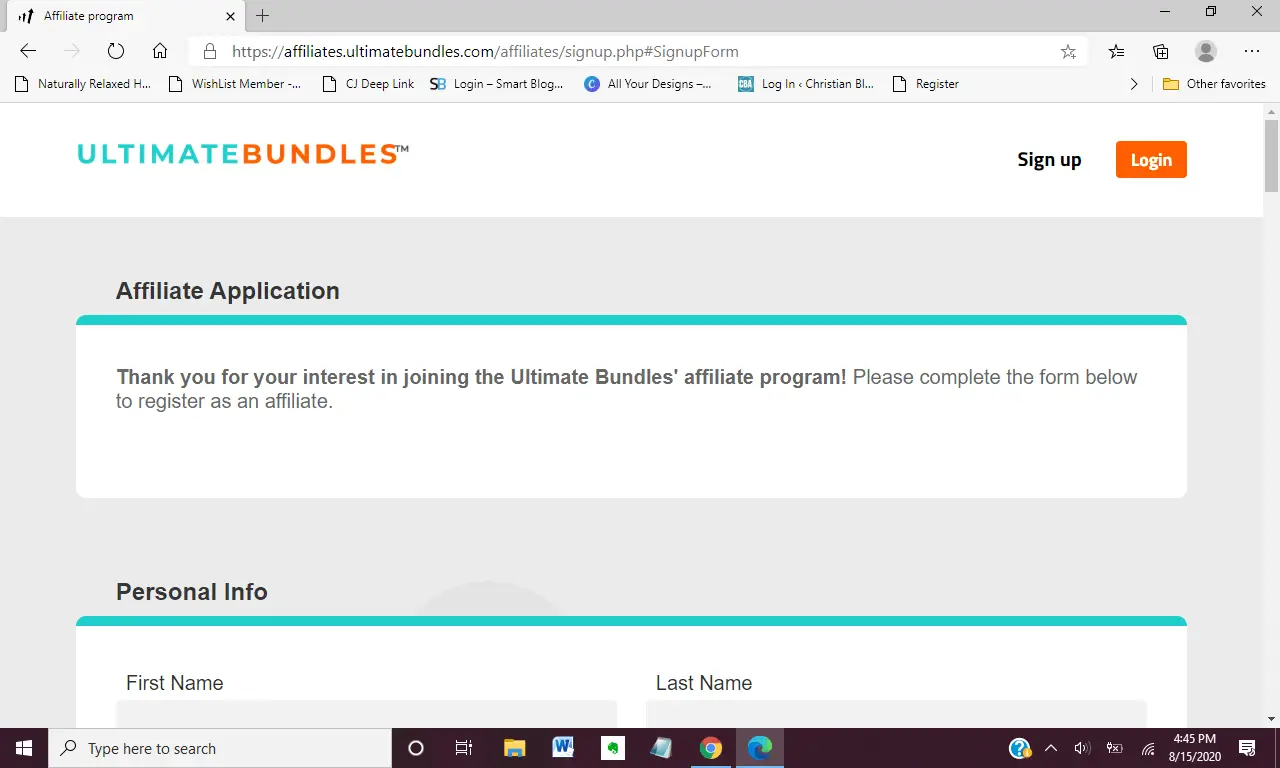 And by now you know the drill.
You have to wait to see if you're approved.
I don't remember how long it took me to be approved but I don't remember it being a long time.
Just keep creating great content in the meantime so you don't obsessively check your email.
Conclusion & Recap Of Best Affiliate Marketing Programs For Beginner Bloggers

So just to summarize what we've covered.
We've gone over what affiliate marketing is, what affiliate networks are, and 3 amazing ones for blogging beginners to join.
I don't know if I would join these programs on day one. You would want to have some great content on your site and some blog traffic so the networks take you seriously.
But you don't have to be a 6 figure blogger either to be approved.
If you feel you're ready to start applying for some affiliate networks here are the links again to these 3 affiliate networks:
Click here to apply for Skimlinks
Click here to apply for ShareaSale
Click here to apply for Ultimate Bundles

If 3 Best Affiliate Marketing Platforms For Beginners has helped you, please share it on social media!
Want to read this post later? Click here to save it to one of your Pinterest boards!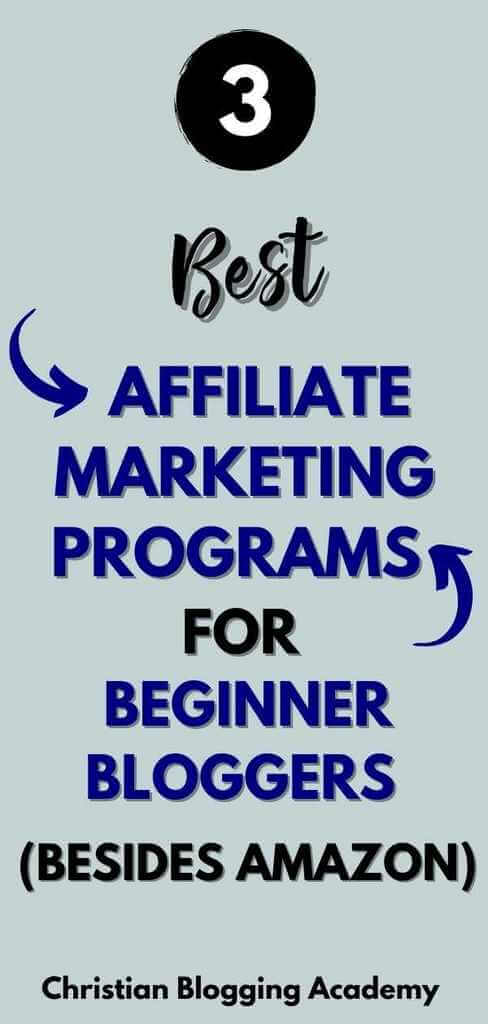 More CBA Posts About Affiliate Marketing
3 Simple Affiliate Marketing Tips Smart Bloggers Follow To Earn Money
5 Important Tips For Successful Affiliate Marketing For Bloggers
Thinking About Doing Affiliate Marketing? Here's 5 Tips To Know!
Top 24 Christian Affiliate Programs You Can Easily Monetize On Your Blog
5 Questions Christian Bloggers Should Ask Before Promoting An Affiliate Product