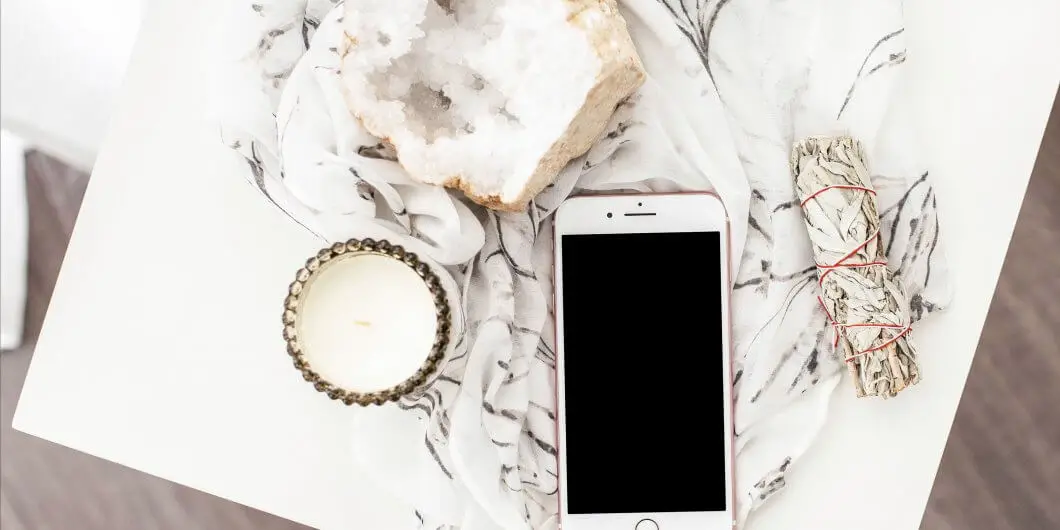 Last Updated on July 9, 2021 by Nicky Johnson
Setting up Convertkit's Free Account

When I first started blogging I was clueless about email marketing.
I kept hearing how important it was and I'd just say "Oh that's nice" and move on.
I just didn't get it.
Well, I want to congratulate you for "getting it" far more than I did.
Because if you're wanting to know how to create a free Convertkit plan then you get it.
You get that email marketing is the best way to connect and form a real relationship with your readers.
You get that email marketing is the best way to build trust with your audience.
And you get that Convertkit is one of the best email marketing services in the game (and my personal favorite).
You're quite smart I must say!
In a minute I'm going to show you:
– how to create a free account with Convertkit
– what Convertkit is and what it's used for
– what email marketing is
And some more stuff that you'll need to know to get started on your email marketing journey.
Let's kick it off by answering the question "What is Convertkit?"
Oh yeah, and this post contains affiliate links to great products that will help you in your blogging journey. I will get a commission if you decide to buy from these links but I'm only recommending products that I feel confident about and from companies that I trust like Amazon and others. Please let me know if you have any questions.
What Is Convertkit & What Is It Used For?
So what is Convertkit anyway?
Ito a super awesome email marketing service/autoresponder.
Ummm, ok… that was helpful.
Let me elaborate. I'm going to interrupt this explanation of Convertkit with an explanation of email marketing.
What Is Email Marketing?
Wikipedia defines email marketing as "Email marketing is the act of sending a commercial message, typically to a group of people, using email."
In other words, email marketing is when you market your business or a product using email.
You ask people to sign up for your blog's or business's email list.
The email list is just the list of email addresses that were freely given to you by the owner.
(Some people have paid for email lists but we aren't about that life…I know you wouldn't do it).
Instead, you ask people to give you their email address.
Nowadays you have to entice people to sign up for your email list using some sort of freebie.
And now would be the perfect time to give you an example of email marketing and more specifically email list building.
I have a Christian Blogging Academy resource library.
It's got a Christian Blogging roadmap.
An email marketing guide.
A guide to set up some of the techie blogging stuff and more.
It's free to access.
All you need is the password.
In order to get the password, you have to give me your email address.
Then I will send you the link to the resource library and the password to get in.
I'm going to put the box right underneath this paragraph and if you want the password, put your email address in the white box and it will be sent to you free of charge.
Now if you put your email address in the white box above, you are now a part of my email list.
You'll check your email and hopefully see an email from me.
Now am I sitting by my phone waiting for notifications to see if someone signed up for my email list so I can send the resource library password?
No, I'm way too distractable for that.
No instead, Convertkit is the one "waiting by the phone" so to speak.
I have it set up to where if you enter your email address, in that white box, Convertkit is going to automatically send you an email.
This function of automatically sending that email to every new subscriber also makes Convertkit what is called an autoresponder.
And if you're on my email list, every now and then you'll get:
– informative and (I hope) insightful emails from me with blogging tips,
– updates on what I've learned that I can share with you,
– surveys,
– product recommendations,
– sales and discounts on awesome blogging tools
and more.
I would use the email list to build a relationship with the people on it, get to know their blogging struggles and questions, and market helpful products to them that I know will help them be better bloggers.
And all of this is done by the power of Grayskull I mean Convertkit (sorry…little He-Man joke).
See how Convertkit is all up in your email marketing business?
It does a whole lot of stuff for you on autopilot.
Let's go back to the question of what is Convertkit now that we have more background knowledge…
Convertkit is a service that helps you build an email list, build relationships with your email list, and market your blog, business, and or products to that list.
Is Convertkit Free?
This might seem like an unnecessary question to answer because clearly, it is free if we're going to set up a free plan.
However, it's kind of a yes and no question.
It's free but not forever.
If you have less than a 1,000 email subscribers and are ok with having limited features than Convertkit is free.
If you want to have access to all Convertkit's amazing features and or have more than 1,000 email subscribers then it is not free.
You can check out Convertkit's plans here!
So Is This A Free Trial For Convertkit?
It's important to distinguish the free plan from the free trial.
You can click here to sign up for a free trial for Convertkit.
When you do that you'll put in your credit card info and when that free trial is over you will be charged for the monthly plan based on the number of subscribers you have.
This is the option I chose a) because the free plan was not a thing when I first started (you lucky thing) and b) because I love having access to all of the Convertkit features.
With the free plan, however, there is no time limit to how long you get to keep it.
Instead, it's based on the features you want to be able to use and the size of your email list.
How much Does Convertkit Cost?
You can click here to get a breakdown of Convertkit's pricing and plans!
How To Sign Up For Convertkit's Free Plan
Now let's get you set up with your free Convertkit account.
Step 1: Click this link (it will open a new tab) 
Step 2: This is the page you should see.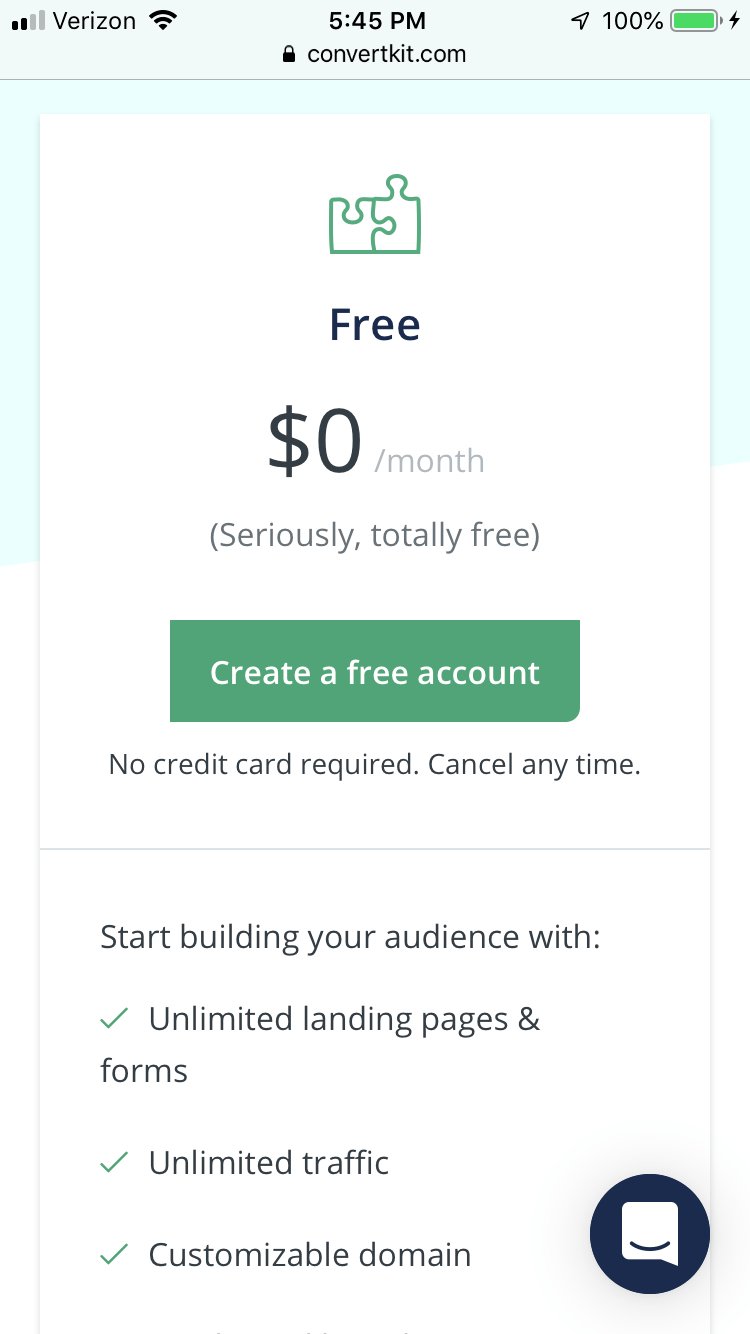 Click that green button (button color subject to change) that says Create Free Account.
Step 3) Now you have to answer a few questions about if you currently have an email marketing service etc.
You just tap or click on the answer that applies to you.
You can see the screenshots of the questions below: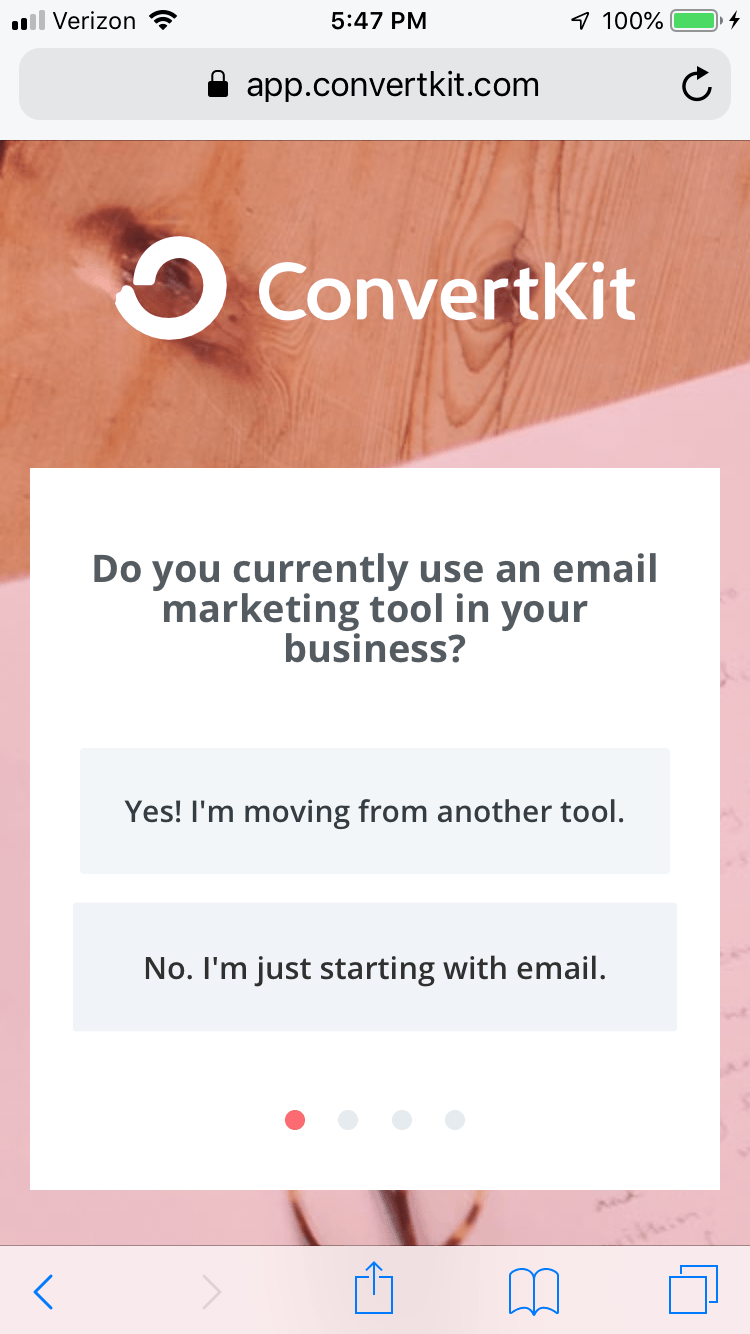 So what they are asking here is if you are already using an email marketing service.
For instance, if you're using Mailchimp and you're transferring an email list from there to your Convertkit Account you would choose Yes I'm moving from another tool.
If you are brand new and don't have an email list or another service that you are using then put no I'm just starting.
Also if you're using say Mailchimp and you are switching to Convertkit but you don't have any email subscribers from Mailchimp to switch over I would also choose no I'm just getting started.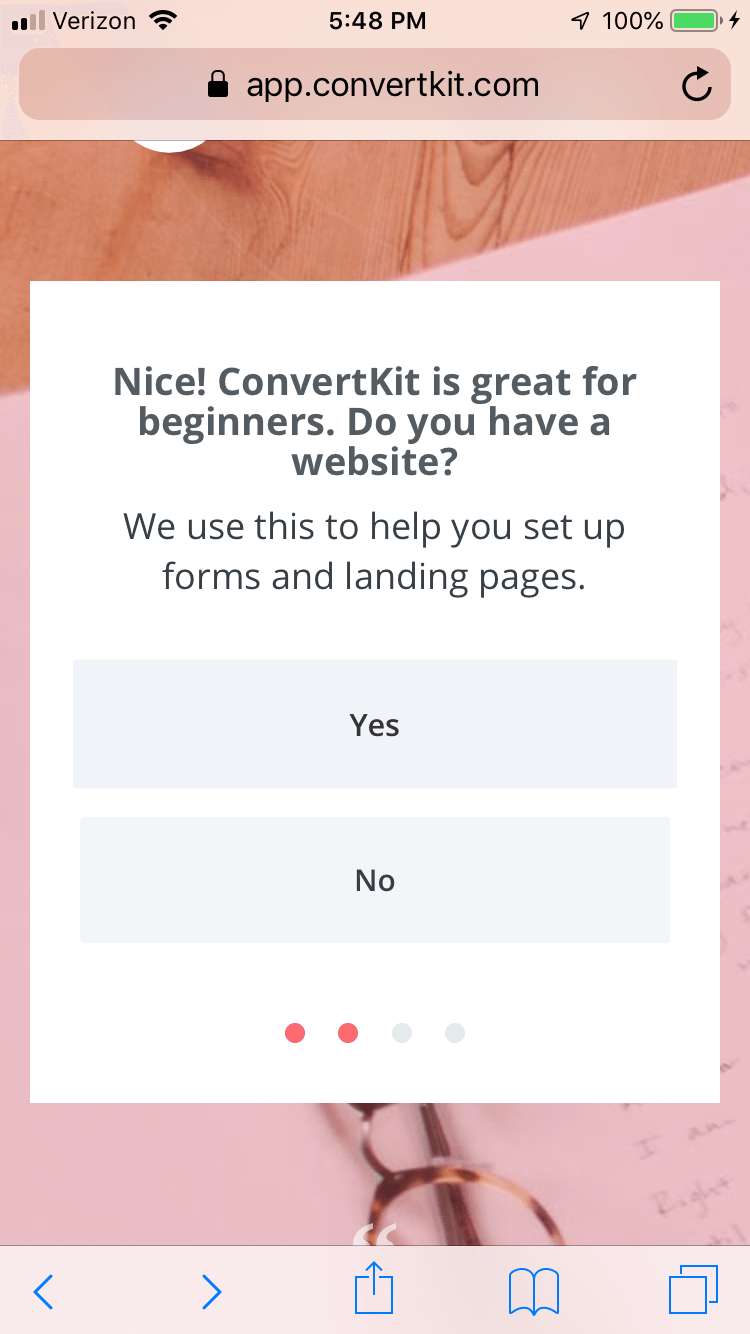 Now let Convertkit know if you have a website.
If you don't you're really ahead of the game.
I recommend starting an email list before you even have a website so if you're doing that you're awesome.
But do get a website though for real.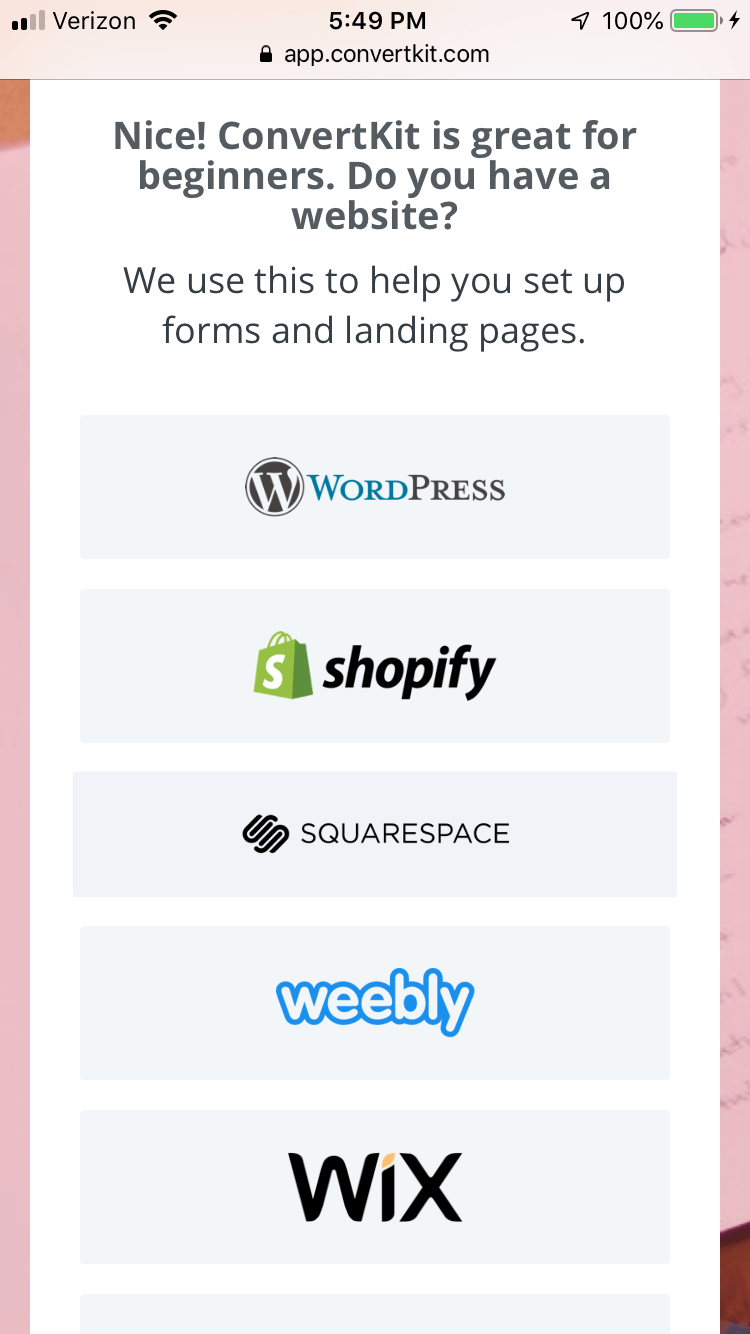 You must pick the platform where your website resides if you have one.
If you have WordPress which I highly recommend, then choose that one and so on.
Step 4) Create a login for your account
Now all you need to do is create a login for your account.
Put in your email address. I would suggest using an address that was associated with your website if you have one.
What I mean by that is a domain-specific email address like contactus@yourblogname.com
However, you totally don't have to do that and if you don't have one don't stress about it.
Step 5) Check your email
As with any kind of new account that you create you should check your email and confirm it and all that good stuff.
And just like that you're in the Convertkit family.
It truly is my favorite email marketing service that I've used and I've used a lot.
I think you'll like it too.
Click Here To Check Out Convertkit's Plans
Click Here To Read About The Features Of Convertkit
Conclusion To Setting Up A Free Converkit Account

I believe you'll be happy with your decision to try Convertkit truly because it's the easiest, most user friendly, and feature-packed email marketing service I've ever used.
And plus you lose nothing by trying either the free plan or the free trial because if you don't like either you cancel it so it's a win-win.
And the signups super easy too!

If How To Easily Set Up Your Free Convertkit Account has helped you, please share it!
Want to read this post later? Click here to save it to one of your Pinterest boards!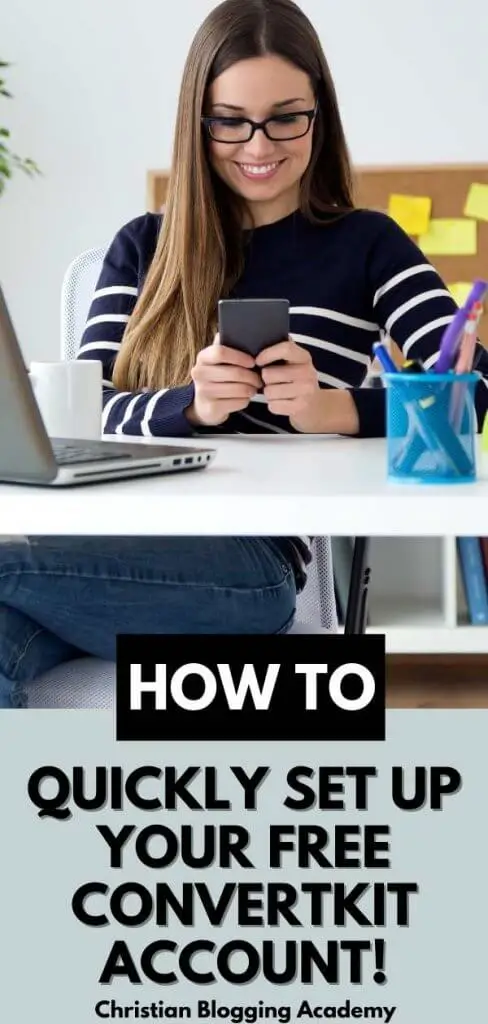 More Christian Blogging Academy Posts About Email Marketing 
5 Reasons Why Email Marketing Benefits & Grows Your Blog's Influence
How To Start & Grow Your Email List Using An Email Marketing Tool (4 Mini-Reviews)
17 Steps To Building Your Blog's Email List + The Truth On How My Email List Grew By 175%
What Do You Know About Email List Building? Use This Quiz To Find Out!
3 Affordable Tools Bloggers Need To Start Growing The Email Subscriber List