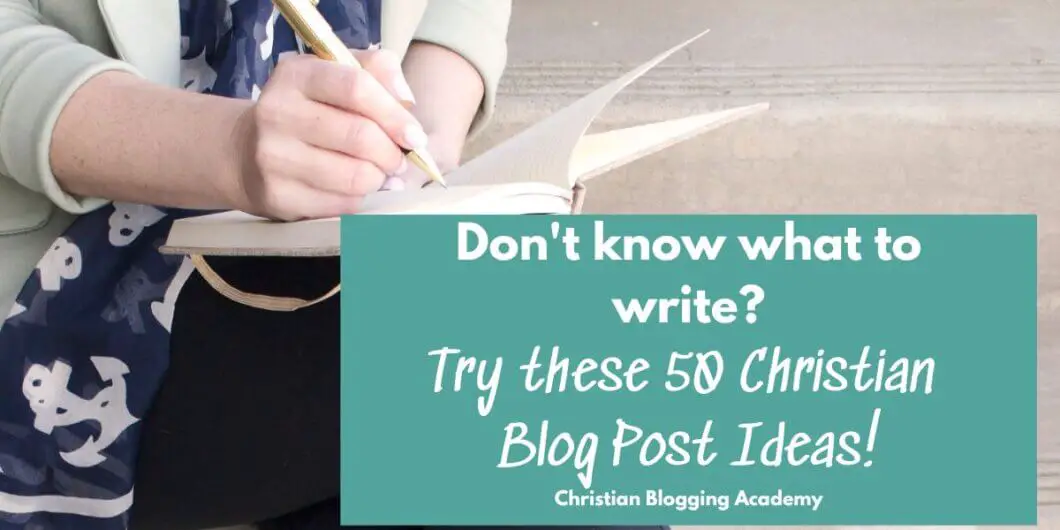 Last Updated on January 31, 2023 by Nicky Johnson
Christian blog post ideas to help grow your blogging ministry
Have you run out of content ideas for your Christian blog? Finding blog post ideas seems to be a struggle for lots of bloggers so of course, I can totally relate to this as well.
Christian blogging is fulfilling work because you know that what you're writing about and promoting could help either lead someone to Christ or help strengthen their relationship with Him. 
But as fulfilling as this work is, there are days when you just can't come up with any Christian blog ideas. 
Because I understand how hard it is to develop new blog post ideas I decided to write this post for ya'll to refer to when you lack inspiration on what to write.
I'm going to share some creative Christian blog post ideas to help inspire you when your tank of blog writing inspiration needs refueling. Adding some of these topics to your site could help you attract a whole new audience.
So if you're ready let's dive in!
Want to read this post later? Save it to one of your Pinterest boards!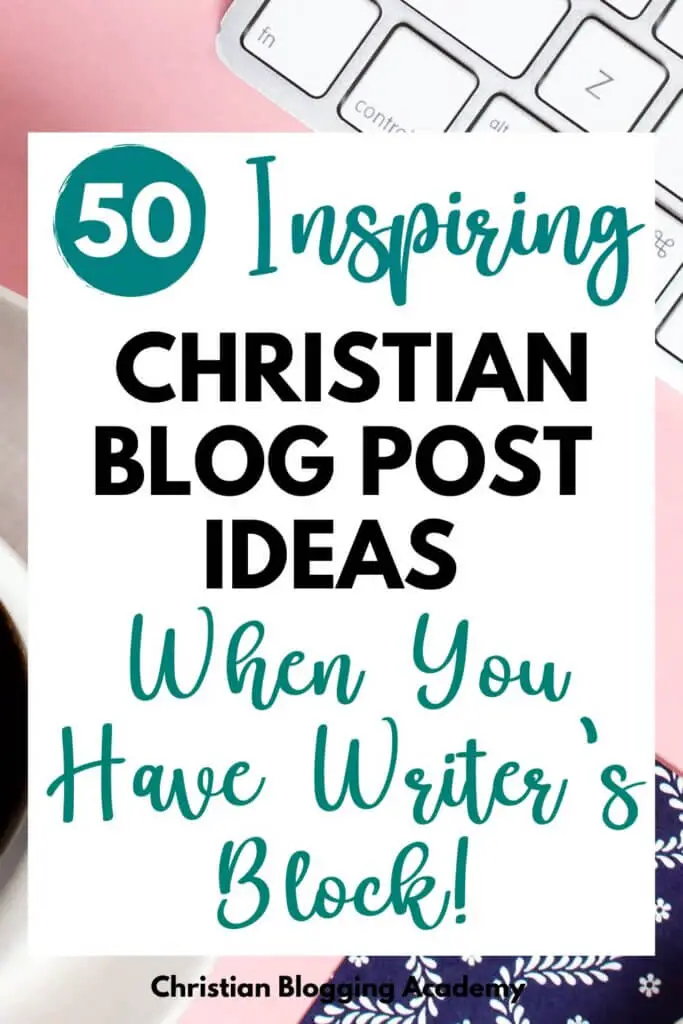 – What types of Christian blogs will we cover?
As you may know, Christian blog topics are broad. However, some prominent ones are encouragement in the faith journey, practical advice on living a faith-filled life, or insights on current events from a Christian perspective.
In this guide, I'll cover in-demand topics like Christian lifestyle, parenting, modesty, prayer, Bible study, and Christian marriage blogs. Plus, I'll be dishing out ideas for Christian eCommerce store owners. You don't want to miss out on any of these.
– How To Organize Your Blog Post Ideas
It's not only important to have lots of blog post ideas but it's also vital to organize those ideas. Why? Because you want to be able to find your ideas after you've written them!
For me, I used to come up with lots of blog post ideas and then not be able to find them! So frustrating. I knew I needed a better system than the haphazard one I had. You see, it's not just about organizing the blog post ideas but about organizing the entire content marketing process.
That's why I created a totally customizable digital blog content planner in the free app Trello which you can read all about in this post by clicking here.
The blog content planner has a way for you to organize every step of the content creation process. From organizing blog post ideas to social and email marketing, this planner is with you every step of the way!
Because if you're a seasoned blogger, then you know that coming up with blog post ideas is just the first step.
You also need to do keyword research on those ideas to see if anyone actually wants to read those posts. And you need a place to store your keyword research because again, if you can't find it, then it won't help you!
Want to know another thing that I've found invaluable?  Having a blog post checklist that you can use to make sure you create high-quality blog posts every single time! I use this content checklist so I don't have to remember every single thing that a blog post should have.
This checklist (and the entire planner) gives my brain a break and lets me focus on other parts of my business!
You can use the content calendar part of my content planner for free just to see if you like it. Just enter your email below and I'll send you the link! 
– Types Of Christian Blog Posts To Write
There are many blog posts to write on, but I'll structure them below to help you know what fits where.
– List Posts:
These types of blog posts are very common and for a good reason. People love lists because they are easy to read and follow.
Examples:
1. Top 10 ways to be a better Christian
2. 30 most popular Bible verses of all time
4. 7 things God hates
5. 10 signs you may be going to hell
– How-To Posts:
These posts offer valuable information that can help Christians grow in their faith.
1. How to study the Bible
2. How to witness to your friends
3. How to pray
4. How to overcome anger and depression
5. How to overcome temptation
– Testimony Posts:
Testimony posts are always popular because they offer a personal account of how God is working in someone's life. They are also a great way to encourage other Christians who may be struggling with their faith.
1. How I came to Christ
2. What my life was like before Christ
3. How Christ has changed my life
4. Why I'm still a Christian even though…
5. How Christ has helped me through…
– Encouragement Posts:
Although similar to list posts, encouragement posts are great for Christians who are going through a difficult time. This type of content offers hope and encouragement from the Word of God.
1. 5 reasons to keep going when you feel like giving up
2. 10 Bible verses to help when you're feeling down
3. 7 ways to know God still loves you
4. 3 things to remember when you're struggling
5. 5 signs God is working in your life
– Weekly Devotional Posts:
These types of posts offer a short, daily devotion that Christians can read to help them grow in their faith. If you ever run out of Christian blog post ideas,  devotional posts are fairly easy ones to write.
 Create content on:
1. A devotional on John 3:16
2. A devotional on Psalm 23
3. A devotional on 1 Corinthians 13
4. A devotional on Philippians 4:13
– Interview Posts:
Interview posts are always popular because they offer insight from Christian leaders and experts on various topics.
1. An interview with a missionary
2. An interview with a pastor
3. An interview with a worship leader
4. An interview with a seminary professor
5. An interview with an author
– Case Studies:
Case studies offer readers a personal account of how God works in someone's life. They are a great way to encourage other Christians who may be struggling with their faith.
1. The Story of how I came to Christ
2. How Christ has changed my life
3. Why I am still a Christian even though…
4. How Christ has helped me through…
5. How God saved me from a life of…
– Product Reviews:
Review posts are always popular because they offer helpful information about Christian products and resources. You can share on:
1. Bible study tools
2. Christian books
3. Worship music
4. Church resources
5. Devotionals
Want to read this post later? Save it to one of your Pinterest boards!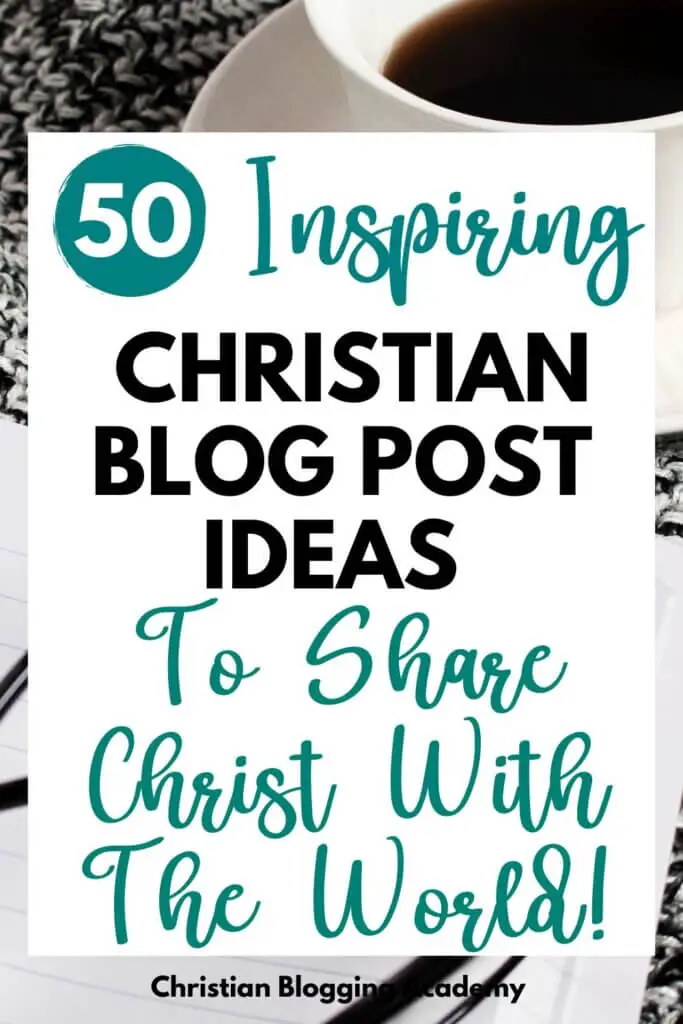 – Ideas For Christian Lifestyle Blogs
How to live a Christ-centered life

Ways to incorporate your faith into your everyday routine

Tips for studying the Bible and staying close to God

How to maintain a healthy spiritual life balance

Encouragement for when you feel like you're struggling

Tips for studying the Bible

Ways to evangelize your faith

Building a strong prayer life

Why you should read Christian books

Being Christ-like in everyday interactions

Developing a personal relationship with Jesus

How to journal your faith journey

Make a list of your favorite Christian podcasts

5 things I learned in Sunday School
– Ideas For Modesty Blogs
How to be modest on a budget

Fashion tips for the modest girl

Modest swimwear options

Dressing modestly for your body type

Layering clothes appropriately

How to honor God with your body

Creating a capsule wardrobe with only modest clothing options

How to accessorize your outfits

6 signs of Christian modesty

Write content on your favorite Christian character
– Ideas For Christian Parenting Blogs
Parenting from a Biblical Perspective

Disciplining with Love and Logic

Encouraging your Child's Spiritual Growth

Building a Godly Heritage for your Family

Equipping your Child for Life's Challenges

Raising Kids with Faith, Hope, and Love

Parenting with Prayer

Teaching your Child about Giving and Serving

Nurturing your Child's Potential

Creating a Christ-centered Home
Need more inspiration for your blogging journey? Check out these posts:
130 Lifestyle Blog Post Ideas To Help Grow Your Blogging Business!
87 Spirit-Filled Christian Blog Niche Ideas To Start Your Amazing Blogging Journey
Christian Blog Name Ideas: 5 Brilliant Ways To Choose The Perfect One (With Picture Examples) 
– Ideas For Christian Marriage Blogs
Share your faith journey and how it has led you to a stronger marriage
Offer tips for other couples on how to keep their faith strong in their relationship
Highlight different Bible study tools and verses that pertain to marriage and share your thoughts on them
Share your testimony of how God has worked in your marriage, even through tough times

Offer encouraging words for couples who may be struggling in their relationship

Share your favorite Christian marriage resources (books, websites, etc.)

Host a Q&A session on your blog where readers can submit questions about marriage and faith

Do a bible study review
Offer tips for Christian couples on how to connect with God on a deeper level
Share your thoughts on popular marriage topics such as communication, conflict resolution, and intimacy

How to create a Christ-centered marriage
– Ideas For Christian Ecommerce Store Owners
Why Christian eCommerce store owners need to blog
How to get started with blogging as a Christian eCommerce store owner

Show how to use your products 

Share behind-the-scenes looks at how your products are created

Let your readers know why you created your products 

Update readers on upcoming product launches

Share the best ways to use your products

Explain how your products can help the reader

Tell how your company/business got started

Tell them about charities and missions you support and why
– Ideas For Bible Study Blogs
How to study the Bible effectively

Tips for memorizing Scripture

Insights on specific Bible verses

How to pray more effectively

What the Bible says about current issues like abortion, homosexuality, etc.

Personal testimonies of how God has worked in people's lives

Bible study tools and resources

Creative ways to share the gospel with others

Questions and answers about the Bible

Encouragement for struggling Christians
– Ideas For Prayer Blogs
Prayer tips and tricks

How to get started with prayer

Why we should pray

What are the benefits of prayer?

How can I make my prayers more effective?

How to overcome obstacles to prayer

When is the best time to pray?

How do I know if my prayers are working?

What should I do when I don't feel like praying?

How can I make prayer a habit?

What are some creative ways to pray?

Is there a right or wrong way to pray?
– Which Christian Blog Post Topics Will You Use?
When it comes to Christian blog post ideas, sometimes you have to think outside the box. There are many ways to grow your Christian blogging ministry or business, but sometimes the most effective way is to simply be creative and innovative.
With the post ideas I've shared, capturing your audience's attention and reaching more people for Christ will be easier. Don't be too surprised at how well these new ideas take off when you eventually share them with your audience.
I also urge you to grab your free copy of the content calendar I was telling you about earlier. It's just one part of my content planner that helps me organize all of my Christian blog post ideas.
Just enter your email address below to get the content calendar for free (note: you must use the free and easy to use app Trello to use the content calendar). There's also some other free goodies in there for you!