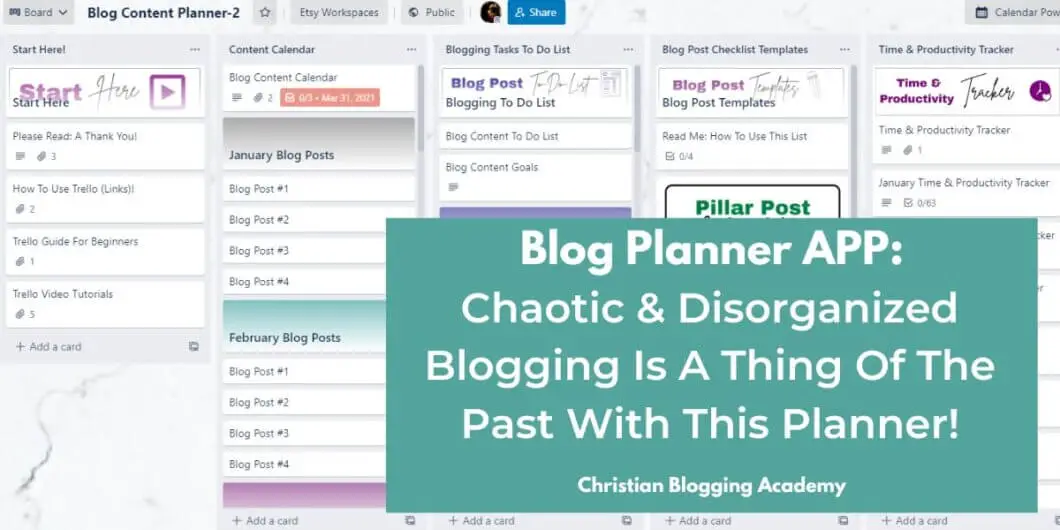 Last Updated on August 4, 2022 by Nicky Johnson
Blog Planner App: How To Go From Chaotic To Productive Blogging With One Simple Tool
Organizing your blog and website content is one of the hardest things you'll do in your business! Unless you're just a naturally organized person, keeping track of all of your blog content will be less than fun, to say the least.
I used to struggle mightily trying to find where my blog posts were or where I wrote that brilliant idea.
It was a blogging nightmare and a major time suck! How can you be productive and effective in your business if you're spending so much time finding stuff!
That's why I had to come up with a solution which I will share with you today. Finally, ALL of my blog content is organized and easy to find and I'm so excited to tell you about it!
Oh yeah, and this post contains affiliate links to great products that will help you in your health journey. I will get a commission if you decide to buy from these links. Please let me know if you have any questions.
–

What Do I Mean By Content
First, it's important to Talk about what I mean by blog content. Because I don't want you to think that I just mean blog posts.
From here on out when I say blog content this is what I mean:
SEO research
Blog post checklists
blog post outlines
Blogging and Business Goals
social media posts
pin headlines and descriptions
email marketing newsletters
Content calendars
Blog Ideas
Yeah, that's quite a list. Perhaps more than what you were thinking of when I said blog content. Now that that's out of the way let's talk a little bit more about this planner that I use to organize my content.
–

What Is This Blog Planner APP You're Talking About?
So after years of being frustrated by the digital and paper chaos that was my blogging life, I was determined to find a way to get all of my blog content and idea under control.
I truly don't remember how but one day, years ago, I happened upon a free project management app called Trello (click here for a free plan) .
(Want to take a look at the blog content planner? Then click here!)
I really liked the app. It just clicked with my brain. Then at some point, it occurred to me that this app, with all of its features and functionalities, could be the answer to my blogging dreams.
Turns out, I was right. I created a blog content planner using Trello and I tweaked it…then I tweaked it some more.
And suddenly I realized, I know exactly where all of my blog post ideas are. Not only that, I can arrange them any way I want. I can categorize them by type and color.
If I need to switch a blog post idea from one category to another, I can do that with a simple drag and drop. Oh man, the fact that this blogging planner is customizable is the ULTIMATE in freedom!
If you decide you want this blog content planner, you have the power to change literally any aspect of it that you want. That's the beauty of it all.
This blog planner app is a beautifully designed template that you can customize any way you want.
With many other planners and blog printables, you are locked into using the design that it comes in.
With this blog content planner, you are in control. That means you can change the planner to fit your business needs! Okay, I'm getting ahead of myself let's talk about who would benefit most from this planner.
–

Who Would Benefit From This Digital Blog Content Planner?
Short answer: Any business or ministry that creates blog content, in any form!
Longer answer: The term blogger is a bit of a mixed bag definition. The truth is, blogger can refer to a lot of different people.
If you run a website of any kind where you create content on a frequent basis then you could benefit from this planner. This could include:
General bloggers

Freelance writers with blogs

Ecommerce store owners who have blogs on their site

Authors with blogs

Niche site owners

Brick and mortar stores with blogs

Churches with blogs

Ministries with Blogs
If you have a blog that you use to promote your business or ministry then you need a blog content planner!
Want to read this post later? Save it to one of your money Pinterest boards!

–How This Digital Blog Content Planner Can Help Your Blog & Business Grow
–Build trust with your audience: When you create more content, and show your audience more of yourself and your values (as well as your company's values), they will begin to trust you. People buy products they need from people they trust.
That's one of the things that creating blog content helps you with.
Using a content planner helps you produce content quicker and more efficiently thereby. This in turn makes building your relationship with your readers happen faster.
– SEO Your Content: SEO or search engine optimization is how your content gets found by people who want and need your products and services.
I know when I do SEO/keyword research, I have links, competitive analysis info, and all kinds of other information about that keyword that I want to save.
That's why I love using this blog content planner. I can just open a Trello card and copy and paste all the research into the description box.
Doing this helps me to stay focused on making sure that I am writing blog posts that are not only helpful to my audience but will also be found in Google.
You can't help anyone if your website or products aren't found!
– Connect With Audience: I also use the blog planner to help with Pinterest and social media marketing. If I have an idea for a pin headline or description I can type it into my planner and know exactly where it is.
Again, storing everything blog content related in one location has made my business so much more productive and efficient!
–Things You Can Do With The Blog Planner
I'm going to make this short but here are just a few of the things you can do with this digital content planner
–Create A Content Calendar
I actually have a paper, digital, and WordPress-based content calendar and I love having all 3. But with this Trello blog planner, there are several ways you can create a content calendar. Here are some content calendar ideas here if you want to check them out!
–Check Off Your To-Do List
Create clickable checklists of all the things content related that you need to do for your business. And one of the most satisfying things is when you actually check off each item on the list, it turns a beautiful shade of green to let you know that you are done!
Pro-tip: It's rare to get everything accomplished on your to-do list, so make short categorized to-do lists. It will make your feel you're moving forward!
---

–Organize Your Blog Posts
I can be so scatterbrained when it comes to locating my blog posts. But now with this content system, that doesn't happen anymore. All I have to do is attach my blog post link (usually created in Google Docs) to a card in Trello and I can find any blog post quickly and easily.

– Write Down & Track Your Content Goals
You definitely want a place where you can write down your business goals and this content planner has you covered!
– Track Your Productivity
Have you ever had a day where you were like "I did a lot today but I don't really remember what I did!". I've said that plenty of times. Well with the productivity and time tracker that I've included, you can track and record everything you did every day of the week.
---

– Create Content That Your Readers (& Google) Will Love Using Checklist Templates
The more you learn about SEO, the more you realize how many elements there are to writing good content.
Who can remember to always include an authority, change the slug, and use H2s? Well, if you use this blog planner you don't have to remember anymore.
I've included blog post checklists that you can use to make sure you produce high-quality content that your readers & Google will love, every time!
---

–Store All Of Your Content Ideas In One Place
I'm sure I got this from my mom but I used to suffer from scribbling brilliant ideas on random sticky notes, the corner of a notebook page, or any paper I could find. There's no telling how many great blog post ideas were lost in the bottom of my purse.

That's because I didn't have one place to write down all of my ideas. Now, any time I have a business idea, I can write it in my blog content planner or my Etsy planner. Now, no strokes of genius get wasted!
---
–Create A Marketing Plan
As I said before, the content planner isn't just about planning your blog posts. You can use it to plan your social media content and Pinterest marketing content! In addition to that, you can use it to store ideas for email marketing and newsletters.
I tend to write my email newsletters in Google docs.

However, once I would write them, I couldn't remember exactly which folder they would be in. But I can actually attach a link to my email newsletter in Trello which makes it super easy to find!
– Digital Blog Planner App: Click Here To Learn More!
If this digital content planner is what you've been looking for to revolutionize your blog content planning and business, click below to learn more!
Click here to buy the digital blog content planner!

If Blog Planner App has helped you, please share it on Pinterest or Facebook! Thanks, love!
Financial Disclaimer: Christian Blogging Academy (blog posts & products) is not offering any kind of financial advice or making any promises of any financial guarantees. Any financial results discussed on this blog are not typical or guaranteed.Christian Blogging Academy is not a registered financial, investment, legal, tax advisor, or broker. This blog is for information and entertainment use only. A financial fund's past performance does not predict or forecast its future results.