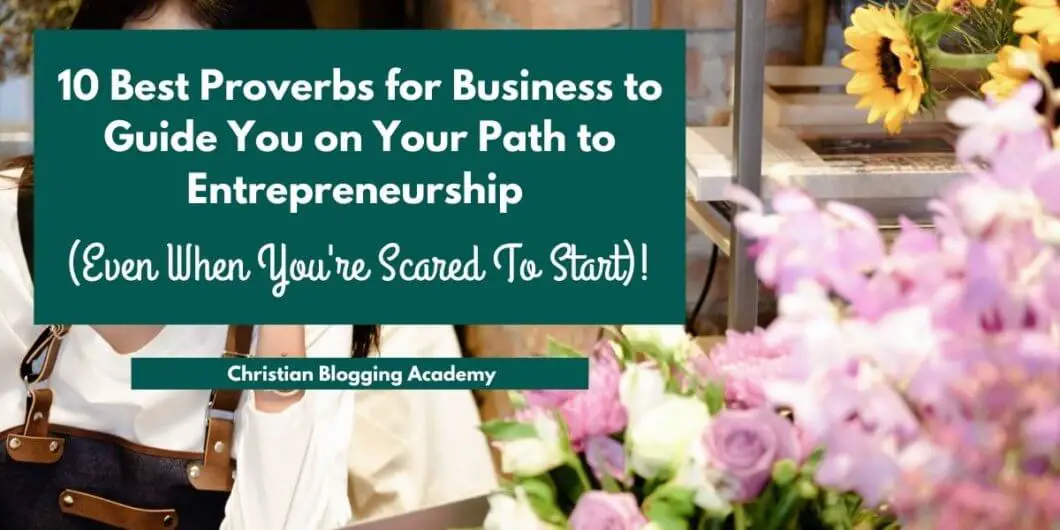 10 scriptures from proverbs and how they can be used to start, run, grow a business
Did you think it would be this hard?
Maybe you knew how hard getting a blog or business off the ground would be. However, many bloggers and entrepreneurs were clueless, clueless I say, about just how difficult this whole thing would be. I know I was in the beginning.
Whichever category you find yourself in (knowing or not knowing how hard business is) we all need guidance from the Lord of how we should run our businesses.
The Bible has a lot to say about how we should approach our entrepreneurial endeavors, believe it or not.
Many Proverbs in the Bible can help guide you on your path to entrepreneurship and give you the courage to keep pursuing it even when times are tough.
God's word is filled with wisdom and guidance for us, and Proverbs are a great way to gain insight into His thoughts about money and business.
This blog post will explore different scriptures from Proverbs for business. We will discuss what each Proverb means and how it can apply to your life as an entrepreneur.
God has given us all the tools we need to succeed; let's learn from His wisdom and achieve success!

Why should a Christian look in the Bible for business advice?
The Bible is a great source of wisdom, and it has a lot to say about the business. As Christians, we believe that God is the ultimate authority, and he knows what is best for us.
His word is perfect, and it can help us make good decisions in our businesses.
– Proverbs 16:33 says, "The lot is cast into the lap, but it's every decision is from the LORD." This verse reminds us that we need to rely on God's guidance when making decisions in our businesses.
-Proverbs 27:23 says, "Be sure you know the condition of your flocks, give careful attention to your herds." This verse reminds us to pay attention to our businesses' details and be diligent in our work.
As we seek God's wisdom for our businesses, we can trust that he will lead us and provide for us.
We should see God as the number one businessman and the all-knowing God who knows what is best for us. So let's seek his guidance and wisdom as we venture into business.

Proverbs For Business: Biblical Principles To Follow For Entrepreneurial Success
1) Having a good reputation
"A good name is to be chosen rather than great riches, and favor is better than silver or gold. Proverbs 22:1."
Reputation is important, not just in business or church but in life in general. Customers are more likely to trust someone with a good reputation, which can lead to more opportunities and more sales.
If you have a bad reputation, it can be difficult to recover. That's why it's important to always maintain a good reputation, if at all possible.
I know in this day and age of cancel culture and catching people in their worst moments, that this can be difficult, especially if you have a big platform. So let's look at some ways to maintain a good rep. 
One way to have a good reputation is, to be honest. Don't try to take advantage of people or lie to them. Another good idea is to be careful about what you post on social media.
Think about what you're posting and how it could be received by others before you post.
Because once that post is out there, you can forget about taking it back. Screenshots will ensure that your post lives on in infamy forever. 
Be truthful in your interactions, and people will respect you for it. 
Another way to build a good reputation is by being helpful. Make sure your customer service is on point. I know that there are times when I don't see an email from a customer or subscriber as soon as I should.
That's to be expected but be sure to acknowledge that and apologize. And if you promise to email them back with a solution to their problem, try your hardest to do that.
People will appreciate your kindness, making them more likely to think highly of you.
2) Have A Good Work Ethic  
"6 Go to the ant, you sluggard; consider its ways and be wise! 7 It has no commander, no overseer or ruler, 8 yet it stores its provisions in summer and gathers its food at harvest. 9 How long will you lie there, you sluggard? When will you get up from your sleep? 10 A little sleep, a little slumber, a little folding of the hands to rest— 11 and poverty will come on you like a thief and scarcity like an armed man." Proverbs 6:6-11."  
There's value in a strong work ethic. It's not just about making money–although that is important. A good work ethic is about taking pride in your work, no matter what.
It's about being diligent and consistent because diligence is essential to building a profitable business. It's about having a good attitude, even when things are tough.
The Bible verses above have a lot to say about work ethic. In Proverbs, we're told to go to the ant and learn from its ways. The ant is hardworking and disciplined. It doesn't take shortcuts. It works hard, even when no one is watching.
This is something I think about often because I really don't want an ant outworking me, know what I mean? Especially not when I feel like building a blogging business is something I'm called to do!
What does your work ethic look like? Are you consistent and disciplined? Do you have a good attitude, even when things are tough? If not, maybe it's time to make some changes. Work hard and be successful according to His will!
God is watching. He wants us to succeed at the plans He has for us.
3) Be Humble No Matter How Successful You Get 
Pride brings a person low, but the lowly in spirit gain honor.(Proverbs 29:23 ) 
In business, it's so easy to get ahead of ourselves. We can start thinking we're invincible and don't need anyone else. Or when we become successful, it's easy to pat ourselves on the back and boast that we did all of this ourselves.
But that ain't right.
The truth is, no one makes it alone. We did not get to where we are alone. Even if no person on earth supported you, we must always acknowledge the part that God has played in any of the wins we've had. 
No matter how successful you become, always remember to stay humble.
Be generous with your time, your resources, and your knowledge.
4) Be Honest In Your Dealings With Others 
 A false balance is an abomination to the Lord, but a just weight is His delight. (Proverbs 11:1.)
There are all kinds of shady people out there, trying to take advantage of others. They lie, cheat, and steal to get ahead.
We should stay far away from these kinds of people and pray that we don't become one of these people. If we want to be successful in business, we need to be honest with our customers, suppliers, and everyone else.
Our reputation is important, and it only takes a few bad deals for this reputation to be destroyed completely.
Related: 9 Inspiring Business-Related Scriptures All Christian Bloggers Should Use As Motivation
5) Be Generous With What You Get 
" A generous person will prosper; whoever refreshes others will be refreshed." (Proverbs 11:25)
As Christian entrepreneurs, we should learn to give generously, especially as our profit increases. Not just with our money, but with our time and resources.
If we learn to give first, then God might open doors for us, and we will be able to bless others even more in return. Give to the poor, the needy, and the widows in your community. In this way, you will be fulfilling God's command to do so. 
This is something I have to remind myself often. It's so easy to get caught up in my world and forget that other people around me need help. We all need each other to succeed.
6) Learn about the business you intend to start.
Give instruction to a wise man, and he will be still wiser; teach a righteous man, and he will increase in learning. Proverbs 9:9 
Before starting any business, you must first know what you are getting into. That might be by reading books, taking courses, or watching YouTube videos (there are so many amazing business and blogging YouTube channels).
Go gain some wisdom and knowledge from those who have already done what you want to do. 
You must also study the market, find out about your competitors and see how your products and services can be better for the consumers. Lastly, you should also be aware of the obstacles that may hinder your ability to succeed.
7) Make a plan, and follow it.
Through patience, a ruler has strength, and sound wisdom is accessible to one who has understanding. Proverbs 25:15
 Now that you have an idea of what you are going to do, you must have a plan in place before starting any new venture, make a concrete plan and never deviate from it.
Don't just jump into starting a new business without a plan because as Jesus once said, you have to count the cost of what you're trying to do before you do it. 
8) Use our skills and talents in our business
 "Do you see a man skilled in his work? He will stand before kings; he will not stand before obscure men." Proverbs 22:29
As a Christian entrepreneur, this means that when we use the skills and gifts God has given us, it's possible to be known and admired even by royalty. That's pretty amazing!
Of course, we have to work to develop our skills and talents and we should always use our gifts to glorify God and not to boast unto ourselves!
9) Follow the right path to wealth.
 "There is a way that appears to be right and leads to death, and there is a way that appears to be wrong and leads to life." (Proverbs 14:12)
As a determined Christian entrepreneur, you must always follow the way that is right. 
You don't want to cheat your customers or over-exploit them to get ahead.  
Market your products and services at a fair price and avoid being extravagant with your resources to build a sustainable business with a good reputation.
10) Have faith in God
"Trust in the Lord with all your heart, and do not lean on your understanding." – Proverbs 3:5.
This verse is a reminder to trust in God even when your business isn't growing like you think it should.
Here is the advantage we have over an unbeliever, God will not let us fail. God will protect your business and be the one that makes it work.
As a Christian start-up business, always remember that whatever opportunity plan comes your way will not succeed without Him and His divine guidance.
This will give you peace during all times of hardship and trials because everything comes from God anyway. Believe in God! Believe in yourself! Believe in your business!
Conclusion
Making the bible principles a yardstick for your business is a good way of ensuring that you are not just creating a business but building a business on biblical principles.
Now my question for you after reading this blog post is, how do we ensure in our daily work the creation of wealth that God intended for us?
The answer is to live and work by the principles that God has put down in his word. Through this, we can have both material and spiritual wealth.