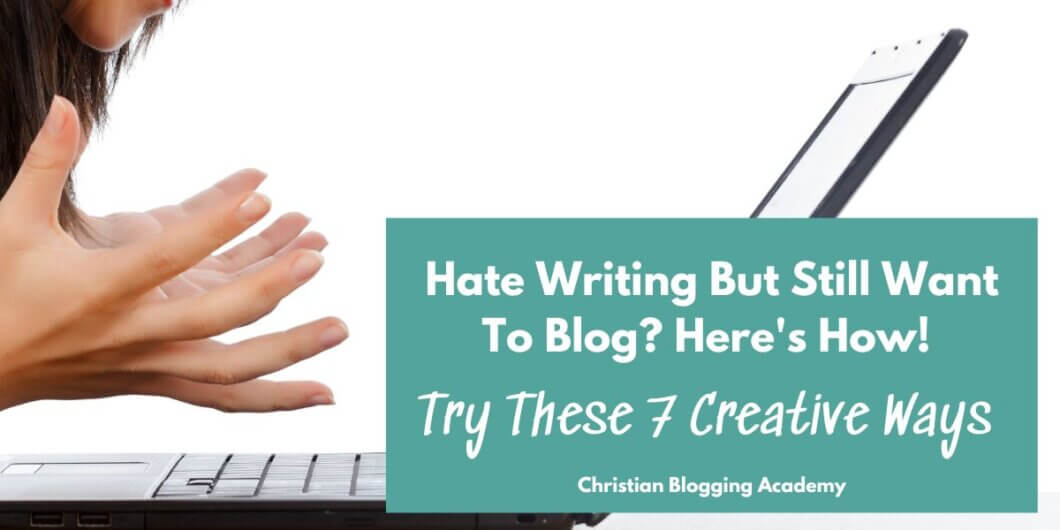 Last Updated on August 3, 2022 by Nicky Johnson
How To Blog Even When You Hate Writing
Pssst… I have a secret. Right now I am using one of the techniques that I am going to share with you. You see, I heard that you hate writing but you want to start a blog. Well, I have some ideas for you. Several in fact!
You might think that it's impossible to start a blog or website if you hate writing. But fortunately, there's so much more to blogging than that. Believe it or not, there are several ways that you can blog or have a website without having to write too much.
I can't promise you that you won't have to write at all but these techniques I'm going to share with you today will greatly minimize the amount of writing you have to do!
I'm excited to tell you about them so let's get going!
Oh yeah, and this post contains affiliate links to great products that will help you in your health journey. I will get a commission if you decide to buy from these links. Please let me know if you have any questions. 
–  7 Tips On How To Blog Even When You Hate Writing
1)Speak Your Blog Posts
So what's my big secret? Well, idea number one is that you can speak your blog post. Right now I am using my Google docs app. I tapped the little microphone icon and started "writing" my blog post.
That is to say, I am speaking my post into existence. And let me tell you speaking your blog post is so much faster than actually writing or typing it. You can literally have a 1000-word blog post in about 15 minutes or less.
The first time I tried this, it was super awkward and I had to start over 1 million times. I couldn't gather my thoughts and it was sort of a disaster. And I tell you that to say this… if it doesn't come naturally to you at the beginning it's OK!
It was the same way for me. Now it is a lot more fluid for me to speak my blog post especially when it is on a subject that I feel really familiar with.
Will you have to clean up a lot of bad grammar and fix the mistakes that Google docs makes? Yes, there is some editing that comes with this kind of writing but there always is with content. I have a southern accent and Google docs can't always understand everything I'm saying.
So yes, you will have to tweak a word here or there. Some of your thoughts may not make sense as you say them but it's no big deal.
Just reword it in the editing phase!
Pro tip: You can even te Google docs to write punctuation too! Just say the name of the punctuation mark you want and Google docs will insert it for you. You can even say comma and one will appear like magic!
More CBA Posts On Content:
How To Create An Amazing Content Calendar In Trello To Make More Sales!
4 Best Types Of Blog Content That Will Bring You Tons Of Organic Traffic
How Many Blog Posts You Should Write Before Launching Your Blog!
2) Start A Blog On Social Media
Maybe you don't hate writing. You just don't think you're great at it or you don't enjoy it enough to write 3000-word-long posts. No worries!
Instead of creating a traditional blog, why not create a blog on social media? Twitter in and of itself is considered to be a microblog. Instagram, Facebook, and LinkedIn all have microblogging capabilities. You can quickly build up a following on these social media platforms and not even spend a dime as it's free to use them!
Looking for a WordPress theme? Click below to learn more about Restored 316 Themes

3) Use AI writers (at your own risk)
In case you don't know, AI stands for artificial intelligence. Without boring you with a lot of tech talk (some I don't even understand), there is software that you can use to help you write blog posts.
Say what? Yes, I kid you not. Software like Writesonic (which is the one that I like the best), Jasper, and others will literally spit out an entire blog post for you. Of course, you have to tell the software what kind of content you would like.
You have to put in the seed keyword, the title of the piece, choose an outline, etc. I've used this kind of software before and yes you can get a piece of content that you could put on your blog. Some of it isn't half bad.
But some of it is really bad and incoherent. And the content that isn't bad lacks that human touch…the personality of the writer. So I don't recommend you just use an AI writer and copy and paste the output directly into WordPress and keep it moving.
AI writing software is good if you need ideas, get freaked from looking at a blank screen, or want some inspiration on what to write. But they still need a lot of work. So while using these writing robots will assist you in writing for your blog, you cannot just hand over the reins to them.
Pro Tip: The reason I say to use AI writing software at your own risk is because it has been reported that Google isn't too keen on them (Source)
Ready to start a blog? Click below to learn more about the web host I use!
4) Hire Writers On Fiverr
This is one of my favorite suggestions and that is to hire a writer on Fivver. What is Fiverr, you ask? Fiverr is a marketplace filled with freelancers who offer services for everything from content writing to bookkeeping services to website services.
Whenever I need help with my blog this is one of the first places that I turn. Yes, they cost money and that might be a deterrent to you especially if you're on a fixed or tight budget. I totally get that.
However, you can really find affordable freelancers to help you take your blog to the next level. I've heard it said many times that you can't find a good writer on Fiverr unless you pay a ton of money. That's not true. I have found several high-quality writers on Fiverr for a very reasonable price!
I'm talking under $20 for 1000 words. Now again, many times I still have to add some words to whatever they've written and I have to edit the post but many times I can almost publish those posts as is, depending on the world length.
Using Fiverr is such a timesaver and it frees me up to work on other things like my online stores and marketing!
If you're interested in using Fiverr then you can click here to explore all of their options!
There are so many choices that you're sure to find someone who can help you with writing or any other blogging tasks you need!
Want to read this post later? Click here to save it to one of your Pinterest boards!

5)

Record Videos
I remember clicking on a pin on Pinterest a few years back. And it was about a blogger who said that they post it but post every day. I was certainly intrigued by this idea because I had always wanted to do that but I didn't know how in the world I could make it happen.
It turns out that this blogger had a unique way of publishing her posts. Instead of writing blog posts, she recorded videos. She didn't do anything fancy. No complex editing. No flashy graphics.
She would just speak into the camera and record a video warts and all and then publish it. And that was her blog post. And Google does consider that to be content. So don't feel like you have to be boxed into this world of writing if you want to start a blog.
Blogging is so much bigger than that.
6) Start A Podcast
In the same way, you could start a podcast. Then once you've recorded that podcast you could upload it into word press and publish it like you would a video or written content. It's really amazing how there are so many ways to be a blogger these days.
7) Create An E-commerce Store
Maybe it's not that you want to start a blog. Maybe all you really want to do is create a website and the only thing you know about is blogging.
But instead of creating a blog where you have to write blog posts on a consistent basis maybe you're more interested in creating products. You could sell physical products or digital like I do in my store. You could even do a print-on-demand store where you design a product and then outsource its creation to a third party company like Printify or Printful.
Yes, you will have to write product descriptions and sales pages but once you've written it your work is basically done as far as the rating is concerned. This is a good way for you to be able to have a website without having to continuously create blog posts.
– Which Writing  Low Writing Tip Will You Try?
The bottom line is, no matter what, if you want to blog you will have to write and edit in some form or another. However, there may not be as much writing as you thought there would be.
I want you to reimagine blogging and what you thought it was and think about what it actually could be. I hope these ideas have inspired you to continue or start your blogging journey. Now you know that you don't have to write if you hate it and you can still have the website of your dreams!

If How To Blog Even When You Hate Writing has helped you, please share it on Pinterest or Facebook! Thanks, love!
More CBA Posts
Financial Disclaimer: Christian Blogging Academy (blog posts & products) is not offering any kind of financial advice or making any promises of any financial guarantees. Any financial results discussed on this blog are not typical or guaranteed.Christian Blogging Academy is not a registered financial, investment, legal, tax advisor, or broker. This blog is for information and entertainment use only. A financial fund's past performance does not predict or forecast its future results.