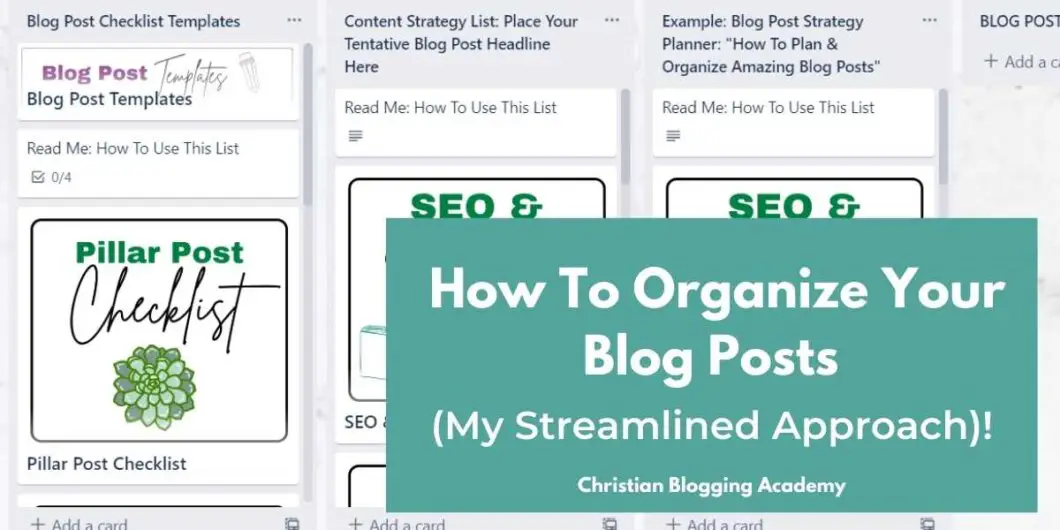 Last Updated on January 31, 2023 by Nicky Johnson
how to organize my blog posts
Whether you're a new or experienced blogger, you probably know by now that the struggle is real when it comes to being organized in your business.
I know how it used to be for me…I was drowning in paper and digital clutter and disorganization.
I didn't have a clue how I would ever get it all under control. I tried to use Evernote, spreadsheets, and a blogging binder (which I still use) but nothing ever quite clicked until I used the tool that I'm going to share with you.
So if you're searching for a better more efficient way to organize and plan your blog and business content please keep reading because I have some ideas to share with you!
Oh yeah, and this post contains affiliate links to great products that will help you in your health journey. I will get a commission if you decide to buy from these links. Please let me know if you have any questions.
– There Are 3 Ways Of Organizing Your Blog Posts But…
I'm a nerd so I can't help but notice that when doing keyword research on this topic, 3 different types of blog post organization showed up in Google's first page results for this keyword.
They are:
How to organize the actual post itself

How to organize all of your blog posts so that you have a blogging system and not blogging chaos

How to organize the structure of your posts on your blog
We are only going to cover the first topic. I'll be covering how to organize your blog post and business in a separate post so I can be sure to do both justice.
The last topic which is about how to structure your blog and categorize them is fairly technical I won't be covering it any time soon but here is a blog post about that to get you started.
–

Planner I Use To Organize My Blog Posts
In this post, I'm going to be referring to this blog content planner a lot because it helps me organize and format my blog posts. More specifically, the blog post checklist in the content planner is what I use to write SEOed blog posts.
You can take a look at this time-saving organizational tool by clicking here.
It totally revolutionized how I organized my blog posts and other bloggers who use it, love it too!
Let me look at this blog content planner!
–

How To Organize A Blog Post
It's always a good idea to define your terms so that you know we're all on the same page. So what do I mean when I say how to organize a blog post?
I mean what should the structure of the blog post be?
To explain even further, it refers to the blog post's formatting for both the reader and for SEO (search engine optimization).
There are some things that go into organizing a blog post that is a little deeper than just the formatting but for our purposes, we will just focus on that.
– What is SEO?
SEO stands for Search Engine Optimization and let me explain what that means. Ok so raise your hand if you've ever used Google. Everyone's hand should be raised right now and if it is guess what?
That means you've encountered the power of SEO probably without even realizing it. You see, when you opened Google search, typed in your question or problem, and then looked at the websites on the first page you were being exposed to SEO without even knowing it.
Let's say that you wanted to know how to start a blog. So you opened Google search, typed "how to start a blog" and hit enter. Then you're presented with a bunch of relevant websites that are related to starting a blog.
You click on one of the results and you start reading and learning how to start a blog. Boom, SEO just hit you in the face.
Why? Because that article that you're reading about how to start a blog didn't just end up on the first page of Google by accident.
Yes, you can get lucky and have your articles rank high on the search engines. but usually, bloggers and companies write and organize their articles in such a way that makes it more likely for them to be on the first page of Google for a certain keyword.
Optimizing your blog posts for search engines is called on-page SEO and is only one aspect of SEO which is a broad subject with many layers.
– Amazing Book To Teach You On-Page SEO
When I first started blogging I had no idea that this even mattered. Why does it matter though? It matters because it not only helps the reader for you to have a structured SEOed blog post but Google also wants your post to be organized.
It wasn't until I read this book on SEO that I began to understand how to format a blog post correctly.
The book is called Easy On-Page SEO by Debbie Gartner. I have never had a book illustrate and explain how to organize a blog post for SEO as well as this book does.
It's truly amazing how clear blog post organization and structure became after reading that book.
Truly a blogging game changer! I of course can't share everything that she teaches (you can read this amazing book for yourself by clicking here). But I can give you an overview of how you should format your post.
Like I said earlier, Google and your blog readers want your blog posts to be formatted in a certain way.
Want to read this later? Pin this to your blogging Pinterest boards!

– How To Format & Structure Your Blog Posts
But what does this mean? First, they both want you to create content that is easy to see and read. That means teeny tiny text is a no-no. Make your font size easy to read especially on mobile.
I make my font size 18 and my subheadings size 24. I want everybody to be able to read my posts on any device.
In addition to that, I also make sure my font color is almost black. I've been to websites where the font color was light gray on a white background.
Yeah, that blog post didn't get read. It was just too hard to read. Don't make your visitors squint to read your words 🙂
Huge paragraphs with no breaks are deal breakers. Seeing huge walls of text is mentally overwhelming. Unless the article is super interesting to me, when I see ridiculously big paragraphs I move one.
My brain can't handle it. Separate one huge paragraph into multiple paragraphs. And blog posts with no or few subheadings may not get read.
Both Google and your readers want you to use subheadings. And with your subheadings, they should be formatted with H tags.
Not only that but you want content that is also visual, meaning it has pictures and infographics etc.
I use Canva Pro to create all of my graphics and products. I use it because it's super easy to learn and very affordable.
You can try Canva Pro here (30-day trial?)
There really is so much that goes into formatting a blog post. That's why I recommend using a blog post checklist which I will talk about next!
–Use A Blog Content Checklist For Consistently Organized Posts Every Time (Easy Method)
Since there are so many elements to creating a well-formatted and organized blog post, I recommend you use a blog post checklist.
Using a checklist will ensure that each blog post has everything it needs to make both Google and your readers happy!
That way you don't have to rely on your brain to remember everything. That's way too much! You can create a checklist in Google Docs, Sheets, Trello, Asana, or any number of apps.
I personally use Trello for my checklist.
Why? For several reasons. I can physically check off each item I've completed. I can categorize the checklist.
Like with my checklist, I have a list of things I want to include in the blog post's intro. There's a checklist for the images and graphics, links, etc.
As you've probably guessed it's a pretty long checklist! Now, do I check off each item for every blog post I write? No of course not. But I do glance over it before publishing a post to ensure I didn't miss anything important.
But what do I put on a checklist you might be wondering? Ok so here are just a few things you should include:
changed the URL/slug

What to include in the intro, body, and conclusion of a blog post

Used keywords in the appropriate places

Used a properly keyworded headline

Added internal and external links

Alt text used for images
And these are just a few of the things on my blog post checklist. The more learn about blogging and SEO, the more you'll understand what you need to add to your checklist.
I found it fun to create my own checklist however if you want a blog post checklist that's already created for you, you can get one in my blog content planner available here!
This content planner has a blog post checklist for pillar posts, general posts, product posts, and affiliate posts.
You can also add or delete any items on the list because it is totally customizable!
Just make sure you have the Trello app (which is free) and you'll be able to get this blog post planner with all of the checklists included!
Click here to see the digital blog post planner

If How To Organize Your Blog Posts has helped you, please share it on Pinterest or Facebook! Thanks, love!
Financial Disclaimer: Christian Blogging Academy (blog posts & products) is not offering any kind of financial advice or making any promises of any financial guarantees. Any financial results discussed on this blog are not typical or guaranteed.Christian Blogging Academy is not a registered financial, investment, legal, tax advisor, or broker. This blog is for information and entertainment use only. A financial fund's past performance does not predict or forecast its future results.