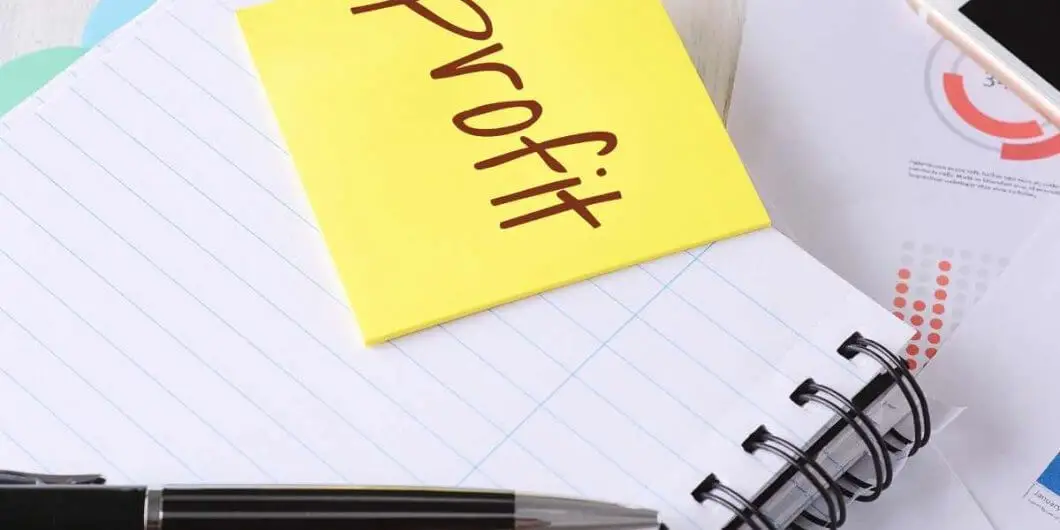 Last Updated on July 8, 2021 by Nicky Johnson
Profitable Blog Niches
Want to know how to make the most profitable blog niches work as a Christian blogger? Then please keep reading because I have some tips and ideas that will help you understand how to make them work for your blog!
Today I am going to continue talking about what we're going to talk about all year and that is all about starting a blog from scratch and turning it into a successful blogging business.
Today's blog post is all about Christian blogging niches that make money.

The Most Profitable Blog Niches For Christian Bloggers
Something you need to know about Christian blog niches that make money is this…the Christian blogging niches that make money are the same as the niches that make money on non-Christian blogs.
There are really no major differences, to be honest with you.
Some of the blogging niches that make a lot of money would be blogs about wealth, health and relationships.
What you would have to do then is talk about any blog niche from a Christian perspective.
Our relationship with Christ permeates every aspect of our lives, does it not?
So there's no reason why any of the so-called "regular" blogging niches can't be discussed from a Christian point of view.
It's totally doable with every single one of them.
How do I know?
Because I'm doing it at least with two of those topics because I talk about health, wealth, and a whole host of topics on my blog Healthy As You Can so I know that it can be done.
And you can make money from niches that aren't necessarily the norm.
You can definitely make money in other niches besides health, wealth, and relationships.
For instance, I have seen somebody who makes money blogging about succulents and yes I said succulents meaning aloe vera and cactus.
These are topics that you would never think would be a profitable niche but this blog is profitable and they have over 100,000 blog page a month.
Example
You just have to do some research beforehand to make sure that there is a market for whatever it is that you want to talk about (more on that later).
If your goal or at least part of your goal is to make money from your blog then there has to be enough people searching for that topic.
They have to want a solution for that topic in order for you to be able to sell them a product that would help solve that problem.
How To Do Research To See If Your Blog Niche Is Big Enough
-Facebook groups- Do a search on Facebook and see if there are any Facebook groups about your potential blog niche. 
For instance, if you're thinking about blogging about Christian creativity and you can't find any Facebook groups about that, it may not be a viable topic.
Keyword being may. It may also just mean that the target audience is not on Facebook and that's okay.
Let's do an example: Let's search for Christian creativity on Facebook
Here are the results for Facebook groups about Christian creativity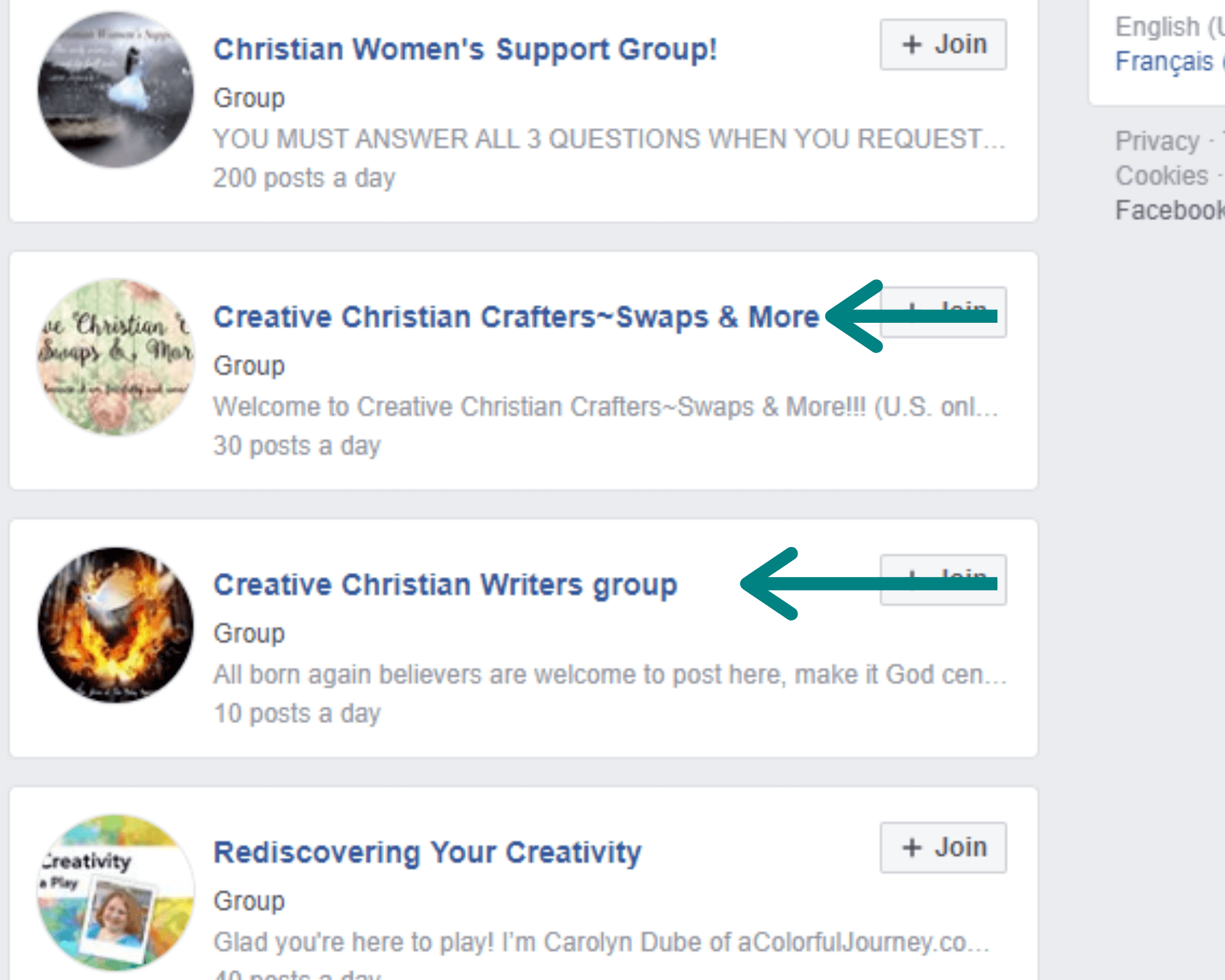 Not really a lot going on here 🙁
-Other popular blogs about the topic- Are there any other popular blogs about this topic?
You want there to be because you probably don't want to be the first one blogging about this topic.
Unless you just like blazing your own trail which my hats off to you but it will be harder.
So let's search Google for Christian creativity and Christian creativity blogs. Here are some of the results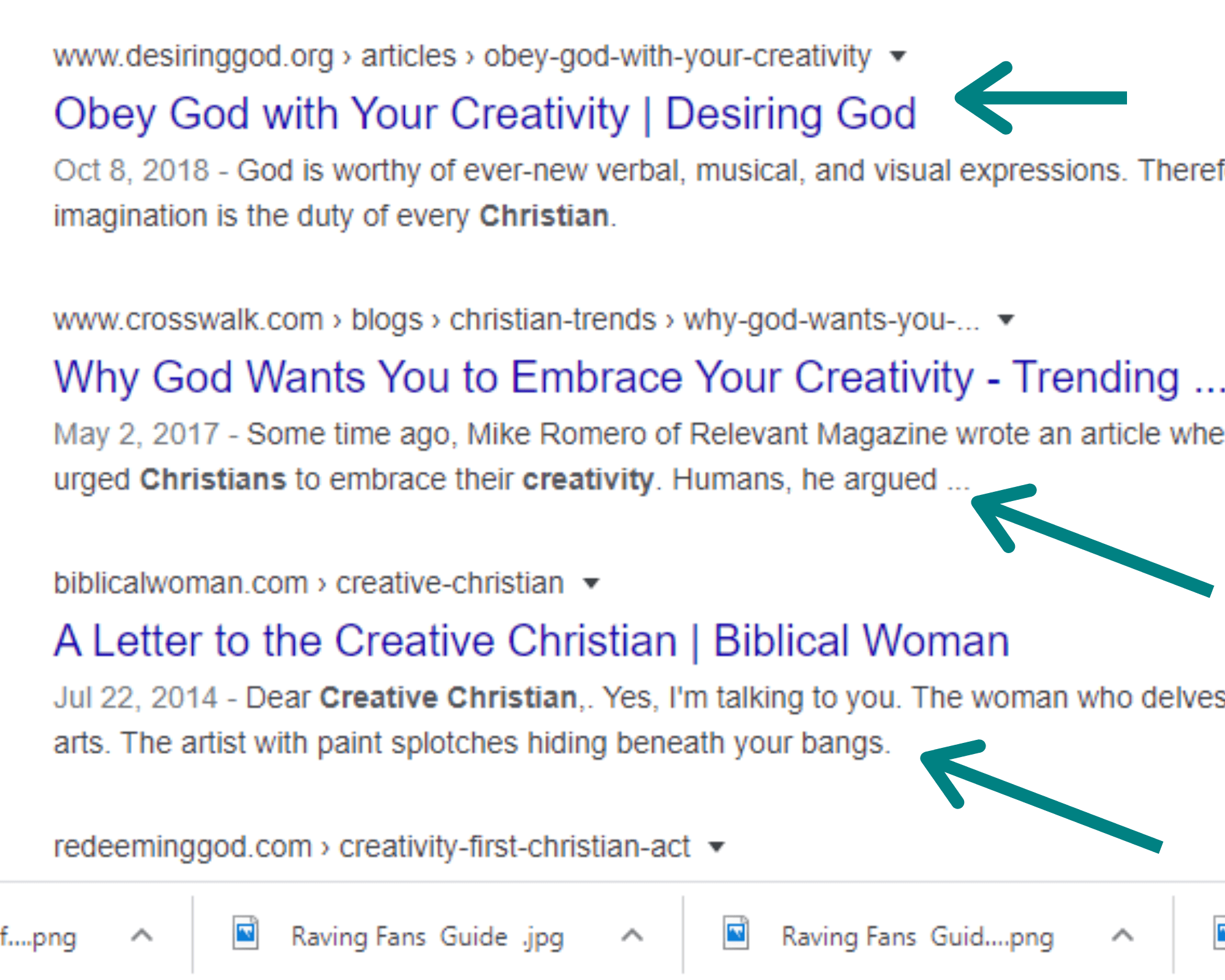 The results were the same when I searched for Christian creativity and Christian creativity blogs.
No real viable results. There are no blogs on the first page.
It's mostly websites that just have one article about Christian creativity not a whole blog with multiple articles about it.
Now let's look at an example of what it looks like when there are lots of search results. This time I searched for Christian marriage blogs.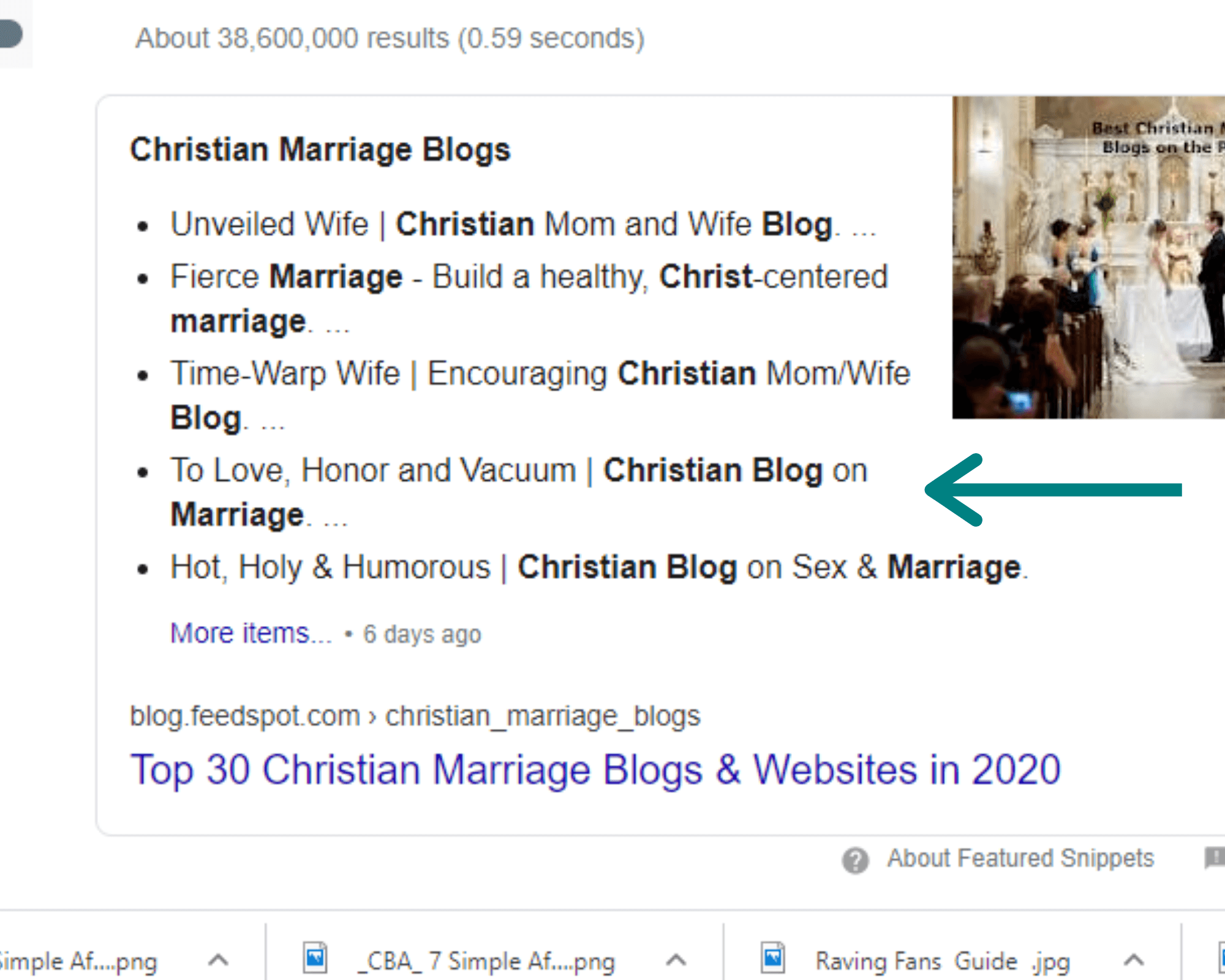 See the difference between these two searches?
On this search, the very first result was a compilation of the top 30 Christian marriage blogs.
This implies that not only are there 30 blogs about Christian marriage but there are more than 30 blogs on Christian marriage because this list only shows the top 30.
So there's definitely a market for this blog niche.
-Hashtags on Twitter & Instagram- Do a hashtag search on Twitter and Instagram.
If there aren't many hashtags about a topic or Instagrammers/Twitterers (is that how you say it) don't talk about it, that's not a good sign either.
For example, I would go to Instagram and Twitter and search for #christiancreativity or #christianmarriage or #christianmarriageblogs and see how many searches come up.
If there aren't many results (any number under 50,000), there's not a huge amount of interest in that topic.
Google Search Volume- Use the Google keyword tool in Google Adwords (you might have to create an account) to see what the search volume of your blog niche keyword is.
Once you've created an account (or logged in) click on the Tools & Settings icon at the top, then click planning, and then click keyword planning.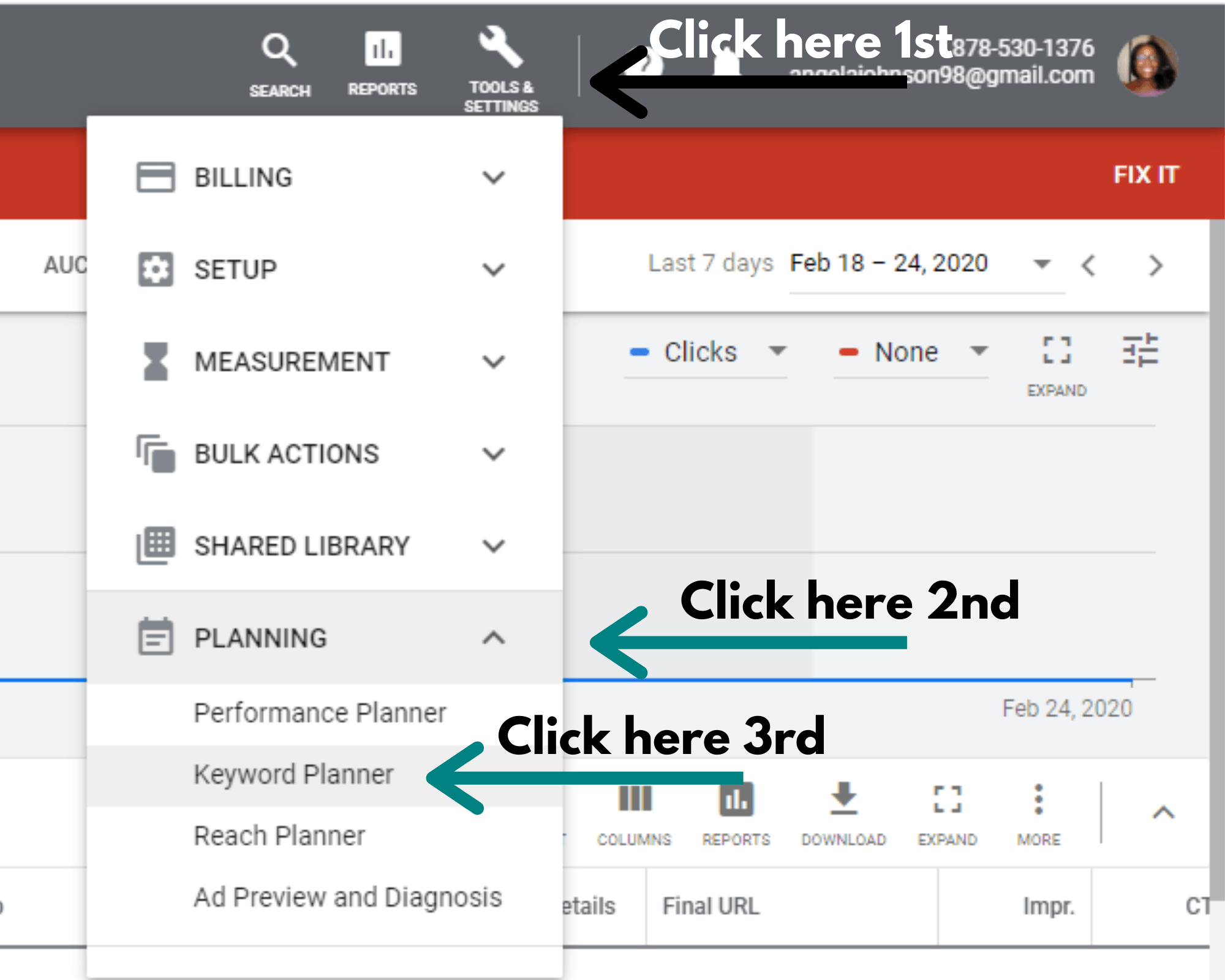 Next, click Discover New Keywords.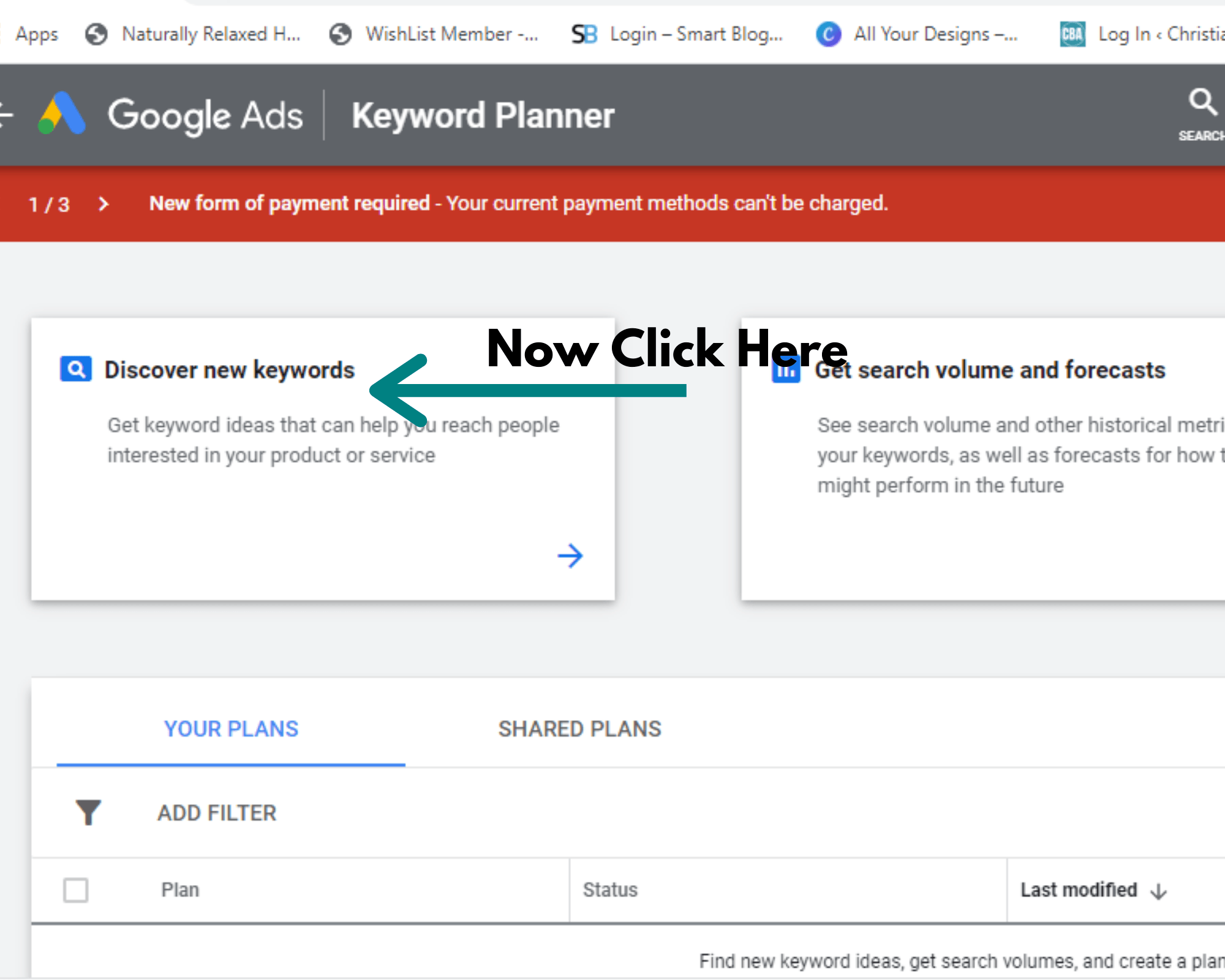 Now just type in your search term and hit enter. We will continue to go with Christian creativity because we might as well right?
And just so you know, there were no results.
For Christian marriage though there are lots of keywords.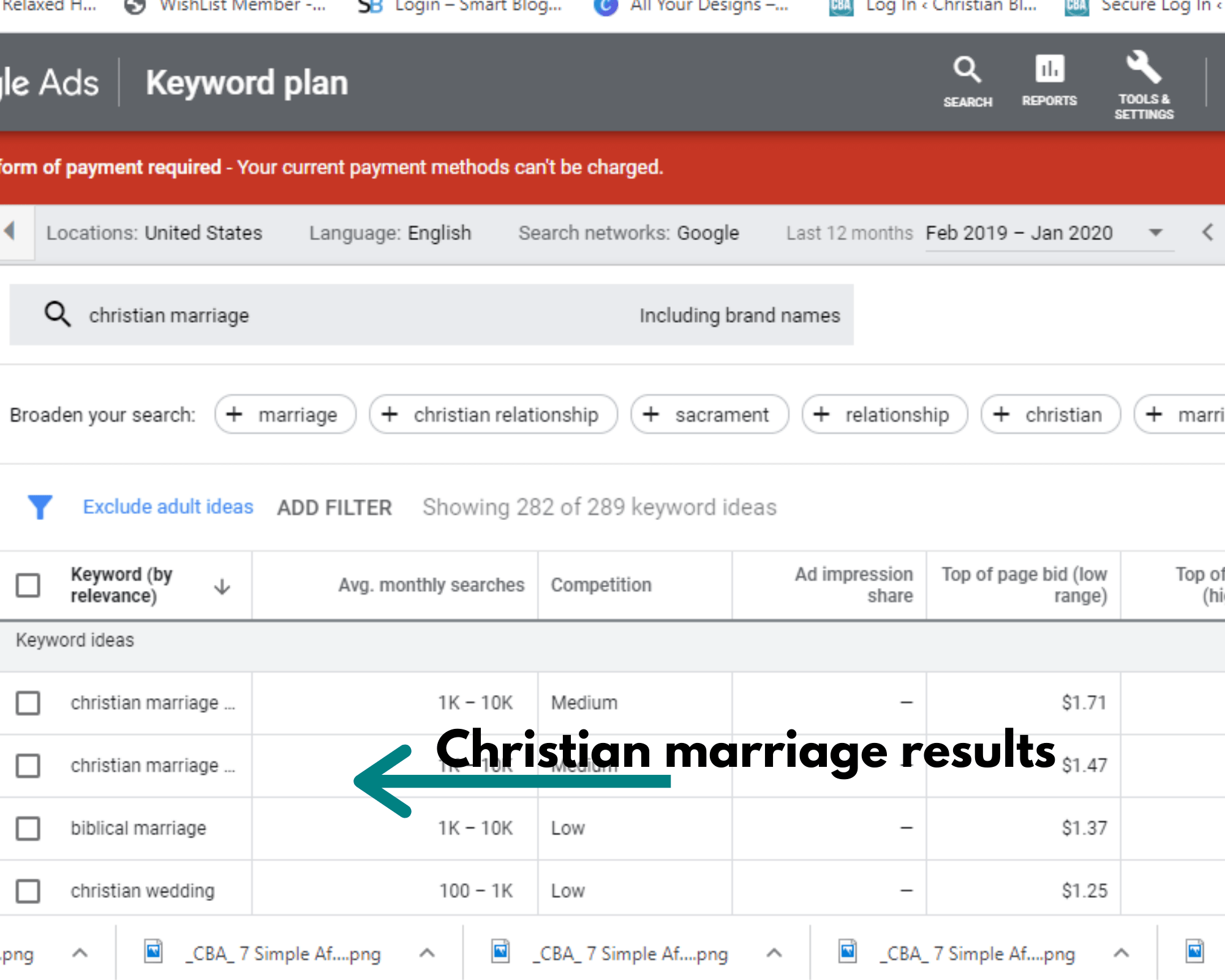 In general, if the results are low (like under 1,000 searches per month) then it might not be a good blog niche to choose.
Now if you use all of these methods to find the size of your potential target niche and you don't find that any of the social media platforms have much to say about your topic then that is a sign to go back to the drawing board…unless you just know God had placed it on your heart to write about a certain topic.
Otherwise, just keep doing the research until you find a winner. 
Blog niche- product match up
So I know as Christian bloggers we can get a little wary when talking about making money from our blogs.
You see it as a calling from God and we don't want to be greedy and see it as a business.
However, if you have no qualms with making money from your blog and you know going into it that this is one of your goals then what you might want to do is come up with a few products that you believe would help solve the problems of your readers or possible customers.
Not only is there nothing wrong with doing this is actually really smart because you know going into it that you already have products that you can offer as solutions to the people you want to help.
One way to determine or come up with a product that will help your potential reader is to think about products that have helped you solve a particular problem.
For example, because I give blogging advice my audience is filled with bloggers. 
So a product that I would choose to help my readers would be tools and resources that would help them accomplish their goal of being a successful blogger.
Tools like Tailwind, which is a Pinterest and Instagram scheduling tool, would be something that is enormously helpful to bloggers.
And I know this because it's been enormously helpful to me.
Let's use another example.
In my post about Choosing A Christian Blog Name,  I used an example of a blog name as Christian Single Moms as a potential blog name.
What are some products that would help a single mother? What is it that they need?
Other Popular Blog Niches That Make Money
Here are some other profitable blog niches that you can totally put a Christian slant on.
Other profitable blog niches
– Parenting: You can share affiliate links for Christian books, write books that give godly advice on raising Children, create parenting course.
– Home Decor: You could create printable signs and art work with Christian sayings and scriptures on it. You can open an Etsy Shop
– Christian Living: According to a post about profitable blog niches that I read, Arabah Joy makes $6,000 on her Christian living blog!
That's really inspiring that you can help so many people, do what you love, and earn a living from it. 
She sells bible studies, printables, and so much more.
Here's some more profitable blog niche ideas:
– Travel
– Beauty
– Homeschooling
– Photography
– Fashion
– Homesteading
– Gardening
– Food & Recipes
Here are some specific blogging niches specific to Christians that would make money
– Marriage
– Bible Study/Faith
– Motherhood
– Christian homeschooling
Final words of advice on Christian blog niches that make money
It's very possible that if you are a Christian blogger or you want to be one, then God has called you to it and has already decided what your niche should be.
Pray about it. More than likely it's the niche that scares you the most that He is calling you to.
Free Download: Christian Business Blogging Roadmap
If you're interested in learning more about blogging for business and impact then please download my free Christian business blogging roadmap.
Just enter your email below & I'll send you the link to the roadmap to your inbox and you'll also be a part of the CBA mailing list, which you can opt-out of at any time.

Ready To Answer Your Calling &  Start A Blog But Confused On Where To Start?
 Learn How To Start A Blog For Under $150! Just

Click Here
You Can Do This!
Check out these other Christian Blogging Academy posts on How To Start A Blog 
5 Brilliant Ideas For Choosing A Christian Blog Name (With Picture Examples) 
How To Purchase Your Web Hosting Service In 3 Simple Steps
The 4 Types Of Blog Content That Will Help Your Christian Blog Grow Dramatically
How To Make The Most Profitable Blog Niches Work As A Christian Blogger
How To Make Money From Your Christian Blog On Day One
7 Mistakes Blogging Beginners Make (That Pro Bloggers Don't) & How To Fix It